Imagination and Attempt: SOPHIE's radical pop legacy

SOPHIE spent years shrouded in intentional mystery, known to collaborate with cutting-edge performance artists and pop auteurs. And when this radically inventive superstar left us, they did so while living fully, drawing near to what's good in the world. The details were nothing short of gut-wrenching: SOPHIE passed away after falling from a dangerous height, having climbed to get a closer look at the full moon.
A statement from Transgressive, SOPHIE's label, described the star's final act as one of "spirituality." It was an attempt to witness something arresting and magnificent– driven, like much of SOPHIE's work, by an attraction to stratospheric, larger-than-life experience. To this boundary-pushing producer, pop was "about who can make the loudest, brightest, thing," as told to Rolling Stone in 2015. "That, to me, is an interesting challenge, musically and artistically. And I think it's a very valid challenge—just as valid as who can be the most raw emotionally." But arguably, SOPHIE managed to do both, creating technical feats of sound design that glimmered with raw emotion. A beloved trans icon, the musician obliterated categories constraining art and identity alike, building sonic spaces where it's safe to go in search of oneself, to fully and truly feel. Beneath its high-gloss surface, SOPHIE's music is irrevocably human, thrumming with ecstasy, fear, longing, and above all, possibility.
When the news broke, my timeline erupted in sorrow and disbelief. And I, too, was floored, grappling with grief beyond the scale of anything I've felt for a public figure. Why was this hitting us all so hard? Why, after having discovered SOPHIE just a year and a half ago, did I feel like I'd lost a figurehead, a mentor, a friend? But whether I knew it or not, I had been exposed to SOPHIE's genius for much longer than that. Beginning with the 2013 release of "BIPP," the first in an incandescent string of early singles, the producer's influence has echoed through mainstream pop, destabilizing and electrifying the genre. SOPHIE's sound became an instant, sky-high asymptote—something that contemporaries have been slowly, cautiously approaching since it first appeared. Marked by high-definition textures squeezed from a monomachine– aquatic pops, steely clanks, rubber stretched to the breaking point– these early tracks were completely untethered from preconceived boundaries of sonic possibility and pleasure. They became the new limit, a heightened standard that attracted collaborators as high-profile as Rihanna, Vince Staples, and Charli XCX.
However, SOPHIE's work wasn't always so well-received. Especially at first, some critics were convinced that no one could inflate pop to such extremes without an ulterior motive, or at least a sense of irony. A 2014 article in The Fader (now taken down) aired these concerns, along with the misgivings of producers like Grimes, who felt the use of a feminine pseudonym and high-pitched, manipulated vocals took up space meant for non-male musicians. (This claim did not age well when SOPHIE, who preferred not to use any gendered or non-binary pronouns, came out as trans.) But even before this announcement, SOPHIE insisted on the seriousness of the work at hand, of art and self under patient construction. In 2015, when a Rolling Stone interviewer inquired if an element of satire was at play, they received this emphatic response: "Why would you bother investing so much of your time and energy in something that's basically laughing at something and not contributing anything? I don't think that's a worthwhile use of your time."
I'd be lying if I said that I've never felt unsettled or perplexed while listening to SOPHIE's music, especially when I was new to it. But as time passed, I became transfixed. I listened to the single "MSMSMSM" on repeat, obsessed with its simplicity and precision, astounded by how fired up it made me feel. I loaded up playlists with newer tracks like "Immaterial" and "Is it Cold in the Water?," blasting them during long commutes through San Francisco. I had just begun a start-up job in the months before, and was feeling a keen sense of alienation. Though the booming tech industry glimmered with promises to ease society's ills, it seemed to have gutted my adopted city, clogging it with glassy condos that hardly anyone could afford. I felt depressed when I considered leaning into the kind of life led by many of my peers—optimized for comfort and efficiency, but, it seemed to me, devoid of community and meaning. Spending most of my day surrounded by virtual strangers, I felt less and less sure of who I was, what I was meant for. I was terrified by the thought: "Is this it?"
But amidst all this uncertainty, there was SOPHIE. When I listened to "JUST LIKE WE NEVER SAID GOODBYE" in a crowded Muni car, I felt a brilliant sense of connection to the crowd around me. I felt closer to people I had yet to really meet, and others that I desperately missed. As long as I can remember, my emotions have felt overwhelming, cacophonic, hyperreal to the point of distraction from my actual life. SOPHIE's music—over-the-top, saturated, relentlessly sincere—was an affirming haven, a place where I could make space for larger-than-life feelings, then catalyze them into something like hope. This singular artist, who spun warmth, depth, and humanity from complex technologies and austere sounds, helped me believe that I might someday do the same in a world that's cold, confusing, and shifting at relentless speeds. If SOPHIE could build stirring, immediate soundscapes from what seemed like thin air, perhaps I could conjure a life of meaning and connectivity from the emptiness I was feeling. To quote "Immaterial": "I can be anything I want."
Now more than ever, we need this kind of belief, this insistence upon agency and possibility. And perhaps that's part of why SOPHIE's passing feels so devastating. Such a loss is horrific in any context, but the chaotic, precipitous moment we're living in intensifies the pain. We're trapped in a criminally mismanaged pandemic with no visible end—at best forced to put our dreams on hold, and at worst losing our sources of income, homes, loved ones, or own lives. Despite the historic uprising against institutionalized racial violence that took place this past summer, our political leadership is as detached and cynical as ever, posturing as "anti-racist" but failing to enact meaningful change. Our Black, trans, and Indigenous siblings perish each day at disproportionate rates. Against a backdrop of relentless death, this loss stings even harder. SOPHIE glowed with seemingly infinite potential, as both a musician and an individual. If such a luminous soul couldn't withstand the world's senseless cruelty—the tragedies, both arbitrary and systemic, that stop us in our tracks– what chance do any of us really stand?
At a moment like this, it might seem shallow and escapist to seek solace in pop. But this past week, as I clawed for hope and meaning, I kept returning to that Rolling Stone interview—the one where SOPHIE insisted upon the seriousness of glossy, maximalist music. A.G. Cook, a frequent collaborator and founder of the groundbreaking P.C. Music label, built on SOPHIE's response to the question of satire: "Sometimes people just don't like how it sounds, and they're like, 'Oh, well, I can't justify this. It must be a joke.' But we're really just trying to see if we can make something stick culturally." SOPHIE added: "I think you've always got to be critical and try to imagine things that aren't there."
This ethos, I think, lies at the core of SOPHIE's immeasurable impact. A combination of rigorous imagination and earnest, brave experimentation shaped the artist's brief but remarkable life. It fueled an arc of growth into a genre-defining force– from a low-profile pseudonym to a floodlit icon, a source of hope for people the world over who refuse to be defined by binaries or boundaries. SOPHIE understood that radical change, both in music and beyond it, requires fearlessness in the face of repression and doubt. The most urgent movements of our time, like the fight for police and prison abolition, are fueled by dogged faith that things we've been taught to see as unreasonable are within our reach. Without this willingness, this hope that something could stick, it's hard to see a way out of where we are right now.
It's easy to succumb to cynicism, to fear that our course is irreversible. We've already lost so much, and now we struggle with the knowledge that we won't see, hear, or feel all that SOPHIE had yet to create. But perhaps, as we face down a forbidding world, we can honor SOPHIE's spirit with a renewed commitment to imagination and attempt, in the ways that we are moved and able.
You could start by playing "Immaterial." In your room, in the car, on the bus, out walking. You could start by imagining dancing again, with your friends, when it's safe. You could start by imagining safety, or if you're feeling bold, believing in it. You could start by singing: "I can be anything I want."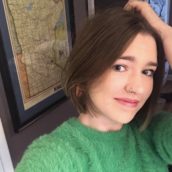 Clare Flanagan
Clare Flanagan is a San Francisco-based writer specializing in music criticism and poetry. In her spare time, she enjoys reading, running, and listening to music of all genres at an unwise volume.