James Holden : The Inheritors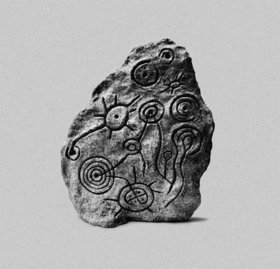 In a 2010 interview with the Red Bull Music Academy, James Holden said that the first lesson he learned about making music was that "once you've done something it's really hard to get away from it." Holden's first it came at the age of 19 when a trance record, casually thrown together for a private party, got played for a record label by a friend and subsequently released as a hit single. People began expecting him be things he wasn't interested in and it took a full seven years for him to break free and release his debut album, The Idiots Are Winning, on his own record label, Border Community. And if part of the annoying and boring it from his early trance days were exact and precise drum kicks, then he's certainly destroyed any connection to that description on his most recent effort, The Inheritors. It's a confident and surprising album that has a distinctly electronic palette but refreshingly live and pot-hole-laced cadence, making it one of the most unconventional and perplexing albums of the year.
Holden makes it clear early on that he's willing to wait for a payoff. The first two tracks find Holden dumping a freshly-opened 1,000 piece jigsaw puzzle all over the table: most of the colors are visible but remain disjointed and formless. After collecting all the flat pieces, Holden finishes the boarder with a much-needed drum section about a minute into the lead single and third track "Renata." It's some feel-good percussion that Holden builds on throughout the remainder of the track and into the next, "The Caterpillar's Intervention," whose chopped up horns are reminiscent of the most chaotic sections from Radiohead's Kid A oddball, "The National Anthem."
The next two songs recover from the sprint with rising synth loops, extended reverb, and limited percussion. "Inner-city 125" ups the intensity a bit with what feels like a spinning plates act as different sections almost slow to a stop before Holden rushes over to perk them up again. "Delabole" follows and rightfully earns Holden any Boards of Canada analogies with unexpected, irregular percussion that sounds like hand slap over a large, wooden floor.
"Seven Stars" is a return trip to the eerie sounds of "Inner-city 125," featuring a simple, unsettling horn loop that would definitely work as theme music for a haunted circus or some movie with evil toys. Holden teases at an eventual payoff with satisfying drum kicks just after halfway mark, but the rest of the ride is series of anti-climaxes, and just as things are about to coalesce, Holden smugly pulls the rug away.
"What a terrible way to make music, trying to make records that sound like another record. What's the point?" When asked about how he and other artists on his label give each other constructive criticism, he responds that they'll never tell each other what the sound should be, rather they pick their favorite sections and say "Make this more." It's somewhat of a Darwinian philosophy of making music — create loads of material and select only the best as the building blocks for the next generation.
The fruit of the genealogy isn't necessarily pleasant to listen to in the traditional sense. The tracks don't scream "accessible" by any means, and you're probably not going to get a particular melody or chord progression stuck in your head. But one thing that becomes increasingly clear is that each track has a heft to it, some type of protection that lasted it through the edits and pruning on Holden's end. After buying into the formation of each track, the question changes from "What is it that makes this song sound good?" to "What is it that makes this song exist?" Listening to The Inheritors feels a bit like an exploration in that sense: it's about turning over rocks, unveiling clues, admiring carvings, and investigating a new set of sounds that somehow inhabit the same space. But with broken pieces, distorted movements and dark shadows, Holden always serves up more questions than answers; the perfect reason for one more spin over the evidence.
Similar Albums:

Actress – R.I.P.


Pantha du Prince – Black Noise


Four Tet – Pink