Jane's Addiction : Ritual de lo Habitual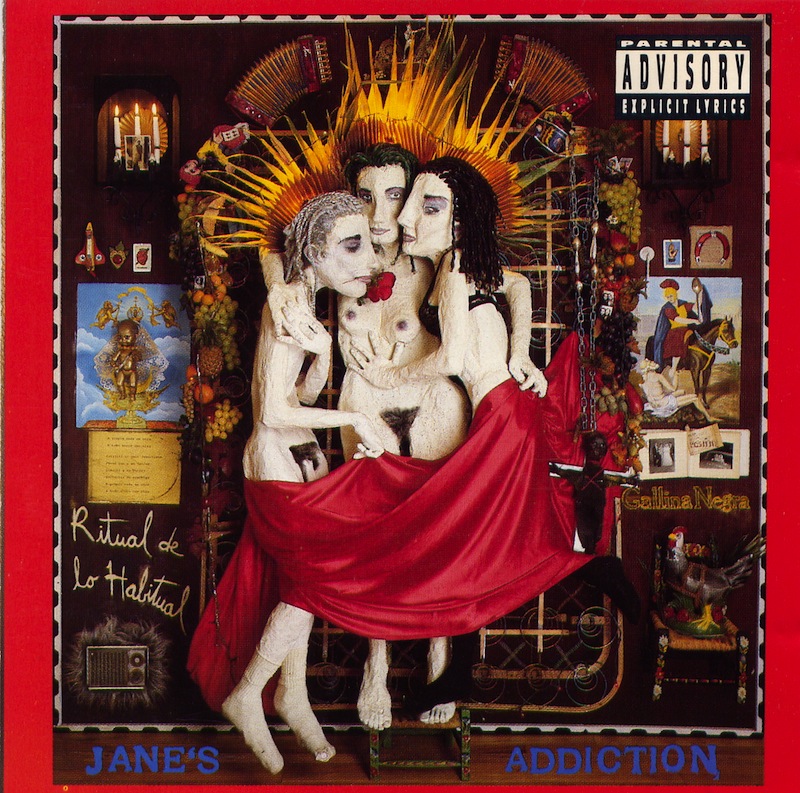 My mental portrait of California was formed by song. The Doors and Beck brought to life images of Los Angeles that were beautiful and strange. But no band was stranger or more seductive, musically speaking, than Jane's Addiction. Oh how I loved myself some Jane's Addiction. They were our generation's Led Zeppelin. Jane's were the forefathers of the Alternative movement, and lead singer Perry Farrell created the Lollapalooza music festival that introduced underground music like Nine Inch Nails and Siouxsie and The Banshees that I adored so much.
Everyone gives props to Nirvana for changing music. Jane's lit the spark of the revolution that was started with 1988's Nothing's Shocking. What a year, I was still a naïve outcast in high school. This was before the Internet when I would discover all of my new music endeavors on MTV's "120 Minutes" and inside of Rolling Stone Magazine. There's one such article that I read in Rolling Stone about a band that was recording their album when they rushed out of their studio to the streets of Hollywood to watch someone bizarre accident. Immediately after reading about this outlandish L.A. band I went out and picked up Nothing's Shocking.
The thing about Jane's, and why their music is so timeless, is that they blend various musical styles—funk, metal, vintage rock, acoustic and Caribbean flavors all mixed perfectly with the surrealistic lyrics written by lead singer Perry Farrell. To this day, spinning Nothing's Shocking is like setting off tremors of elation inside of me. It's electric, eccentric and defines the chaotic splendor of modern day Los Angeles.
Nothing's Shocking was an underground classic at my high school and among my circle of music geek friends. We adored that album and for two years eagerly anticipated the arrival of the new fix of Jane's Addiction. But the album kept on being pushed back. There was talk that it may never be released and this was even before of the drama behind Chinese Democracy. But it happened. One day after coming back from vacation I walked into to the San Antonio record shop, Hogwild Records, which my brother and I used to frequent every week to spend our pay checks on vinyl and tapes. That's when I saw the Holy Grail on the shelf; I discovered that Ritial de lo Habitual had been released while we were on vacation. Besides Pretty Hate Machine, Ritual is the one album that I have purchased again and again through out my young life. You know what happens you play out a tape; you scratch, misplace or sell a CD.
Ritual was the soundtrack to my summer of 1990. And to this day it's my favorite album of the '90s. From the opening salvo of female speech in Spanish, I knew that this would be my record. It was daring, controversial, sexy, loud, intimidating to outsiders, an instant classic. I so connected with this record especially the line "I am skinny bones, I am pointy nose but the motherfucker makes me try." Jane's Ritiual is the personification of my teenage angst coming to life. They reflected the pain and anger of how it was growing up an outcast in a world where I felt I didn't belong. And this was a band that felt like outsiders in Hollywood. They understood what it was like to be a freak. They were the kings of the freaks. And no one was freakier than Perry and his guitar-slinging sidekick David Navarro. Navarro's solo in "Three Days" was even nominated as one of the 100 greatest of all time. From start to finish, Ritual is simply the sound of decadence put brilliantly to wax. No other album better defines a generation of creative misfits than Ritual del Lo Habitual. To this day, I believe Jane's and The Doors are two bands that best define Los Angeles. I am eagerly awaiting the reissue, digitally remastered with bonus tracks. When you hear Ritual, you're listening to classic music from the '90s that will ultimately outlive us all.
Similar Albums:
Led Zeppelin – Houses of the Holy
Smashing Pumpkins – Gish
Faith No More – Sol Invictus