Les Savy Fav : Let's Stay Friends
Two years ago, the future of Les Savy Fav looked bleak. They had just finished touring behind their awesome singles collection Inches, and were winding down only to drop the two words no music fan ever wants to hear: indefinite hiatus. While each individual member kept busy, with events ranging from keeping Frenchkiss Records in business to starting a family, hope of the band's return became brighter with each turning season. They began playing isolated shows. They released the digital "Plagues & Snakes" single, and sure enough, they up and returned to the full-time indie rock troublemakers they've been all along with Let's Stay Friends, the band's fourth album and first since 2001's Go Forth.
I've been pretty forthcoming about my excitement for this one, though I'll admit I haven't been waiting in anticipation for six years. It's been more like three, as I would venture to declare Inches the group's best album, in that its songs are the most consistently amazing, and was conceptualized as a sequential series, making it more like a proper album than most other compilations of its kind. With Let's Stay Friends, a title with the same acronym as the band's own name, Les Savy Fav more than meets expectations, they plow right through them with a spastic giddiness and some of their best songs in ages.
The album begins with the curious "Pots & Pans," a song that could very well be about the band's own experiences as fledgling artists: "there was a band called the Pots and Pans/ they made this noise that nobody could stand…this tour is a test." Its simple melody swells to epic proportions, echoing a Broken Social Scene-like layered effect matched with heartfelt delivery. Tim Harrington soon jumps into the role of cleverly quipping, crazed frontman with "The Equestrian," an aggressive rock track that returns the intensity all of us LSF fans have sorely missed, in addition to some disturbing sex/horseplay (literally) metaphors. Harrington gets added points for finding an inlet for the word "jodhpurs."
"The Year Before The Year 2000" is a classic LSF rock jam that builds from subtle grooves to soaring, surging guitars and the group shouts of "nineteen ninety-nine/ nineteen ninety-nine alright!" This could easily become a new highlight in the band's act, one that could see as much audience participation as goofball antics from Harrington, who may or may not be stripped down to his skivvies by that point. "Patty Lee" is a melodic number that may be a bit less intense, initially, though by the song's bridge, Harrington lets out a righteous scream of "Back before Babylon, shit was coooool," in a manner only his bearded self could pull off successfully. It's a highlight that demands repeated listens, as does the first UK single "What Would Wolves Do," a danceable pop number with a steady drum machine beat that erupts into full-blown rock mode. Those still in need of their 2007 anthem need look no further than this lupine storm.
Slower, yet more tensely wound is "Brace Yourself," slithering upon (my doppelganger) Syd Butler's serpentine bassline and gorgeously ringing open guitar notes. Harrington provides a litany of origins, proclaiming "before I was a war, I was a sword/ before I was a tree, I was a seed." Taking a cue from AC/DC, Harrington begins the furious punk number "Raging in the Plague Age" with the priceless line "I used to hold the biggest balls/ deep inside these castle walls," putting a lighter twist on a grisly topic as he sings "waiting for the plague to move on/ nobody's getting sober till the liquor's all gone." Though most of the second half of the album doesn't sustain the intensity of "Raging," there are some notable guest vocals by Enon's Toko Yasuda in "Kiss Kiss Is Getting Old" and The Fiery Furnaces' Eleanor Friedberger in "Comes & Goes."
Les Savy Fav closes Let's Stay Friends with "The Lowest Bitter," a perfect pop song intensified with Seth Jabour's trademark razor guitar riffs and a triumphant horn section. They've always been a band that excelled at writing ass-kicking post-hardcore singles, and with Let's Stay Friends, that hasn't changed. At least half of the songs here could be singles (two officially are), and incredible ones at that. What makes this album all the more impressive is how consistent and cohesive it is, more so than any of their prior full lengths. That's all just gravy, though—if an album can rock this hard for twelve songs and still leave you wanting more of the band's digital delay, hand clapping and Tim's lifeguard outfits (among others), it's already a winner.
Similar Albums:
Modest Mouse – Good News For People Who Love Bad News
The Dismemberment Plan – Emergency & I
Thunderbirds Are Now! – Justamustache
MP3: "The Equestrian"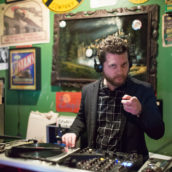 Jeff Terich
Jeff Terich is the founder and editor of Treble. He's been writing about music for 20 years and has been published at American Songwriter, Bandcamp Daily, Reverb, Spin, Stereogum, uDiscoverMusic, VinylMePlease and some others that he's forgetting right now. He's still not tired of it.