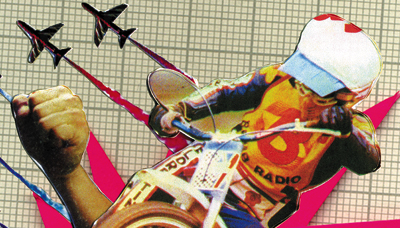 It's always comforting to know that there are certain constants in life. Death and taxes may not be the most pleasant of these, but even beyond that, there are particular patterns which ebb and flow each year with Swiss precision. While spring is always a fertile time for album releases, the summer is typically reserved for touring and the festival circuit, leaving most artists to schedule around those three months of barbecues and life in the van, or bus if they've been particularly successful. This leaves the autumn months during which labels tend to unleash their big guns, and in 2007, the artillery is definitely heavy. This fall will see some new albums by some Treble favorites, in addition to some new, promising artists, and some chart heavyweights as well. We've highlighted the ones we deem the most promising and most likely to be bumping in our stereos come harvest season.
Animal Collective – Strawberry Jam (Domino; September 11)
There's something wrong with the world when that god-awful Snow Patrol album sells a million albums and Panda Bear's Person Pitch moves around 20 thousand units. Yeah, that's still pretty respectable, I know, but a band like Animal Collective and its respective members are responsible for some of the most mind-blowing and innovative music to which these ears have ever been acquainted. With Strawberry Jam, the band's first for new label Domino, the group sounds more accessible than ever, more epic, more everything. When a band splits its members between Baltimore and Lisbon, they sort of have to make the most of their time together, and when it comes to AC, any time together is time well spent. And who doesn't like strawberry jam? That's what I want to know.
Mono – Gone (Temporary Residence; September 11)
They started appearing everywhere, like a viral campaign gone horribly out of control. They weren't exactly like pod-people. They looked hipper, more aware. Plus, they were far less animated than pod-people. But they all wore the same shirt, united by their devotion to a Japanese post-rock band. I must have seen at least four Mono shirts within the same day, in different places and at different intervals. It's rare enough to see people even buy band merch, let alone one from an indie, but Mono T-shirts are seemingly everywhere. Why? It's not just because it's `cool' to like Mono. The band is frickin' amazing. Think about how you felt when you first heard Godspeed, or Sigur Rós, or Explosions in the Sky. Then, add in a guitarist named Yoda. That's what I'm talkin' about! Gone is a chance for the uninitiated to catch up. It's not a greatest hits collection, but is an amassing of rare and out-of-print tracks from Japanese only releases, former EP's and even a Cameron Crowe commissioned piece. This will be a must-have for fans unable to find these rare tracks as well as a necessary introduction to those just discovering this magnificent band. Thanks to releases by Mono, Explosions and Eluvium, Temporary Residence has quickly and undoubtedly become your headquarters for the best in post-rock.
Dirty Projectors – Rise Above (Dead Oceans; September 11)
The concept behind The Dirty Projectors' Dead Oceans debut is a strange one: frontman Dave Longstreth discovers an old cassette of Black Flag's Damaged at his parents' house, only the tape is missing, so he decides to recreate the album, by memory, with his band, in ways nobody ever could have imagined. From memory! Covering an album is one thing, memorizing a song is another, but combining the two is something altogether crazy that I still have trouble wrapping my head around. Those familiar with the Dirty Projectors should know not to expect anything that sounds like Black Flag. It's arty, swirling, lushly arranged, primal yet elegant. It's tempting to call it a wholly original piece of art, because, in spite of sharing the same lyrics as the songs on Black Flag's seminal debut, this is something altogether new.
Ani DiFranco – Canon (Righteous Babe; September 11)
I've been an unabashed Ani fan since the mid '90s. This Buffalo gal has been prolific if not always consistent, but when she gets a song right, she nails it. Albums such as Not a Pretty Girl and Dilate are peppered with brilliant songwriting, and one album in particular, Out of Range, is a masterpiece from beginning to end. And, after all this time, some seventeen years, Ani has never really put out a greatest hits collection. Okay, so it's arguable that these are commercial hits, but Ani's only ever put out one `so-called' collection, not counting live albums, and that was merely an attempt to improve upon songs from her first two releases. Canon collects 36 songs from DiFranco's storied career, including five tracks that she's re-recorded ("Napoleon," "Shameless," "Your Next Bold Move," "Both Hands" and "Overlap").
The Go! Team – Proof of Youth (Sub Pop; September 11)
Supposedly, the reason that The Go! Team's debut Thunder, Lightning, Strike took so long to see release in the United States was because Memphis Industries couldn't afford to have all the samples cleared. That's when Columbia stepped in to release the album, with their major label budget and all. Neither label is releasing the band's sophomore effort stateside, however. Proof of Youth will be the band's first for the almighty Sub Pop, and will feature more instrumentation, fewer samples, and Chuck Friggin' D. You read that correctly. There are apparently members of a cheer squad and Bonde Do Role making appearances as well, so, as usual, it'll be a fun-filled dance party, with a few more guests than usual.
Joe Henry – Civilians (Anti; September 11)
Joe Henry hasn't released an album in four years, his last being the amazing Tiny Voices, an album that all should take the time to listen to right now, if need be. Well, he's finally releasing its follow-up, Civilians, a sort of political-themed album, which would be the first of its kind for the 46 year-old singer/songwriter. Admittedly, there are a lot of political albums being cranked out at the moment, leaving one to wonder what Henry can add with his own take. Chances are, it'll be subtle, beautiful and personal, just like all of his albums. If history has taught us anything, it's that this man can make something wonderful every single time, and he's even written a Madonna hit for Chrissakes! That's something to be proud of right there.
Kanye West – Graduation (Def Jam; September 11)
What hip-hop needs is more feuds. Wait, no, fewer feuds, fewer. But this one is a bit less about trash talking and more along the lines of Vince McMahon and Donald Trump betting over a shaved head on prime time wrestling. The gentlemen's agreement in this case is that 50 Cent said he would quit his rap career if Kanye West outsold him, as their new albums are being released on the same day. That much is pretty well publicized, and a bit ridiculous, honestly. The important part is what the album sounds like. West gave us a preview of Graduation with the Daft Punk sampling first single "Stronger" and the album is said to include guest appearances from the likes of Coldplay's Chris Martin, Mos Def and T. Pain. Ye has the talent to pull off an amazing album, this much we know. But will he? And will he come out victorious? To be continued.
Kevin Drew – Spirit If… (Arts & Crafts; September 18)
The name on this one isn't just going to read "Kevin Drew." Instead, it's going to read, for the first time ever, "Broken Social Scene Presents Kevin Drew." This album, from one half of the original duo that make up BSS, is the first in an eventual series of "BSS Presents" albums, the second being from the band's second original member, Brendan Canning. After hearing "Spirit If…," it's easy to discover why they chose to slap the band's name on the solo effort. It's the closest thing to a true Broken Social Scene release, musically and thematically, than anything else put out by any other member. Although I love Jason Collett, Stars, Metric and Feist, their respective CD's sound distantly detached from the mothership that is BSS. With this album, Drew reminds us who the creative force behind the band is, as I'm also sure will Canning, and why we love anything associated with Arts & Crafts. Then we can remember that we hate him because he's dating Feist. Jerk. Damn great album, though.
Les Savy Fav – Let's Stay Friends (Frenchkiss; September 18)
A few years back, Les Savy Fav sounded as if they were ready to pack it in. They were "on hiatus" as it were, dishing out the two words that any fan fears most. And for a brief while, things looked bleak. But then they started playing some shows. And they released a single, and another single. And, gosh, if they're going to do that, they might as well release a whole new album! And one with members of Islands, Metric, Black Heart Procession, Fiery Furnaces, basically every band ever in the world. It sounds big. It sounds huge, actually, but no matter what it is, Les Savy Fav will make it rock harder than anything else anyone is going to hear this year. I mean that.
Rogue Wave – Asleep at Heaven's Gate (Brushfire; September 18)
Northern California band Rogue Wave returns to the indie fold after a two year absence, ditching former label Sub Pop for Jack Johnson's Brushfire label. Huh? He's not the only one, as indie bands seem to be attaching themselves to either that label or another jam-tastic artist's home in Dave Matthews' ATO. So far ATO has the lion's share of indie-fabulous bands on their roster, but the addition of Rogue Wave to Brushfire is a big shot across the bow. With a new bass player in tow, Rogue Wave follow up two stellar Shins-like releases with Asleep at Heaven's Gate, an album that this fan / critic hopes will at least be better than Wincing the Night Away. After one single release, "Eyes," that appeared on the Just Friends soundtrack, as well as episodes of Heroes and Friday Night Lights, it's fair to say that if the new songs sound anything like that one, we're ensured success.
Simian Mobile Disco – Attack Decay Sustain Release (Interscope; September 18)
SMD is playing at my house, at my house! Fans of this band with access to imports probably have their grubby little mitts on this gem already, but if you haven't found it yet, you can soon. Simian Mobile Disco has made a name for themselves remixing songs for other acts such as Go! Team, Air, Muse and Klaxons. Also, band member James Ford (which is, oddly enough, Sawyer's real name on Lost) produced the Arctic Monkeys' last album, Favourite Worst Nightmare. Attack Decay Sustain Release, cheekily named after a component of synthesizers that modulates sound, shows what SMD is all about. Think of them as Daft Punk with an English sensibility. Their album is sure to be, if it isn't already, one of the staples for dance floors this fall.
Cave Singers – Invitation Songs (Matador; September 25)
With releases listed so far from all over the globe, I had to pick one to represent my adopted home city, Seattle. The Cave Singers practically came out of nowhere and got signed to one of the holiest of the holy indie labels, Matador. I say practically because most reports on the Cave Singers will tell you that this modern folk band just recently began dabbling in the genre. What these reports aren't telling you is that the Cave Singers come from a well-known Seattle musical lineage. Singer Pete Quirk was with post-punk's Hint Hint, drummer Marty Lund was in Cobra High and bassist Derek Fudesco was with Pretty Girls Make Graves and the much beloved Murder City Devils. Invitation Songs is being billed as an updating of the Anthology of American Folk Music with a punk sensibility and so far Seattle fans have responded with enthusiasm.
Devendra Banhart – Smokey Rolls Down Thunder Canyon (XL; September 25)
Then Smokey rides the Matterhorn and Space Mountain and he lived happily ever after. But seriously, one of the unavoidable clichés in this critical game is finding resemblance to other like-sounding acts. With most bands this is an easy endeavor, but with Devendra, there's just no comparison. If anyone defined the term `freak-folk' it's the well-traveled troubadour, Mr. Banhart. It seems as if it's been a lot longer than two years since Cripple Crow, considering that Devendra released three albums within a two-year span. Finally, Banhart reemerges with a new collection of unique songwriting with Smokey Rolls Down Thunder Canyon. So, hold on to your hats and glasses, this here's gonna be the wildest ride in the musical wilderness!
Iron & Wine – The Shepherd's Dog (Sub Pop; September 25)
I was worried about this one for a while, considering the widely reported fact that Sam Beam was fleshing out the sound of his normally sparse folk into a rich tapestry of modern folk music. Being a fan of the `stripped down' material of the folk scene, I feared the worst. After hearing the majestic sound of the preview single, Boy With a Coin, all of my fears were assuaged. Beam seemingly avoids all of the distractions of hype, delivering grandiosity and simplicity all at once, improving with every release. Iron & Wine could have easily phoned it in thanks to the success of a simple Postal Service cover, but that just wouldn't be enough for Beam. The Shepherd's Dog corrals another magnificent collection of songs on September 25th.
Sea Wolf – Leaves in the River (Dangerbird; September 25)
Earlier this year, I had the distinct privilege of reviewing the debut EP from Sea Wolf, a.k.a. Alex Church, formerly a member of Irving. Church manages to combine the earthy tones of folk and alt-country singer / songwriting with melodic post-punk undertones with panache. The newest member of the ever growing `wolf'-community in music carries over only one song from the EP, which is usually commendable, but considering the strength of the other songs, especially "Sea Monuments," it almost seems a shame. What this can only mean is that Church is taking the chance to bring us even more instant classics.
Beirut – The Flying Club Cup (BaDaBing; October 9)
After landing our Number 14 album of 2006 and following it up with a pair of EP releases (Elephant Gun and Lon Gisland), Zach Condon has returned with a full-band in tow with the release of Beirut's second full-length album. Among the new recruits is the most sought after violinist in rock, Final Fantasy's Owen Pallett. Whereas Gulag Orkestar was inspired by Eastern European themes, The Flying Club Cup takes its inspiration from the 1900 Parisian World's Fair and the French belle époque. Another new introduction to Beirut's repertoire is the use of electronics, which should provide an interesting new direction, given the old-timey string and horn sounds also present.
Band of Horses – Cease to Begin (Sub Pop; October 9)
Okay, so there's more than one band that came from Seattle's local music scene. The Cave Singers may have Murder City Devils in their past, but Band of Horses has Carissa's Wierd (sic). As soon as "The Funeral" hit the airwaves, however, Carissa and her misspelled adjective became a thing of the distant past. That's how powerful a brilliantly written song can be. Cease to Begin is the only sophomore release I've pegged as one to watch for the fall as I'm hopeful it can avoid the clichéd sophomore slump. The deciding factor might be whether Ben Bridwell can manage the family business after the departure of longtime collaborator Mat Brooke who left to work on his own band, Grand Archives. Reportedly, the album will focus more on the country-leanings of the first album, and for the Seattle faithful, there's a song named after the Sonics' and UW's former star forward, Detlef Schrempf. What could be more rock and roll than a West German born NBA'er who played with the Dallas Mavericks and Indiana Pacers?
The Fiery Furnaces – Widow City (Thrill Jockey; October 9)
It's always a bit difficult to know what to expect with The Fiery Furnaces. There are always going to be strange story arcs, prog rock tendencies, weird and off kilter synthesizer sounds, and a bit of Beefheart experimentalism for good measure. But between the backward vocals, the narration from Grandma and, occasionally, straightforward pop songs, the only constant is something new and different. The Fiery Furnaces aren't for everyone, even accessible releases like EP and Gallowsbirds Bark, but those who relish their creative whimsy and bizarre melodic directions, this one should be no less exciting. Oh, and it's going to be on Thrill Jockey, if that helps.
Richard Hawley – Lady's Bridge (Mute; October 9)
As a guitarist for Longpigs and Pulp, Richard Hawley led somewhat of a low-key rock and roll lifestyle. His solo career hasn't exactly been fireworks, pyrotechnics, drugs and Jack Daniels, but it's been just as entertaining. Hawley's a crooner at heart and his songs of love and desperation, with just a hint of the `good old days,' are simply awesome. I felt I had never heard a song as emotionally devastating as "It's Over Love" from Lowedges, nor as pathetically hopeful as "Hotel Room" from Cole's Corner. Hawley's mix of the dramatics of Scott Walker and the sad loneliness of Roy Orbison is something to behold. Fans of Nick Cave and Jarvis Cocker's latest album will surely enjoy Hawley's morose songs of broken love.
Sunset Rubdown – Random Spirit Lover (Jagjaguwar; October 9)
Sunset Rubdown's Spencer Krug is best known for his work with Wolf Parade, though he's also made some impressive noises with Swan Lake and as a touring keyboardist for Frog Eyes. Basically, the dude can't sit still, and we're all the more fortunate, and thankful, for it. Now that Sunset Rubdown has a new label home with Jagjaguwar, it's time for the Canadian four-piece to put out another album, their third and vastly ambitious work Random Spirit Lover. Most of the songs on this one extend beyond the five-minute mark, and few follow a basic verse-chorus-verse structure, making it something of an indie prog monster. That said, it's going to be pretty amazing, like Destroyer's Rubies with more vocal histrionics. Believe it.
Castanets – In the Vines (Asthmatic Kitty; October 23)
Castanets' songwriter and frontman Ray Raposa has never been known for writing high energy, bubblegum pop music, but the period that led up to the completion of third album In the Vines is one fraught with depression and "rootlessness" as Raposa puts it himself. The album was completed shortly after Raposa was robbed in front of his Brooklyn home by three men, which capped his already shitty year with an arsenic-laced Redi Wip topping. But as they say, great art comes from great suffering, and this album serves as Raposa's most ambitious yet, based partly on a Hindu fable about "being trapped in an inescapable fate." Wow. Well, his last two albums, each touched with a bit of darkness on their own, were stunning, intricate late night albums of introspection and haunted beauty, and this one, with several of his Asthmatic Kitty friends to aid his creation, as well as the likes of Jana Hunter and Phosphorescent's Matthew Houck, takes on a new, adventurous route, taking cues from the avant garde and the AM Gold, folk, metal and pop. What it actually sounds like, however, remains to be seen.
Lupe Fiasco – The Cool (Atlantic; November 20)
Lupe Fiasco, Chicago's young emcee who made a big splash with his debut Food & Liquor will be releasing his new album The Cool in November, after being pushed back from an October release. Last year, Fiasco hinted about releasing the album within two weeks after recording it, as to avoid piracy, though it appears that much of it is already finished, with the likes of Pharrell Williams and Kanye West making appearances. The bad news: this could be his second to last album, as he revealed to XXL magazine that he's growing exhausted of being a rapper. We would definitely be bummed, but then again Patrick Wolf isn't retiring either, as it turns out, so we're keeping our fingers crossed.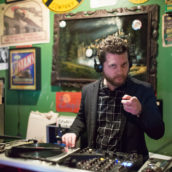 Jeff Terich
Jeff Terich is the founder and editor of Treble. He's been writing about music for 20 years and has been published at American Songwriter, Bandcamp Daily, Reverb, Spin, Stereogum, uDiscoverMusic, VinylMePlease and some others that he's forgetting right now. He's still not tired of it.