Lou Reed : Coney Island Baby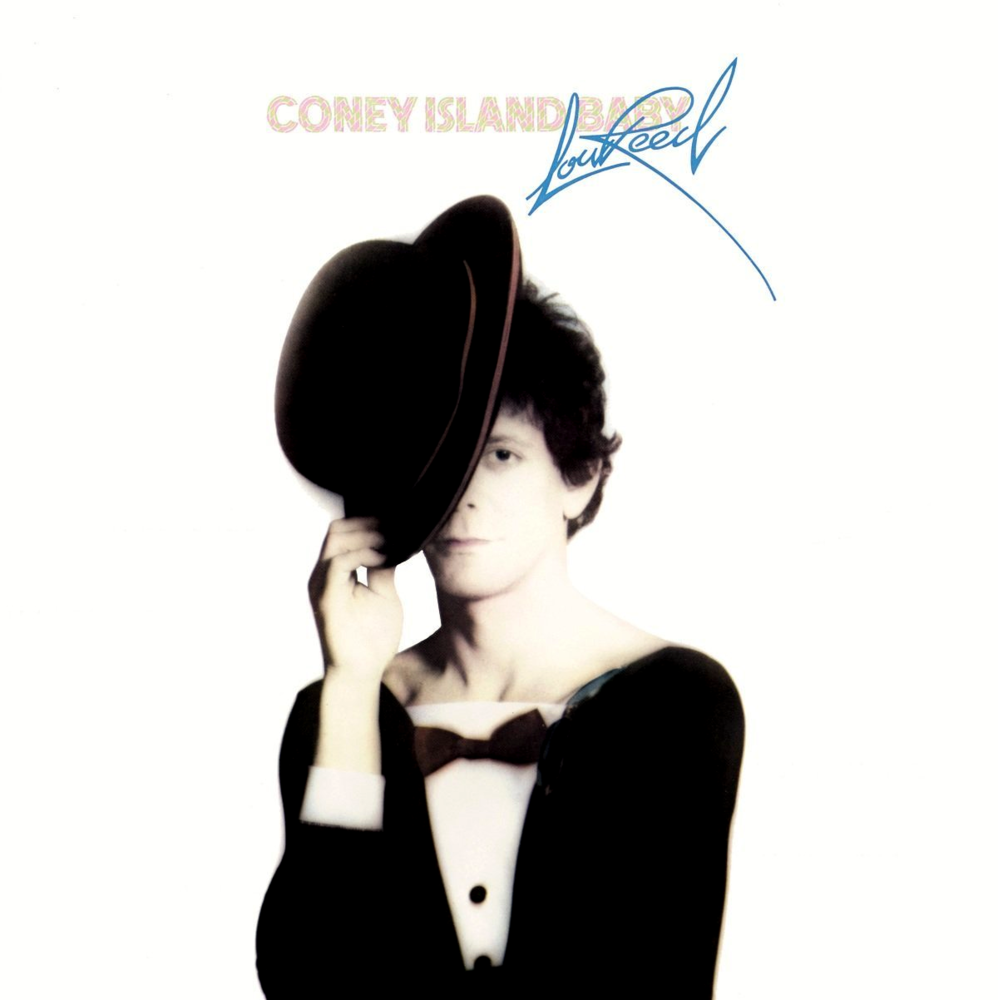 Coney Island Baby, Lou Reed's sixth studio album after leaving The Velvet Underground, is all about context. Lou Reed's first solo outings were David Bowie-wannabes, albeit pretty awesome David Bowie-wannabes. Then Lou decided he wanted to fuck with his audience and out spewed Sally Can't Dance and Metal Machine Music. The latter was Reed trying to be the pop star and is, ironically enough, the only one of his solo albums to crack the Top Ten. It's plagued by delusions of R&B grandeur and the overwrought opulence that accompany most Elton John compositions. Despite what anyone says to the contrary, Metal Machine Music is not, I repeat not, a musical masterpiece. It's a lot of annoying white noise spread out over four sides. Don't try to intellectualize it, Metal Machine Music is not good.
Coney Island Baby, on the other hand, is what Reed should have been doing all along. His instantly recognizable monotone sounds much more comfortable above the minimalist masterpieces of Coney Island Baby and he is obviously more at home with these songs of love and hate than on earlier solo work where he spent entire album spurting out glamourfied Bowie-isms. It's much more simple and straight forward than his previous solo work and, if anything, proves that the less is more aesthetic works for Reed in all of its glory.
Coney Island Baby has the ability to be alternately light and dark without throwing the listener off guard. "Kicks" is about a man who gets off on murder. "When you slayed that cat that night / You did it so crudely, now / With that blood coming down his chest / It was way better than sex, now, now," Reed creepily sings. But the following song, "A Gift" completely shifts gear without Lou missing a beat. The eponymous gift of that song is Reed himself as he declares that he "is a gift to the women of this world." The song after "A Gift," "Ooohhh Baby," changes the tone of the album again, as a rollicking tune about a stripper in Times Square. Reed's strength lies in the fact that Coney Island Baby never feels uneven or disjointed. No song seems out-of-place despite the spectrum of emotion that he is able to encapsulate.
The evenness of Coney Island Baby is due in part to the minimal instrumentation that runs throughout the record. Coney Island Baby is quiet and relies mainly on an acoustic guitar, drums, and bass. An electric guitar is used sparsely throughout each song and when it comes in, it cuts like a knife. Reed, while making a simple record, was not trying to become a folk singer with Coney Island Baby, but rather make something sparse and open. From the man who reintroduced the electric guitar to rock `n' roll in the Velvet Underground to the comparative decadence of his previous solo work, it is incredibly refreshing to have Reed stand on his own, without the help of avant noises and unnecessary backing vocals.
Interpreting Reed has never been an easy job. Even when he seems to be at his most earnest, it seems that Reed is staunchly hides behind ambiguous lyrics or sings in tones that completely betray what he is saying. On "She's My Best Friend," Reed sings, "She's my best friend / Certainly not just like your average dog or car." Woah Lou, let's not go crazy with the compliments here, ok? While the knee-jerk reaction on first listen of "A Gift" maybe something akin to "Lou Reed is an egomaniacal bastard." It's pretty hard not to think someone like this especially when you hear Reed sing, "Responsibility sits so hard on my shoulder / Like a good wine I'm better as I grow older." Bu upon further listening there is an almost sad self-consciousness that pervades the song, giving it an intricacy that wasn't previously present. I mean, he can't be that narcissistic. Right?
The epic of Coney Island Baby comes with the ending title track. It starts out as a slow piece with Reed speaking about how he wanted to be on the football team over an uncomplicated melody but it slowly escalates into quite a bit more. Out of almost all the tracks in Reed's storied career, "Coney Island Baby" sounds the most sincere. He speaks of the glory of love and how it can show you the proverbial light at the end of the tunnel even in the darkest of times. Reed sings, at the end of the song, that he would "like to send this one out for Lou and Rachel," Rachel being his transgender girlfriend at the time. And then Reed let's out one of the most candid moments ever recorded on wax. As a doo wop-esque chorus of voices finishes singing the last "coney island baby" of the song, Lou says, "Man, I swear, I'd give the whole thing up for you." In one short sentence, Reed opens himself up to his audience in a way that he had never tried in his entire career as a recording artist. It's a shocking end to a beautifully understated record.
Not unlike the punk movement that he had no small part in creating in The Velvet Underground, Lou Reed took Coney Island Baby back to basics and created something completely stunning. Reed doesn't need decadence or strangeness or peculiarities to be great, he just needs him. Despite whether Lou's tongue was firmly planted in his cheek when he wrote "A Gift," or whether he actually is that pompous, it's still is hard to dispute him when he sings, "It's hard to settle for second best / After you've had me."
---
Label: RCA Victor
Year: 1975
---
Similar Albums: