Megadeth : Countdown to Extinction (20th Anniversary Edition)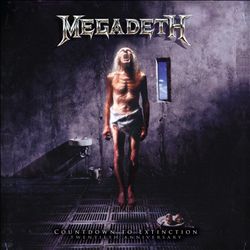 Buy at iTunes  | Buy at Insound
Thrash metal's creative and commercial peaks didn't arrive at precisely the same time, but the overlap is significant enough to form a particularly cozy venn diagram. By the time bands like Anthrax and Slayer were cracking the mainstream, hundreds of thousands of fans had already enlisted in their mosh pit armies. Metallica, unsurprisingly, was the first of the Big Four to go platinum, their iconic Master of Puppets album hitting the one-million mark in 1988, two years after its release, and serving as a harbinger of things to come — 1991's self-titled `Black Album' would go on to sell 16 million units, making it not only one of the most successful metal albums of all time, but simply one of the best selling albums, period. Though still a few steps behind in terms of commercial appeal, Megadeth, helmed by Metallica alum Dave Mustaine, were building a fan empire that was nearly as formidable, and in 1992 released the first million-seller of their own, Countdown to Extinction.
In fact, Countdown to Extinction was the first and only multi-platinum Megadeth album, which speaks volumes about the mainstream music landscape of 1992, and just how radically different it is from today's. It's almost unheard-of for a metal band to boast those kinds of numbers today, let alone the level of exposure that Megadeth received upon its release. Rock radio spun "Symphony of Destruction" regularly, and the multiple-Mustaines-in-a-jail-cell video for "Sweating Bullets" had become an MTV favorite, and not just on "Headbanger's Ball." They played that fucker during the daytime. No doubt diminishing record sales on the whole and an entirely shifted media model have partly contributed to a nearly complete 180 away from the kind of success story that Megadeth engendered in the early `90s, but the album nonetheless serves as a fond reminder of a time when a breakout act in a niche genre could, briefly, be one of the biggest bands in the country.
It certainly doesn't hurt, however, that Countdown is by some measure Megadeth's most accessible album. It's not their best, necessarily — Rust In Peace and Peace Sells… But Who's Buying? are stronger candidates on the whole. Yet Countdown, to an even greater degree than the band's two most heralded albums, is a metal album written for a rock audience. It doesn't condescend or compromise so much as reinforce its aggression with classic rock hooks. Blazing opener "Skin O' My Teeth" has less in common with nihilistic peers Slayer as it does with pioneers like Motorhead, Judas Priest or Thin Lizzy, its fiery power-chord riffs not so much crushingly heavy as just plain badass. Likewise, the choruses in "Symphony of Destruction" and "Foreclosure of a Dream" stand as some of the catchiest moments thrash metal ever produced, which, given how much more approachable the genre is than, say, grindcore, is notable to say the least.
Commercial viability aside, however, whatever measures Mustaine & Co. took to deliver a dramatically more radio-friendly album nonetheless resulted in one that's actually really good. There's an almost post-punk tension at play in the stunning title track, while the sneering jerks of "Sweating Bullets" speak to the band's punk influences. It's also somewhat quaint to hear Mustaine, who has since become a born-again Christian and holds political views just this side of Ted Nugent, decrying Reagan/Bush-era policies on "Foreclosure of a Dream." Perhaps less surprising but more effective is his anti-war polemics on "Symphony," which continue a long tradition in Megadeth's catalog to use stylized violent imagery as a vessel for rallying against violence itself. It's contradictory, even a little confusing, but for Megadeth, and a wider swath of metal bands as well, it's effective. Commentary disguised as escapism existed long before Marshall stacks, and Mustaine's version of it merely comes in slightly different dressing.
Now 20 years old, and celebrated in an expanded deluxe anniversary package, Countdown to Extinction is a bronzed memento of the band, not to mention thrash metal itself, at both a creative and commercial apex. In the years to come, Anthrax would make an alternative crossover via David Lynch references, Metallica would cut their hair and squander their goodwill, and Slayer would continue to find new ways to give parents the vapors. Here, however, stood the band's last great balance of melodic mainstream appeal and underground grit, giving a high-five to the disenfranchised while clearing some new room for the normals. It didn't last — it couldn't last — but at least Megadeth showed that, for a time, anger, isolation and aggression could be powerful enough to bring a few million people together.
Similar Albums:
Judas Priest – British Steel
Skeletonwitch – Forever Abomination
Slayer – Seasons In the Abyss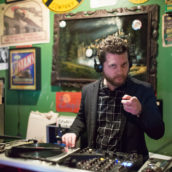 Jeff Terich
Jeff Terich is the founder and editor of Treble. He's been writing about music for 20 years and has been published at American Songwriter, Bandcamp Daily, Reverb, Spin, Stereogum, uDiscoverMusic, VinylMePlease and some others that he's forgetting right now. He's still not tired of it.