Miho Hazama : Beyond Orbits

Unless you're talking about Leonard Bernstein or Trevor Pinnock (and even then…) conductors aren't exactly a hot topic around the dinner table these days. However, Miho Hazama is both an accomplished composer and conductor, leading her team of musicians—known as m_unit—with flair and an ear for all things interesting. Born in Tokyo but based in New York City, Hazama is a young artist and has already been appointed as chief conductor of Danish Radio Big Band and a permanent guest conductor of The Metropole Orkest. With her latest release, Beyond Orbits, Hazama's m_unit celebrates ten years of innovative and electrifying jazz music.
The line up of talent under her charge include guest musicians like the incomparable Christian McBride on bass and saxophonist Immanuel Wilkins, as well as seasoned artists like Steve Wilson and many others. As with her other albums, Hazama fits into that interesting category of forward-thinking jazz that doesn't leave the listener behind. It's cool, it's funky, it's sophisticated. The second track, "A Monk in Ascending and Descending," could be several songs in one. Yet, she keeps it going, keeps it connected. At nearly nine minutes, that presents a hefty challenge, but she pulls it off effortlessly. The last minutes are especially interesting; the beat slows down a bit, and we get a sort of Robert Glasper sound—very chill. It's not fussy or disjointed.
Beyond Orbits is filled with a subtly spacey or extraterrestrial atmosphere. There are moments of movie soundtrack-like strings or horns that sound like they're heroically announcing something to come. But these effects never turn clichéd or overwrought. They hint at an otherworldly aspect, as if Hazama is searching the skies and stars for inspiration during these troubled times. Energy moves throughout these tracks, keeps circulating which gives a freshness that is startling and appealing.
Her three-part "Exoplanet Suite" (featuring McBride) has a bit of the classic big band sound to it, think Artie Shaw, yet Hazama's voice and musical taste comes through. The beginning of part two, "Three Sunlights," showcases more of an orchestral and classical music influence. During its progression, a soft piano comes in and wanders about, gentle and gorgeous. Excitement is there, but it has been shifted into a smaller space. It has the emotional buildup of a Broadway musical without having to be the big beginning or finishing song. There are so many emotions going through this set; it almost seems like too much, but it isn't. As with Gershwin's Porgy and Bess, a single song doesn't stick to one thing, isn't merely one dimensional. It blossoms and transforms. And we are happily along for the ride.
Hazama's prior albums like Imaginary Visions (2021) or Dancer in Nowhere (2019) play with musical expression as well, but this release has a marked sense of maturity and organization. After the more classical sounds of part two, the last movement of the "Exoplanet Suite" goes back to a quicker, jazzier style. Hazama's focus isn't so much tunes or melodies as a general coherence of sound. She slides from this theme to that in a sleek, unobtrusive way. Guiding the listener onwards, Hazama displays a wonderful ability to move forward with her ideas.
Miho Hazama runs a streamlined operation. Deft in her control and her execution of her music, her latest album shows how much she has grown and how much her m_unit has to offer. As with sets like "Can't Hide Love," a sort of reminiscent or homage is at work. It speaks of a bygone era, as previously mentioned, but it isn't mere homage. The work is original and entertaining, maybe because it has that slight sense of nostalgia to it. Regardless, it's delicious and touching. Hazama has really struck gold and deserves much praise. She might not be directing the New York Philharmonic or the London Symphony Orchestra, but her group gives its all. There is a sparkling quality (perhaps due to the percussion parts) to her pieces, and they adumbrate a sort of space adventure, or at least a search for distant planets. Beyond Orbits is familiar, yet reaches toward distant worlds.
---
Label: Edition
Year: 2023
---
Similar Albums: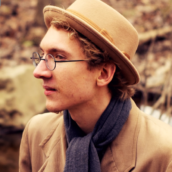 Konstantin Rega
Born in Krasnoyarsk, Russia, Konstantin Nicholas Rega currently attends East Anglia's famous MA in Creative Writing with the Ink, Sweat and Tears Scholarship. He is a professional musician, the former host/producer of Jazz Jams on CSRfm 97.4, and twice a Dan Veach Prize for Younger Poets finalist. He is the Fiction Editor for Crack the Spine and a contributor to The Black Lion Journal. He also blogs.