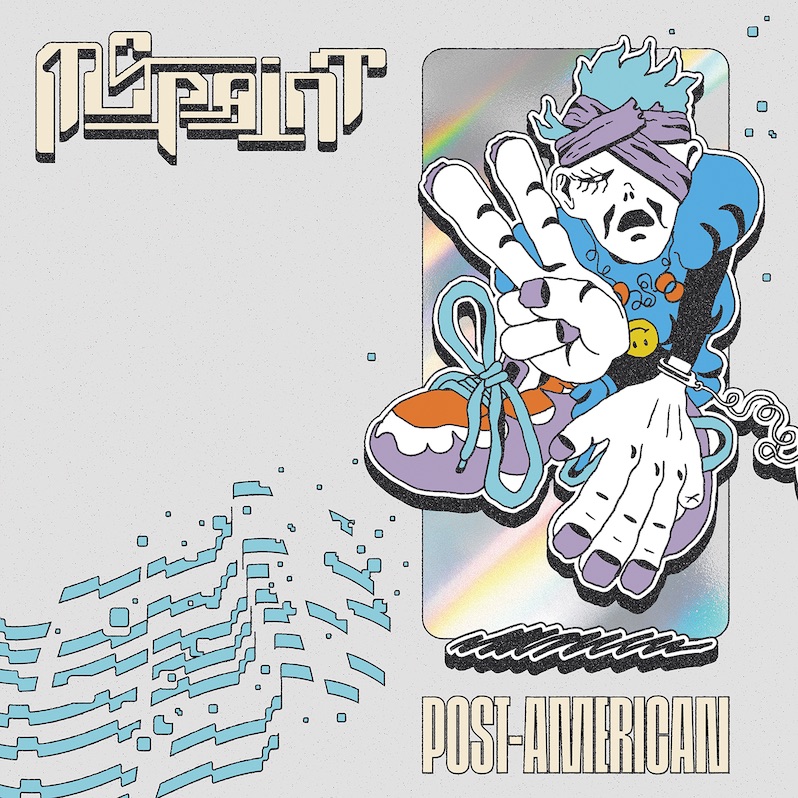 It's taken a few decades to see the beautiful novelty of rubbish computer software pay off in an unexpected way. We had Clippy, and we had MS Paint: so bizarrely influential that a Mississippi band named themselves just that, then placed retro gradients on their artwork. But rather than revel in nostalgic reflections, that same group contemplates a future world in the face of digital, political and ideological interference on their blistering debut Post-American.
MSPAINT's own elephant in the room is their place in a thriving hardcore scene. The cover's graffitied man hits those notes, as does collaborating with Nails alumnus Taylor Young and Regional Justice Centre/Militarie Gun mastermind Ian Shelton. So does finding home on Denver's Convulse Records. There's scratches of hardcore all over this thing: Shelton features on "Delete It," so-called for its relegation to the desktop bin (luckily recovered), while the raucous "Decapitated Reality" reveals Soul Glo's Pierce Jordan's trademark squeal. But straddling gruff punk with keyboards and lo-fi hip hop gives MSPAINT an undeniable idiosyncrasy, owed also to the scene in their native Hattiesburg, whose most famed musical export is stoner one-hit-wonder Afroman.
For all their home state's political frustrations, MSPAINT's mission statement is to deliver Mississippi's close-knit creative underbelly to the masses. Vocalist DeeDee still boggles at performing to spin-kicking hardcore-adjacent circles, but the band's mantra remains universal. Post-American is underpinned by the importance of individualistic expression, human interaction, being "connected to everything," and pushing society toward progress. "S3" appeals to that technological combustion theme in a musical sense with MSPAINT's do-it-yourself ethic and sound collage shining. 
Nick Panella's keys don't so much dip into hyperactive nintendocore or jittering riffs à la The Locust, instead serving gothic melodies ("Free From the Sun") or a breezy air of hanging chords ("Think It Through") to make a guitarless void go very much unnoticed. You'd be mistaken for hearing the instrument's place in the wall of noise crescendo of "Flowers From Concrete," where fans of grit will be amply supplied by pounding drums, sounding makeshift if they weren't so considered and powerful. There's a similar misconceived simplicity in DeeDee's bellows—rarely any trickery, rather a pub-meetup rasp. On rerecorded mini-hit "Hardwired," it's easy to breathlessly shout the raw "Hardwired! To your brain! To your brain! To your brain!" refrain, which sardonically nestles itself quickly in your head. Equally striking is the imagery of burning flags across its title track, whose skittered hip hop beats are complemented by a tone-perfect bassline treading MCA's hallowed steps from The Beastie Boys' Check Your Head standout "Gratitude". 
There's such a wide demographic to appeal to, and range of inspiration to pull from, that merging a bunched package could be a dizzying mess. MSPAINT gives the impression of not knowing exactly where to place Fugazi or Three 6 Mafia into their own brand of synth-punk, so long as they're slamming out fresh music with meaning, and it pays off. While the band's gone on record to say that MSPAINT "must be annoying as hell to write about," instead, it's almost a sadistic joy trying to skate around the genre debate for the purpose of definition. Ultimately, like their iconic graphic-making tool namesake, the band looks poised to stamp their way into the zeitgeist whatever you perceive them to be.
---
Label: Convulse
Year: 2023
---
Similar Albums: