Neil Young : On the Beach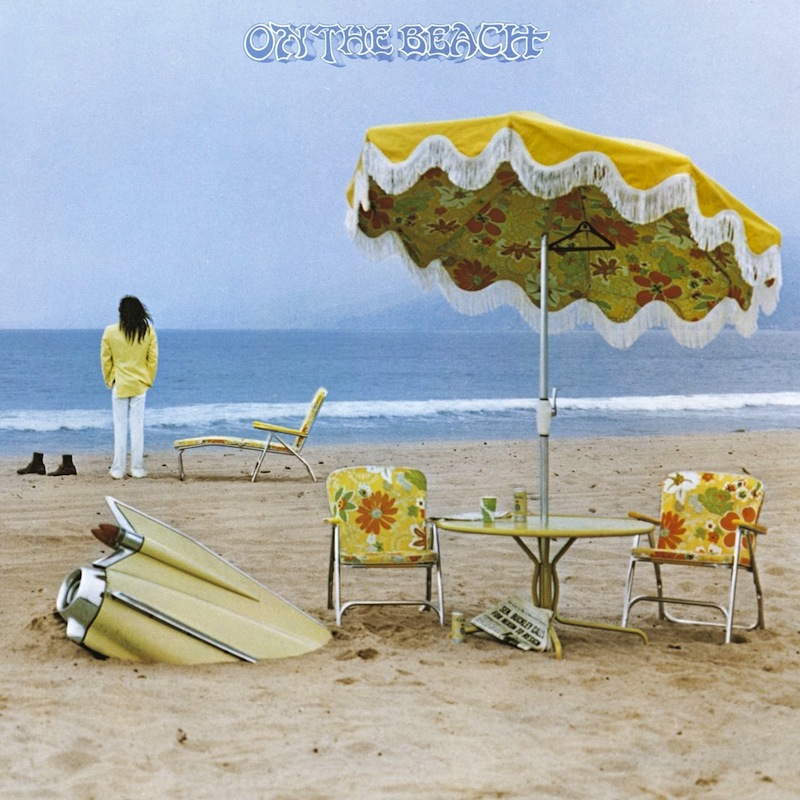 On the Beach is my favorite Neil Young record. I don't feel the need to justify this, though I probably will at some point. I merely want to get it out there in the open. I picked it up on vinyl in San Diego a few years before it was re-released on CD. It therefore had the strange and mysterious value, known only to those that came of age during a time when CDs had already become the norm, of being music that does not exist in any digital form, but only on a scratchy old slab of anything but pristine vinyl. I had heard about the album while reading an interview with Lou Reed, god knows where, in which he said that the guitar solos in "On the Beach," the song, were some of his favorites, largely due to their irregularity. Now, on the whole, I do not give a damn about long guitar solos, but Neil's more acutely schizophrenic ones have always been exceptions. And, at that point in my life, anything Lou Reed recommended was worth, at least, a listen, and in all likelihood, a ridiculous amount of repeated listens.
So, I find this record one day and I pick it up. Mr. Young is on the cover wearing the ugliest yellow jacket I have ever seen which matches the ugliest lawn furniture I have ever seen which is sitting on a beach beside the fin of an old car submerged in sand. The best part of all: the flower print of the lawn furniture is reprinted on the inside of the cardboard. Why? I have no fucking idea. Why does it seem so appropriate to me? Dunno. But fuck it. I am all about this record and I have not even heard one song yet.
Some context. On the Beach was released before Tonight's the Night but recorded after it. Evidently the fine people at Reprise did not think that a meditative Young singing in a remarkably fractured falsetto, among arrangements that feel as if they may fall apart at any moment, was the best way to follow the nervy live songs collected on Time Fades Away. Without a doubt they wanted to capitalize on the success of Harvest and Tonight's the Night probably scared the shit out of some of them and they figured it would probably do the same to a great deal of fans. So, they ended up asking for something else and got On the Beach, the middle album of the so-called Ditch Trilogy, the three 'dark' albums issued by Young at the peak of his popularity.
I may as well address the fact that many people seem to get off on this album, at least when they write about it, because it includes various references to cultural figures. These include, shaded both vaguely and with absolute precision, allusions to Charles Manson in "Revolution Blues," and Patty Hearst and Richard Nixon in "Ambulance Blues," which is, as I have heard it described more than once, Neil's version of Dylan's "Desolation Row." Sure, it can be looked at like that, but it is 100 percent Neil Young and to think of anyone else trying to pull it off makes me giggle. To think of any other nearly nine-minute song played on an acoustic guitar being chosen as the pre-gig music of Sonic Youth, which it has been, is absolutely unthinkable. It is a special song, not in spite of, but because of its folksy esoteric lyrics and the fact that Young himself sings during it, "It's hard to say the meaning of this song." Oh, but that man who tells so many lies is, of course, Nixon. Who else could it be at the time? But to focus on that aspect of the song and the album seems a mistake to me. Young renders himself best in Motion Pictures: "All those headlines they just bore me now/ I'm deep inside myself, but I'll get out somehow and I'll stand before you and I'll bring a smile to your eyes." The line is directed to Carrie Snodgrass, his actress girlfriend at the time, for whom the song is dedicated. Like other aspects of his life at the time, the relationships seemed to be in a state of disrepair. Rusty Kershaw's slide work is the perfect match for Young's unusually low vocals and the song's drowsy, early morning feel. On Tonight's the Night, Young was certainly turned inward, moving further and further away from the outside world and dwelling in the pain of losing close friends to heroin. On the Beach shows him recovering and trying to make sense of the violence of the early seventies which rose out of the shattered possibilities of the sixties.
It must have been strange to hear this album before Tonight's the Night. There are glimpses of a resolute Young ready to move on, coming to terms with himself, trying to silence the critical voices that he perceives around him. The opening track, "Walk On," as its title suggests, is a kiss off to all the so-called friends that he feels have judged him unfairly. The optimistic tone of it, of a happy-go-lucky rock 'n' roll song, is a well-realized foil to the song's antagonistic lyrics. In any case, sooner or later all the talk adds up to nothing, and "it all gets real." And for Mr. Young, what that seems to mean is that he keeps doing what he does, writing the songs that occur to him and following his strange muse into whatever recesses she leads him. Whether he is bright eyed and wondering what the hell is going on in a charged up rocker like "Revolution Blues," or introspectively strumming and meandering through the chasm he has managed to climb out of, Young is in top form during most of On the Beach. Sure there are a few slip-ups, but this is a Neil Young album. If you expected it to be perfect you wouldn't be listening to it in the first place. And the solos in On the Beach—just lovely Lou. Really.
---
Year: 1974
Label: Reprise
---
Similar Albums: