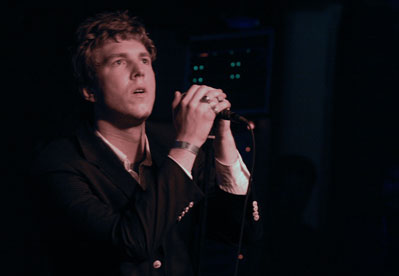 Noise Pop is not simply a festival, nor is it an institution that happens to be based in the City of San Francisco. It is not simply a representation of the genre of music for which it is named, nor is it a harried series of event put forth at whim. Noise Pop, as it toasts to a remarkable Sweet Sixteen, has become an unstoppable force that fully showcases San Francisco's on-the-cusp music scene, demonstrating how the City manages to continuously produce and host a myriad of vibrant and unique acts. Essentially, Noise Pop has become the quintessential local pop music festival to which all other locally-themed city festivals ought to aspire.
Participating in the Noise Pop Festival allows for an in-depth understanding of what it's like to fully experience music within the City's walls, seeing both local and non-local bands chosen specifically for their undeniable influence, both past and present. No band is chosen by accident, and the full schedule of events contains no trace of filler; the lineup for each night, at each independent venue, is booked carefully and purposefully. The 2008 Noise Pop festival featured not only the classic (Magnetic Fields, Cursive, the Mountain Goats), but also the most currently hip (The Dodos, Holy Fuck, British Sea Power), as well as brand-spankin' new and noteworthy (The Gutter Twins, She & Him). The bands arranged to open for these headliners (at least two per headlining act), likely still free of hype, were all aptly chosen as well as legitimately original, talented, and enjoyable.
Treble had the opportunity to partake in the Noise Pop 2008 experience, which as a result included spending time in many of San Francisco's eclectic local venues. On Wednesday night, Nyles Lannon (instrumentally thrilling, brisk roots-rock) and the Broken West (delightful, pop-tinged folk rock) opened for the Walkmen at the Independent, a 30+ year-old venue located in SF's Alamo Square. The Walkmen's set was more thrilling than I ever would have expected, the band working flawlessly to bring their driving, gauzy rock to life. Hamilton Leithauser's vocal mechanism is in a world of its own, and his grandiose stage presence serves as a simultaneously isolating and unifying force within the band.
Besides the music, there were two art exhibits that correlated directly with the Noise Pop music theme. "Sights of Sounds" took place at Park Life, a quaint little store that doubles as a gallery in the Inner Richmond district. A number of photographs adorned the walls of the exhibit showing off a variety of bands and musicians who have performed at Noise Pop in past years – John Vanderslice, Rogue Wave, Devendra Banhart, to name a few. The center of the exhibit was the "Wish Tree" Yoko Ono installation, where anyone and everyone could add a "wish" to hang on the tree, to all be sent to Yoko herself once the exhibit was closed. The wishes ranged from "Please Please Obama, end the war" to "I wish I had more wishes." Additionally, Autumn de Wilde set up shop at Queen's Nails Annex, a small gallery on the edges of the Mission District, signing copies of her newly minted Elliott Smith book and showcasing a set of rare photographs of the late singer-songwriter. The "Pictures of Me: Rare photographs of Elliott Smith" exhibit was visited by many a quiet and contemplative fan, admiring the musician's subdued brilliance captured beautifully in photograph form.

Bodies of Water
Thursday night found us at Café du Nord, a sexy, below-ground venue in the infamous Castro district. It was here that we saw Bodies of Water and Or, the Whale open for the Dodos – theatrical chamber pop and elaborate country-rock, respectively. Bodies of Water put on a particularly lush and memorable performance that stuck out amongst the many bands performing on any given night. The Dodos, one of the most hyped bands on the blogosphere these days (and rightly so), put on an incredibly intricate set, at times chaotic yet forever seamless. The forcefully beautiful, experimental folk-rock of the upcoming Visiter album was performed with vigor and tenacity, and I got lost just watching Meric Long's seemingly-possessed fingers strum his guitar at a light-speed pace.
Friday night's show featured Veil Veil Vanish, White Denim, A Place to Bury Strangers, and Holy Fuck at Bottom of the Hill, a fantastic dive located in a relatively desolate area of otherwise-dense San Francisco. We caught only the tail end of White Denim's show (though I found that they still merit a recommendation) and then A Place to Bury Strangers, while legitimately awe-inspiring, left me with severe regret over forgetting my earplugs. Holy Fuck absolutely killed; the foursome's chemistry and brazen crashing of their instruments left the audience in a daze. And in my not-so-humble opinion, "Lovely Allen" might just be one of the most exhilarating songs to experience live these days. We were also lucky enough to catch Holy Fuck during their live Daytrotter session at a downtown SF studio, a very cool addition to the Noise Pop festivities.

Holy Fuck
The Monotonix was the second band to open the Friday night lineup at Bimbo's, an upscale SF institution in operation since 1931 where the bartenders wear suits and the bathrooms have actual attendants. In a way, therefore, the Monotonix seemed slightly out of place, as the hairy Israeli threesome refused to play their insane fury of garage punk music on stage and instead made themselves comfortable with the audience below. Singer Ami Shalev humped the floor, spit beer on whomever was in his general vicinity, and tried to trip people with his microphone wire, and it was amazing. Great Northern couldn't quite measure up, unfortunately, as their energy and sound failed to deliver, though it may just have been an off night. Up next were the Gutter Twins, one of the most highly anticipated sets to grace the Noise Pop lineup this particular year. A project featuring ex-Afghan Whigs Greg Dulli and ex-Screaming Trees singer Mark Lanegan, the Gutter Twins are an unlikely, yet fitting, musical collaboration. The two frontmen were mutually compelling and fascinating to watch – Dulli in his archetypal rock star screams and puffs of a cigarette, and Lanegan in his uncompromising stoicism – and the music is dark, bluesy glam-rock that thrills as much as it haunts.
When you combine the astonishing choices of rock and roll shows with a number of film screenings, music industry educational sessions, "pop and shops" featuring local designers, and musically-themed art exhibits, you get Noise Pop, a week that has become one of the most exciting times of the year for Bay Area music fans. With the choice to attend any number of events on any number of foggy evenings, Noise Pop allows for countless opportunities to experience and celebrate the embedded impact of independent art and music that thrives within the City by the Bay. Here's to another sixteen years!
Photos courtesy of Matt Mills.