Numero Group announces career-spanning 90 Day Men box set
Claire Mooney
Numero Group has announced a new box set chronicling the music of Chicago band 90 Day Men. We Blame Chicago will be released on January 19, and features the group's three studio albums, EPs, singles and outtakes. Numero Group is also releasing a bonus cassette, Orbit to Orbit, which features some previously unreleased material from the group. The box also features a 68-page oral history of the band, compiled by Tim Kinsella. Hear "Untitled 01," a previously unreleased song from the group, below.
Active between 1995 and 2005, 90 Day Men comprised Brian Case (FACS, Disappears), Cayce Key and Chandler McWilliams, and later added Robert Aiki Aubrey Lowe, who has since become a prolific electronic and film composer, as a multi-instrumentalist.
Read our list of 12 Essential Numero Group releases.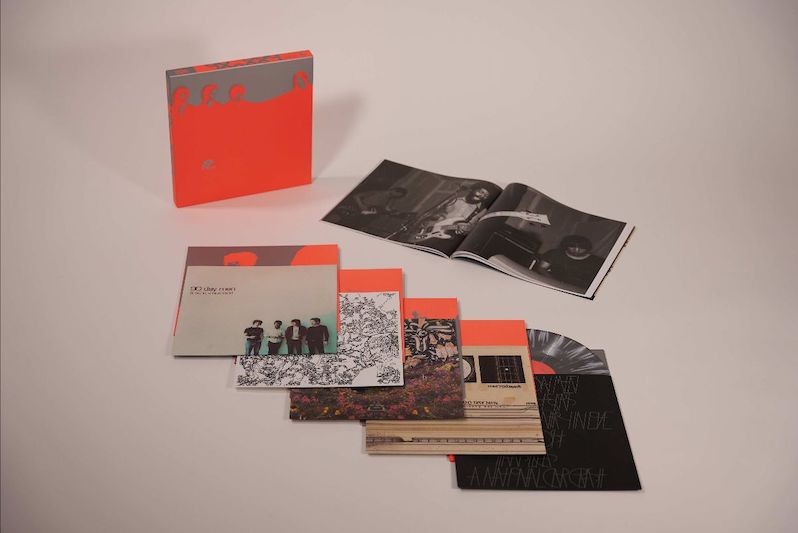 (It (Is) It) Critical Band Tracklist
1. Dialed In
2. Missouri Kids Cuss
3. From One Primadonna To Another
4. Super Illuminary
5. Hans Lucas
6. Exploration Vs. Solution Baby
7. Sort Of Is A Country In Love
8. Jupiter and Io
 
To: Everybody Tracklist
1. I've Got Designs On You
2. Last Night A DJ Saved My Life
3. Saint Theresa In Ecstasy
4. We Blame Chicago
5. Alligator
6. A National Car Crash
 
Panda Park Tracklist
1. Even Time Ghost Cant Stop Wagner
2. When Your Luck Runs Out
3. Chronological Disorder
4. Sequel
5. Too Late Or Too Dead
6. Silver And Snow
7. Night Birds
 
EPs, Singles & Outtakes Tracklist
1. My Trip To Venus
2. Sink Potemken
3. Streamlines And Breadwinners
4. Sweater Queen
5. Hey Citronella
6. From One Prima Donna To Another
7. Studio Track Four
8. Methodist
9. To Everybody: Outtake 1 (Previously Unissued)
10. To Everybody: Outtake 2 (Previously Unissued)
11. Harlequins Chassis
12. Eyes On The Road
 
Peel Session Tracklist
1. Sort Of Is A Country In Love (Previously Unissued)
2. The Methodist (Previously Unissued)
3. Hans Lucas (Previously Unissued)
4. National Car Crash (Previously Unissued)
 
Orbit To Orbit Tracklist
1. 17,000 Kiloujoules Of Light
2. Rex Roth
3. Orbit To Orbit
4. Untitled 01 (Previously Unissued)
5. Kid Kool Aid (Previously Unissued)
6. Untitled 02 (Previously Unissued)
7. Untitled 03 (Previously Unissued)
8. Two Word Title (Previously Unissued)
9. Pull Up The Brass (Previously Unissued)
10. Kid Kool Aid 97 (Previously Unissued)
11. What's Next, Explorers? (Previously Unissued)