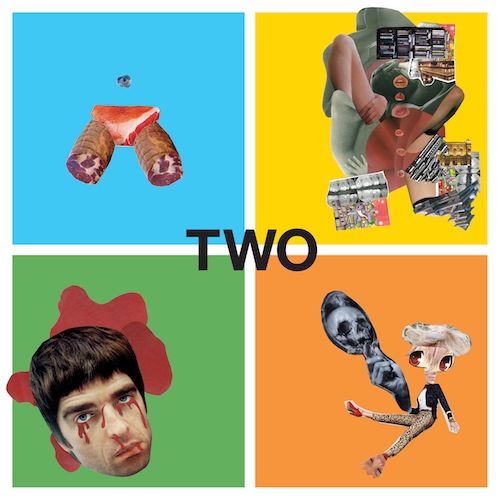 Buy at iTunes | Buy at Insound (vinyl)
Toward the end of "Why Oh Why," the fourth track on Owls' Two, emo maven Tim Kinsella stoically blurts out, "My horoscope always trumps world news." As droll as it may be, the lyric encapsulates the very spirit of Owls: sickly abnormal and strangely humorous. Founded in 2001 by members of seminal emo outfit Cap'n Jazz, the band specializes in nonlinear song structure and outré lyricism. It's more or less Cap'n Jazz without the juvenile edginess, scuzzy guitars, and Davey von Bohlen.
Two is the over-the-hill brethren of the group's debut album Owls. Separated by 13 years, the band's newfound maturity has led to a more taut and focused record than its predecessor. They've ditched the schizophrenic arrangements of the past for a traditional verse-chorus-verse structure, and the once intangible words of Kinsella are relatively straightforward.
Growth is imperative and expected, I know, but Two falls flat. Where Owls was brimming with life, its follow-up could desperately use some. The songs here are languid and insular, and seldom do they click. Opener "Four Works of Art" is a prime suspect, what with its sinister strides and call-and-response chorus. The track is cohesive enough, but it could use the spontaneity of Owls. The youthful exuberance just isn't there.
Kinsella's lyrics, on the other hand, still feature jocular and inscrutable hokum. Though these offbeat moments are few and far between, there are enough Kinsella-isms to go around. The singer mentions spaghetti masks, eating someone's "goo," and his indubitable chocolate supply. He, of course, recalls that time somebody "dropped a chilled pickle in hot sand" as well. Evidently, this is still the same evil genius that sang, "Canine ate seven sick five-year-olds" on Shmap'n Shmazz.
All in all, it's highly unlikely Two will win over new listeners, but devotees will drink it up. Kinsella's downcast vocals are all the more prevalent, and unwieldy deep cuts could easily pass as Owls B-sides. "I'm Surprised," for example, finds Mike Kinsella's drums grooving in one direction and Victor Villareal's guitars fling the opposite way while Kinsella's vocals meander somewhere in the middle. It's exactly what you would expect from a second Owls album — and that's the problem.
Similar Albums:


The Dismemberment Plan – Emergency & I


You Blew It! – Keep Doing What You're Doing


Tera Melos – X'ed Out