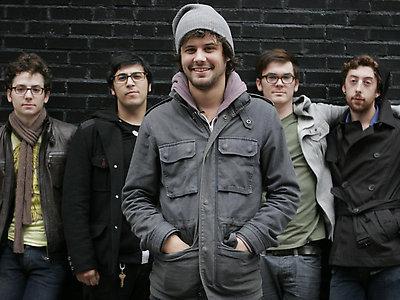 I love the Bowery Ballroom. It is truly one of our nation's greatest live music venues. The sound is phenomenal, its shows rarely start late, and if you're assertive enough, there is always a spot waiting for you right in front of the stage. Upon arriving at the Bowery last Saturday to see the second of two sold out shows by the highly-touted electro-pop outfit Passion Pit I did not bask in my surroundings however, but immediately checked my ticket. Was this an all-ages show? Because my better judgment was telling me that the gangly girl next to me was barely pubescent. Assured by my ticket stub that this was in fact an eighteen and older show, I shrugged, and planted my feet, ready to throw elbows if the situation deemed necessary.
Brooklyn native Cale Parks took the stage first, displaying a remarkable stage presence. He displayed a unique blend of synthesizer, vocal distortion, and the occasional snare drum. Although experimentally creative, Parks failed to reach the crowd. Granted at this point, the Bowery hadn't reached its full capacity, however he lacked the distinct pop characteristics of upbeat melodies and listener-friendly choruses, both of which Passion Pit wholeheartedly possesses.
Also based in New York, the keytar-wielding, electronic pop duo of Shy Child followed Parks with gusto. Lead singer and keytar master Pete Cafarella was infectious on stage and his chemistry with drummer Nate Smith was undeniable. They played off of each other effortlessly. Cafarella chimed in with a sporadic cymbal-hit every so often, sitting on the bass drum while Smith laughed, clearly familiar with his antics. Obviously no strangers to the stage, it was apparent why Cafarella and Smith have kept going strong for the better part of a decade. Shy Child did exactly what an opening act should do: got the crowd excited, and in this case, got the crowd dancing. Their music was the perfect blend of upbeat, dance infused choruses and sassy lyrics. Cafarella and Smith even had the right level of boyish good looks to garner the attention of the young ladies to my left. "Can I have a drum stick?" the taller of the two asked with hopeful determination in her eyes. Smith stared quizzically at her for moment, before succumbing to her request. No, I wasn't at a Fall Out Boy concert. Yes, we were still awaiting Passion Pit.
The now fully packed ballroom was buzzing. If you are unfamiliar with Passion Pit's latest release Manners, or if you are unfamiliar with Passion Pit in general, you might want to fix that quickly. Manners will assuredly be one of the top rated releases of the year and by the looks of the crowd at this show, it is no doubt to due to the fact that Passion Pit reaches a broader spectrum than just synth-loving hipsters. The masses held a variety of admirers including, but not limited to, top-sider wearing ex-fraternity members, rosy-cheeked NYU students, kids fresh out of their high school graduation, and even (gasp) fans well over 30.
After 15 minutes of a little crowd shuffling and a few elbows in my back, Passion Pit took the stage to a raucous amount of hoots and hollers. They speedily set up their abundance of stage equipment: drum kit, guitars, bass, several distortion pedals, random percussion instruments, and roughly 6 to 8 keyboard/synthesizers. At the completion of their setup, their was no time wasted. They kicked the show right off with "Better Things" off of their Chunk of Change EP. Everyone, and I do mean everyone, including myself, jumped up and down to the beat of the song, knowing every word, singing along to every line, answering back every "oh no" Angelakos through out with one of our own. This wasn't exactly a shock, seeing as how this was not the first taste the world got of Massachusetts based fivesome. "Better Things" was just the right song to start the set off with: there's not much of an instrumental introduction, the lyrics begin almost immediately, and it was on a previous release, making it likely to be familiar. Well played, Passion Pit. Way to set the tone.
The boys didn't keep the audience waiting for new material long, as they jumped into "Make Light" off of Manners next. Having been nervous about the strength of Angelakos' vocal abilities, all worries I had were quickly laid to rest. His consistent falsetto maintained in tact the entire set. He was straining, and that was obvious, but who wouldn't be, singing in that high of a register?
"Let Your Love Grow Tall" came next, then "I Got Your Number," but the highlight of the entire evening was "Little Secrets." Not yet released as a single, although it definitely should be, "Little Secrets" found Passion Pitt enlisting the help of Staten Island's famed PS 22 Choir for the album. Clearly unable to make it for this performance (probably due to scheduling conflicts and such) Angelakos enlisted the help of the audience on the chorus parts. In no need of encouragement the crowd jumped right in, singing every "whoa-oh-oh-oh" and "higher and higher" in perfect time. "Little Secrets" is an inspiring ditty to begin with, but with a live version of choral accompaniment, albeit amateur, it is a force to be reckoned with. "Little Secrets" took the show from a concert, to an experience in less than four minutes.
After rounding out the set list with "Folds in your Hands," "Moths Wings," the ever popular single "Sleepyhead," and "Smile upon Me," Angelakos and co. quietly excited the stage with a head nod and a thank you. This wasn't going to fly. The crowd was antsy, rustling about, chanting for an encore. Heeding the call, Angelakos came out on stage again alone, taking position behind his keyboard to bang the opening chords of "Seaweed Song." Partly through, Angelakos was joined by his remaining bandmates, and afterward, they finished with their latest single "The Reeling."
While the band didn't address the audience a whole lot, save for Angelakos enlisting the crowd on a chorus or two, it's not hard to see, or hear, why. The music of Passion Pit is so layered, far more than upbeat, dance ready pop music. With a bevy of synthesizers, distortion, bells and variety of other contributions, Passion Pit manipulates their melodies to mold what could be a chaotic disaster into beautiful constructed pop ditties layered to the utmost degree. Seeing them live is truly witnessing artists at work, diligently concentrating at the task as hand, which is completely understandable given the complexity of their music.
What's even more astounding is the amount of undeniable crowd support for a band that was formed in the last part of 2007 and whose commercial release didn't hit stores until this May, in both the United States and the UK. They have already traveled the world with bands such as Death Cab for Cutie, Girl Talk and These New Puritans. Allegedly stemming from songs that front man Michael Angelakos gave to his then-girlfriend, the formation and subsequent following of Passion Pit has been swift. They have two shows scheduled at the end of September with Phoenix in New York City at Central Park, which are bound to sell out, if they haven't already. If you're lucky enough to catch them, Passion Pit is a must see. Their songs are infectious enough on an iPod, but nothing compares to the real thing.