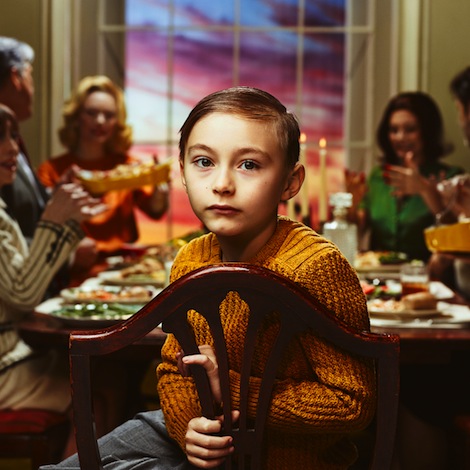 There's a kind of emotional duality present all throughout Kindred, Michael Angelakos' third album with Passion Pit, but never with such painstaking weight as on "Five Foot Ten (I)." In that typically bouncy, synth-driven number, Angelakos sings about dealing with his own emotional issues and past within the context of a not-so-stable relationship, often landing upon overconfident lines like "You can depend on me/ you can rely on me/ But every once in a while/ I'd rather be..." before spilling into the song's climactic chorus, which alternates between the phrases "all alone" and "all alone with you." In that small moment, the songwriter creates a swirl of contradicting emotions, touching on comfort, alienation, victory and defeat all at once.
Kindred is, like all of Passion Pit's records so far, an album largely about Angelakos' struggle with bipolar affective disorder. But, unlike previous efforts, he does less hiding behind beeps and bleeps, leaving his lyrics plenty of room to breathe. That enhanced intimacy is one hell of a gift to the listener: Kindred boasts many of Angelakos' best and most personal songs to date. Over a cleaner, less muddied version of his staple synth-pop approach, he details complicated, personal storylines in a gentle, poetic matter. He dives into his own growth and failure in a variety of relationships, both familial and romantic, and lands on an album that is about something much more universal: Our reality is not always how we're seeing it play out in our head, and vice versa.
For much of Kindred, Angelakos hones in on moments when he tried to blame others for his internal struggles, or times when he internalized issues that came from a bad environment he placed himself in. Naturally, these realizations make for difficult digesting when compared to your standard synth-pop material, but there's a beautiful kind of peace to be found in hearing Angelakos address these moments in the past tense. On full-throttled single "Until We Can't (Let's Go)", through lines like "Someone said stop hesitating/ we both know we're suffocating/ let's go out and find ourselves a home," he addresses how he has made a habit of blaming his relationship issues, many of which stem from his personal mental struggles, on physical spaces like a bad apartment or the wrong city. It's a first person, oft-misguided analysis of a living situation, but carries a sense of awareness that little of Passion Pit's prior work possessed. The Angelakos of Manners or Gossamer might have written this same song with a straightforward sense of suspended disbelief, but on Kindred he's looking at the these sort of moments with much wiser eyes.
Angelakos' compositional approach has grown with him as well. As a songwriter, he has stopped hiding behind dizzying walls of synths, taking a simpler, more understated approach to his bouncy-yet-dark dance tracks. And because the songs are more straightforward to start with, Angelakos gets a bigger bang for his buck when he drops nuanced synth melodies like those on the chorus of "All I Want" or scattered throughout the melancholy "Looks Like Rain." In perhaps the most intimate moment in his catalog, "Dancing on the Grave" finds him completely dropping percussion out of the picture, leaving the security his beats provide to let out a desperate, longing call of "No, I can't stay here."
Album closer "Ten Feet Tall (II)" is, depending on how you see it, either the happiest or most solemn track in Angelakos' career. In it, he sings confidently about how far he's come in handling his condition and achieving a normal life. But while his lyrics are triumphant and cathartic, the vocals are filtered through an amount of processing far more distorted than what Angelakos has used on any of his previous songs, bringing to mind a moment earlier in the record when a clear-voiced Angelakos opened "Five Foot Ten (I)" with the words "You said I'm wrong and that I'm 5-foot-10/ Darling what'd you do to me?/ You're living in my head." Those moments, juxtaposed against one another, create the most bittersweet revelation of Passion Pit's short career. Is this victorious anthem just Angelakos' inflated self-talk, waiting to be swatted down by some internal or external force? It's just one of many emotional obstacle courses on Kindred. But those hazards, paired with Angelakos' most honest and fulfilling work to date, are exactly what make this record worth the struggle.
Similar Albums:


M83 – Saturdays = Youth


Phoenix – Bankrupt!


Sufjan Stevens – Age of Adz