No Formal Language: An interview with P.E.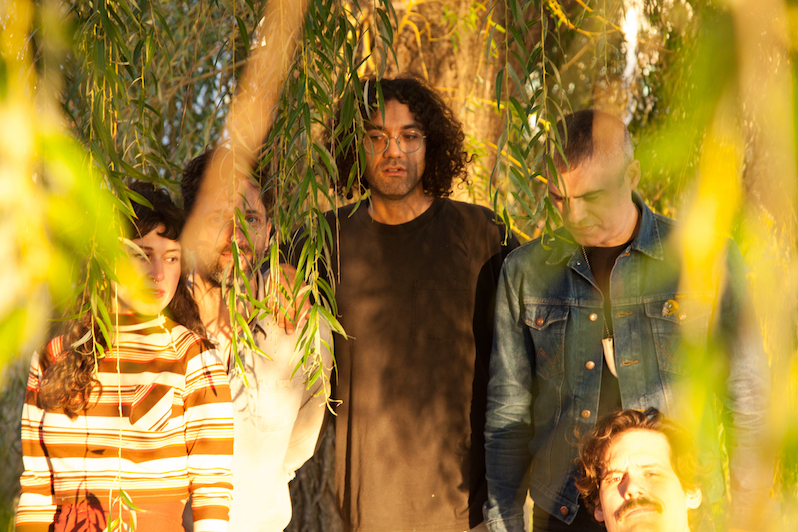 Last spring, Brooklyn post-punk quintet Pill called it quits after five years, leaving two excellent full-length records and a handful of singles. But nearly a year before that chapter ended, three-quarters of the band were beginning a new one. In summer of 2018, New York art punks Bodega invited both Pill and Eaters to play their release show for Endless Scroll. One member of Pill wasn't able to make it, and as it turned out, one member of Eaters couldn't commit either. So an unlikely solution ended up being proposed: Why don't the remaining members perform together as a new, collaborative group?
With that simple suggestion, P.E. was born, originally billed at their first show as Pill/Eaters. Veronica Torres, Jonathan Campolo and Ben Jaffe of Pill, and Jonathan Schenke and Bob Jones of Eaters began the project with an entirely improvisational approach, taking a more open ended approach that might well have begun as a one-off, expectations-free live experience, but ultimately ended up shaping the direction of the band to come. And not long thereafter, the quintet used that creative unpredictability as fuel for their debut full-length Person, which is out in March via Wharf Cat. The album fuses dark, proto-industrial menace with a subtle pop sensibility, no wave abrasion and Torres' abstract, haunting lyrics. It's a glimpse of dystopia delivered with itchy, danceable rhythms.
Yet as complete and cohesive a first recorded document as Person is, improvisation remains at the core of what P.E. is.
"Every time we play it's a bit different. Which is really fun, and free," Schenke says. "We stumble into new ideas that the song takes a completely different direction than we happened to record it on the record. But we may never get back there. But the idea of putting five people in a room and turning on your instruments, I think that is really at the core of this project."
Treble caught up with P.E.'s members as they were in the middle of a rehearsal to talk about creating something without an end goal in mind, "Warm Leatherette" and sampling playtime with a dog.
---
Was there any roadmap for what you wanted to do as P.E.?
Veronica Torres: I think that it was exciting to do something different. At least (three of us) were still in Pill, so we could experiment and try new things and hang out with friends. "Oh we really like this! And oh, this is really different!" We didn't hear a lot of people in our community doing this. But it was really organic. I think that we really liked the opportunity to be playful. Sonically and lyrically. I still have the same process, but…something about Johnny in his studio coaxed some softness out of my voice, felt like I was singing more instead of being more abrasive. It was fun to get out of how you kind of feel pigeonholed when you have a defined aesthetic. The record has a few different directions, even though it's all electronic based.
Jonathan Schenke: The record is very much coming from first-take recordings. The first weekend, we were just in the studio, coming up with an idea and hitting record as soon as something starts. So the first weekend, we had the bulk of what made up Person. And all of the overdubs, coming back in, were similar sort of riffing off of one another and what we were hearing. Things starting to take shape like that. You make a big mess. And then you start scraping off the ugly gunk and making a collage out of what's left. It kind of felt like reverse engineering a lot of songs.
How much did having an improvisational approach help you to figure out what kind of direction you wanted to take?
JS: The first show was improvisational, which was important, because we had established nothing at that point. We weren't even really a band. It was foundational.
VT: We played shows with Eaters as Pill, just being on the same bill, and we knew each other's language a bit. There were already somethings we knew would come out of each other. There was no formal language between us all, but we kind of knew where people were coming from.
Did having an open-ended, blank slate approach seem to inspire more ideas?
VT: Yeah, totally. (We would say) "Is this good, I don't know? Keep going!"
There's a lot of different sounds happening here, from pop to more contemporary electronic textures to early industrial elements—I even hear The Normal's "Warm Leatherette" in "Top Ticket." Are you naturally drawn to contrasting or contradictory ideas or sounds?
JS: I think yeah, totally. That balance of opposing textures, and what might be the obvious choice, if you play upside down and backwards, becomes completely fresh. As someone who makes a lot of records with a lot of different kinds of people, you try to inhabit their headspace and understand their intentions. I always encourage people to always get weirder and noisier, and maybe that's because I listened to a lot of noise and industrial when I was a kid.
Jonathan Campolo: I think what was really fun and what was apparent early on, like all of the textures—"Warm Leatherette" is totally on the nose. Completely. But it was a lot of textures that were intimate but abrasive. Maybe textures you wouldn't hear so closely. Like the guitar solo is something you'd hear in a power electronics song and it would be unlistenable. But you put it in a different context and it's fun.
It's still a really fun album though…
JC: Everything is funk, you know, in there. And we definitely were scratching an itch, maybe. It's really easier to make something that's more fun.
JS: Part of the pleasure, going back to the part about trying to throw a hard left in an arrangement—some of the things that are the most fun are the most abstract. "Entertainment" is Ben doing a far out improvisation on his sax, over a vacuum cleaner that's being processed through a synthesizer live, with a foundation of a sampler drum machine of us trying to entertain Bob's dog. It's total abstract, like noisy madness, but it cracks me up every time I hear it.
Bob Jones: One more detail about that song—Ziggy, the dog, wasn't entertained by us at all. He totally didn't care.
After having recorded an album and played more shows, is there more of a concrete idea of what P.E. is or can be?
JS: Yeah, I think so, because there was never a real conversation about what we were going to do. Bob showed up with his sampling drum machine, I showed up with a synthesizer and Jon brought a bass and a bunch of effects, and we just started making these sounds that, from the beginning, influenced the direction we were gonna take. Even from those initial rehearsals through the record, the idea of the project took shape. The special edition of Person comes with this mixtape that we put together of live recordings and outtakes and rehearsal snippets. And as we were collaging it together, I could hear how, in particular, Veronica's voice and Ben's playing still had a lot of the Pill tendencies, whether it was more aggressive or more noisy. And songs like "Soft Dance," I remember hitting earlier on and leaving alone and that was one of the last ones we finished off, because we found the voice of the project.
VT: I don't think there's a sonic manifesto or anything. It's just really about being able to be playful and try new things and being able to change when we want to, because we want to.
Is there anything you'd want someone to take away from hearing Person?
VT: It's fucking hard and complex being a human being, and try on all of your options. What does that mean? I don't know! It's intentionally vague.
***
Pill tour dates:
3/6 – NYC – Trans Pecos: RECORD RELEASE w/ Gauche, Macula Dog, DJ Montana Simone
3/18 – Ears to Feed – Spiderhouse
3/20 – Queen of the Scene – Full Circle Bar
3/21 – Siren Sound – Cheer Up Charlie's
4/3 – NYC – Baby's All Right w/ Activity (Record Release), Noel Heroux
5/4 – 05/09 – P.E. tour w/ Pottery
5/4 – Philadelphia – Johnny Brenda's w/ Pottery
5/5 – Washington DC – Songbyrd w/ Pottery
5/6 – NYC – Elsewhere Zone 1 w/ Pottery
5/8 – Boston – Great Scott w/ Pottery
5/9 – Montreal – La Sala Rossa w/ Pottery
---
Support our Site—Subscribe to Our Patreon: Become one of our monthly patrons and help support an independent media resource while gaining access to exclusive content, shirts, playlists, mixtapes and more.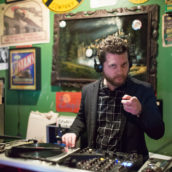 Jeff Terich
Jeff Terich is the founder and editor of Treble. He's been writing about music for 20 years and has been published at American Songwriter, Bandcamp Daily, Reverb, Spin, Stereogum, uDiscoverMusic, VinylMePlease and some others that he's forgetting right now. He's still not tired of it.