Phoenix : It's Never Been Like That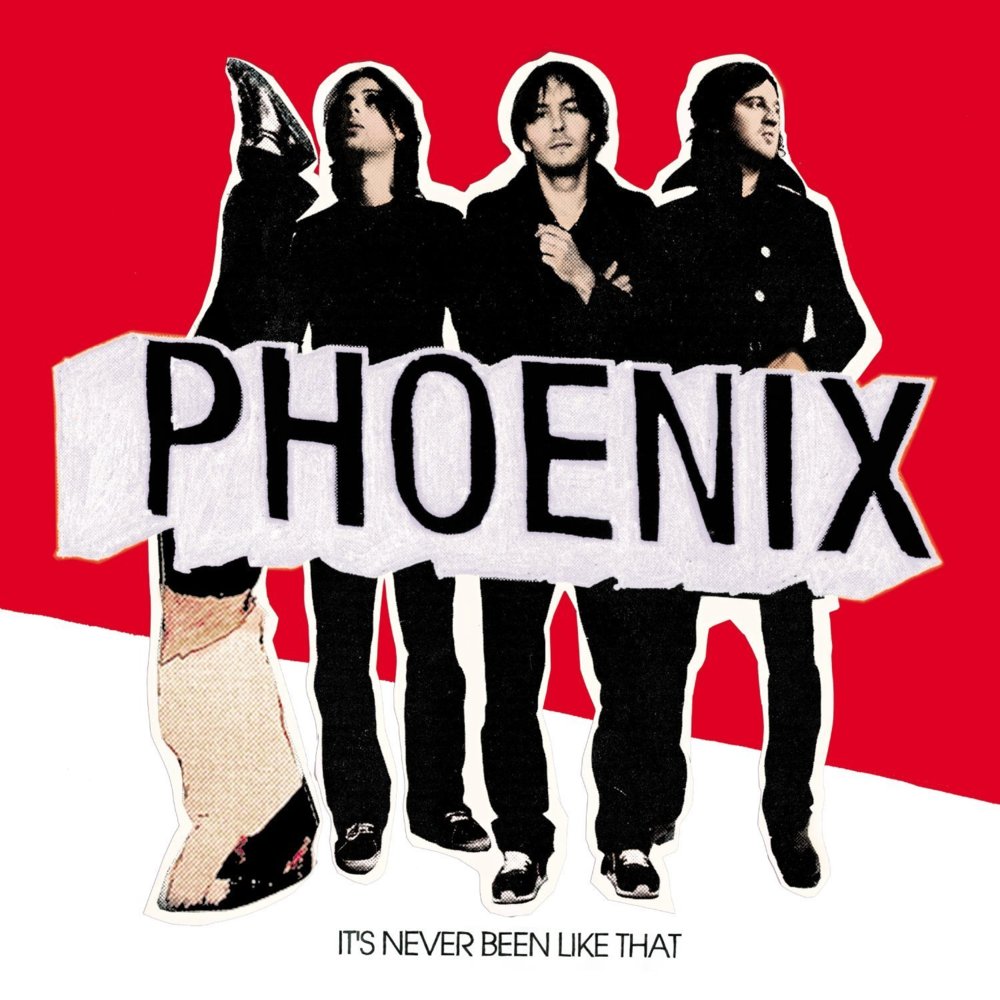 In the same week that Jean Gray returns to the big screen as Phoenix, the X-Man who rose from certain death in a watery grave, French band Phoenix is also getting a little bit of poolside resuscitation for their third album, It's Never Been Like That. Just like the title says, Phoenix's music has never been like this. It's just as infectiously catchy, but this time around, beautifully restrained guitars are added to the mix that rein in the dance party from Air and Daft Punk territory into Smiths / Aztec Camera / Ocean Blue tromping grounds. In doing so, Phoenix have made one of the tightest, most accessible and exquisitely perfect pop records outside of the '80s.
Previous releases by Phoenix, United and Alphabetical, followed the path of electro-pop that had been blazed in France through the previous years. It's Never Been Like That is as much a statement of their new sound as it is a fantastic double entendre. Laurent Brancowitz's and Christian Mazzalai's guitars sound as if they've studied at the Johnny Marr school of strumming while Thomas Mars' voice still retains that suave Gallic temper. The result is the perfect blend of pop stylishness that brought the band to the attention of Sofia Coppola, who used their song "Too Young" for her film Lost in Translation. Recently, rumors have surfaced that Sofia is now pregnant with Mars' baby. (What a wonderful way to show him she loves him…)
Currently, Coppola is hawking her new film based on the life of Marie Antoinette. Phoenix's first song on Never references Napoleon. Hmmm. A little bit of French history from the new couple? Could "Napoleon Says" be about Sofia? In it, he sings, "You know your French well…You want to be European / I would be your Bonaparte." Sacre Bleu! The bouncy early Smiths-like fun starts with the second track, "Consolation Prizes." With start-stop phrasing, this song is easily one of the strongest, highlighting their ease with pop melody while putting it in a different setting. "Rally" and "Second to None," as well as several other tracks, sound as if they could be covers of Clap Your Hands b-sides, especially in their repeated staccato-voiced choruses. "Long Distance Call" is really the only song that sounds like old school Phoenix. With a simple drum track and spacey keyboard notes, Mars' voice takes center stage. One gets the impression through the first four songs that the album is far sunnier than the sometimes dark and apocalyptic lyrics on Alphabetical, and that trend only continues as the album progresses.
Most, if not all, of the songs on It's Never Been Like That have to do with love. Whether it's about new found love, a love lost, or missing someone, Phoenix follows the age-old tried and true pop song subject gold standard. With Mars' sweet and even voice, one usually can't tell the difference in tone between one of his love songs or one of his lost love songs such as the bitter "Courtesy Laughs," and that's OK. Songs don't have to be painfully and earnestly sung in order to be great. So, in a way, Phoenix are the anti-emo band, a refreshing throwback to a time when new wave and British indie guitar pop were played on the radio side by side and which they now combine into one distinct sound.
It's odd, but Phoenix decamped to Berlin, the place where Iggy, Bowie and Lou Reed all escaped to find some kind of stark inspiration for their classic '70s masterworks, to record It's Never Been Like That. The idea of four Parisians entering Berlin to create a sunny pop record seems somewhat ironic to me, but they pulled it off. Phoenix has managed to remain fresh by constantly looking backwards for inspiration. Whereas once their sound would have been welcome in a '80s disco, now it sounds ready for every indie kid's dorm room.
---
Label: Astralwerks
Year: 2006
---
Similar Albums: