The Silencers : A Letter From St. Paul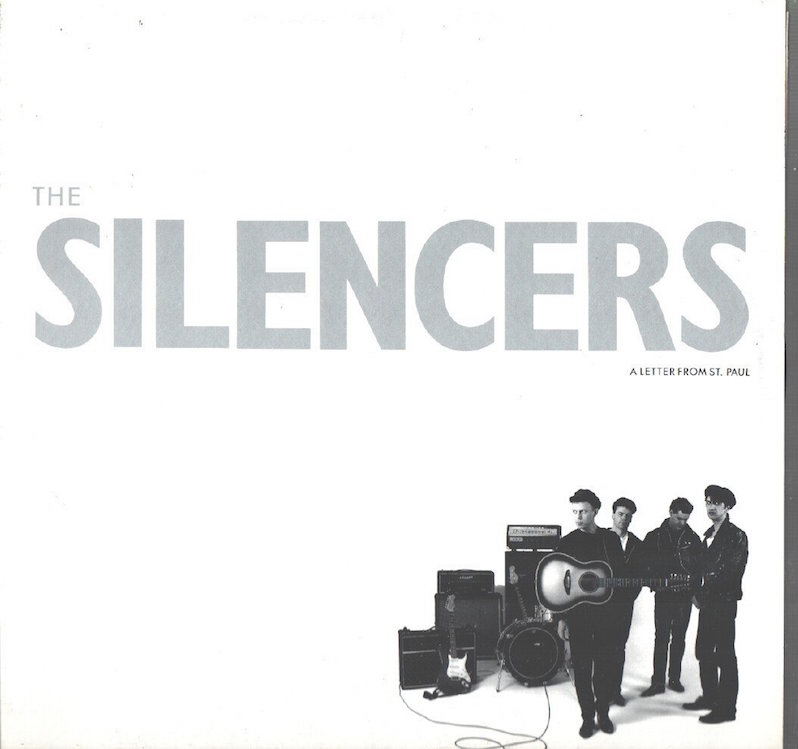 The first song I heard from the Scottish band the Silencers was the opening track off of their debut album, "Painted Moon." The track had decent airplay on Los Angeles' KROQ and its San Diego sister station, 91X, and was also featured in the opening credits for the Jon Cryer post-Pretty in Pink flop, Morgan Stewart's Coming Home, which, due to its title, was mistake for a Ferris Bueller rip-off. The movie was so bad, however, that the two directors used the 'Alan Smithee' nom de plume, which is employed whenever a director wants his name disassociated from a disastrous flick (e.g. David Lynch used it for the shortened version of Dune). For the most part, nobody had heard of the Silencers. It's a shame really, as "Painted Moon" is one of the best jangle-pop songs to come out of the '80s. Jimmie O'Neal, the singer, guitarist and songwriter of the group, has a sweet falsetto and charmingly boyish voice that lends his songs an air of vulnerability not often found in the pop music of the time.
I ended up buying the cassette at the Tower Records in San Diego across from the Sports Arena. It is one of the few albums I can remember exactly when and where I purchased it, that's the effect this album had on me. The cover struck me first, all white with the band placed in the lower right in front of their gear, Jimmie holding his guitar and wearing a jaunty cap, the band's name in huge gray letters at the top. In its simplicity, it still remains one of my favorite album covers of all time.
I already knew the song "Painted Moon," but other songs on the album would win me over on further listens. The plaintive "I Can't Cry" (a song seemingly about abortion, with incredible lyrics, recorded long before Ben Folds' "Brick"), the changing gears of "Bullets and Blue Eyes" and the building mastery of "Blue Desire" all quickly found places in my heart. But the title track absolutely blew me away. "A Letter from St. Paul" is essentially an instrumental track of repeating bass and drum lines and a stunning jangly and metallic guitar line overlaid with the voice of a woman (American, living in Minneapolis) reading a letter to a friend in London. In the letter, she talks about an enclosed picture of herself with "the boy of her dreams." She creepily says, "he has a girl, but I'm going to bump her off soon." She pleads at the end of the song, in monotone, "please send me a postcard, I collect them." It's the eeriest song I've ever heard aside from the Cure's "Subway Song," albeit in an entirely different way.
Somehow, whether I loaned out the cassette to a friend and never got it back, or it got lost among my many moves from dorms to suites to various apartments in college, the tape went AWOL. Of course, by that point, I was already replacing most of my cassettes with their counterpart CDs, and A Letter from St. Paul was already out of print! I spent years looking for a used copy, scouring every bin across Southern California and every place I happened to visit. On a trip to visit a friend in San Francisco, I actually had my hands on a vinyl copy. I couldn't believe it! And, fool that I was, I didn't buy it. I felt at the time that there was no way I could transport it on the plane without damaging it. Why I didn't ask the clerk if they could mail it to me, I'd never know. I even made a plea on this very website in my review of Beulah's fabulous album, Yoko, and actually received a reply from a helpful reader that pointed me to a copy. Unfortunately that copy was way out of my price range at near $100, and I had to pass. I never actually did find an affordable CD copy, eventually resorting to downloading, but even then, the version I downloaded was digitally garbled and skipped through two songs.
I was beginning, after a fifteen year long search, to resign myself to the fact that I would never find A Letter from St. Paul on CD. That is until I met my friend Noah from the band Easterly. We instantly knew that we shared the same taste in music when he began to play the guitar and I recognized the acoustic strains of the opening of the Church's "Under the Milky Way." I proceeded to tell him about my long search for the Silencers' debut album, knowing for sure that he, like everyone else I've met, would have no idea what I was talking about. "I have that CD," he replied. I nearly fell over. He provided me with a copy and I have been a satisfied music geek ever since. Not only did he get me a copy, he got me a copy with the extended version of "Painted Moon" at the end of the album! Of course, now you can find copies all over the Internet, whether from eBay or Amazon, all fairly decently priced considering the rarity and how great the album is.
---
Label: RCA
Year: 1987
---
Similar Albums: