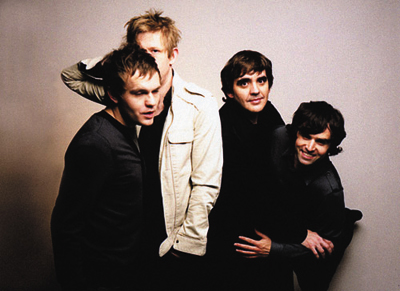 Aside from the fact that Brit Daniel was probably no slouch in a fight, judging by his towering on-stage lank and an always fully extended mic, most of us can relate to his reminiscence of the childhood bully in "Jonathan Fisk." You keep a paranoid eye over your shoulder as you trek the long way home from school and do your best to duck behind a trail of bobbing backpacks to avoid that one guy/gal whose name, now as adults, we will likely never forget.
So it goes:
Jonathan Fisk always a risk
Tells me he counts my teeth every night
I want to get them all back now
I want to get them all back
And I want to turn him around
At least that's what my best guess is as to what that track, at least as a plot point, is generally about. Given Daniel's choppy lyricism, I may have missed the mark entirely; there is that bit about atom bombs and religion as "another way to be right wing" that probably deserves a better explication.
Whatever the case may be, though, the reason this track in particular has stuck with me through years of Spoon fandom – despite avid B-side collections and my must-have original print of Telephono – is that it's probably been their most kick-ass moment in every one of the three shows I've been able to see them live.
If you prefer the persistent staccato of "I Turn My Camera On" or the sing-along "Fitted Shirt," so be it. But it's not without reason that so many Spoon shows since the Kill The Moonlight tour began that it's consistently been their trademark farewell number.
Even with plenty of worthy Gimme Fiction gems to choose from, the 2005 Dallas show I caught ended with the same note. And assuming I remember right, a recent performance in Nashville that served as a promo/ audience toe-test for the upcoming Ga Ga Ga Ga Ga, "Jonathan Fisk" still dropped out the main set before the mandatory encore.
Whereas the LP version abruptly gets cut off by the opening synth bells and woodblocks of "Paper TIger," when "Fisk" is given live play its pent-up energy is prolonged with an extended repetition of that abrasive guitar closer. Daniel stands with his back to the crowd, the sweaty nape of his neck glinting beneath the lights as he bangs away at his Gibson into the centerstage amps.
Check out one YouTube feed of the song played at Webster Hall in New York in which the apologetic videographer couldn't even keep his camera still because the floor was shaking beneath him. Get that under your skin and a car-ride spin of Kill The
Moonlight just can't suffice anymore. You keep showing up at half-lit danks like the Hi-Tone in Memphis or sweaty basements like the Gypsy Tea Room in Dallas waiting out the crowds just to relive those addictive moments.