Stevie Wonder : Talking Book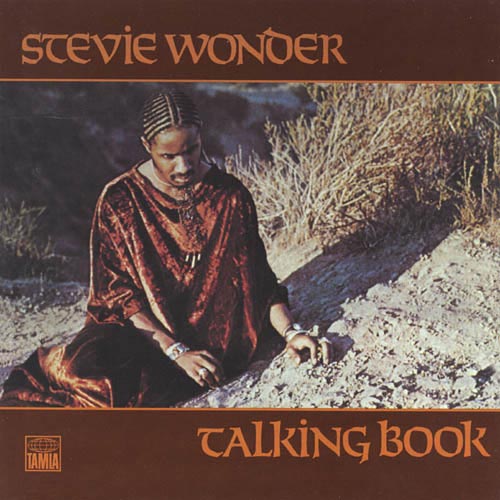 In baseball terms, Stevie Wonder would be known as an ironman. (Remember, that's baseball, not Marvel Comics or Ozzy Osbourne terminology). Like Cal Ripken, Jr. and Lou Gehrig before him, Stevie Wonder has been playing for the same team for a long period of time. Some artists have been with their labels exclusively, like Stevie with Motown, but not for five decades, and some have playing music for just as long, but not with the same label. Beginning with the moniker "Little Stevie Wonder" in the '60s with the harmonica jam "Fingertips," Stevie became a living legend, and nowhere in time was he more impressive than with his string of influential and innovative albums of the '70s.
Wonder's consecutive albums from his two 1972 releases, Music of My Mind and Talking Book, to his 1976 double album masterpiece, Songs in the Key of Life, are still to this day blueprints of funk and soul. No one summed it up better than Eddie Murphy (notorious for his dead on Stevie on SNL) in his concert film Delirious, in which he does his impression of an angry Stevie Wonder fan, citing him a musical genius, then rattling off his '70s album titles as proof until he stumbles over Fullfillingness' First Finale, then spits out, "You know, the good one!" This is just to say that those five albums are now elevated in pop culture status.
After renegotiating with Motown, Stevie expressed himself like he never had before, especially in Talking Book where he still performed his trademark pop love songs, but he also includes songs of harsh reality and prescient political nature. "You Are the Sunshine of My Life" kicks off the album in a strange way. It was a huge hit love song that hit the top of the charts, tender and heartwarming, but begins with the first two lines sung by his backup singers, Lani Groves and Jim Gilstrap, leaving more sophisticated listeners wondering (no pun intended) about an implied threesome. The fact that Wonder was madly in love with one particular woman might shed some light on that subject, but song myths never die, they just become more interesting than the truth.
"Maybe Your Baby" consoles/wakes up someone who has been left behind by their lover when Wonder sings, "Maybe your baby done made some other plans." The slow loping funk features guitars by a young Ray Parker, Jr. a near decade before Ghostbusters made him a household name. If you listen attentively, you can heart the obvious influence Stevie had on Prince, who would sing in a similar high-pitched throaty manner when taking on the persona of "The Kid."
Almost nothing this side of James Brown or George Clinton is as funky as "Superstition." One can end to forget that Wonder creates every instrument on his synthesizer save the horns and drums. The song was one of two number one hits from the album, and is one of the most easily recognizable "Stevie Wonder" songs of his career.
"Big Brother" was no doubt a response to the "don't trust the government" Nixon '70 s era, but its warnings, like the Orwell novel from whence the name and concepts came, were eerily prophetic. One can only hope that, like in the '70 s, something will come to light to expose the madness in our own time before Wonder's words become truth:
I don't even have to do nothin' to you
You'll cause your own country to fall.
A mixture of his traditional love song with his new found funk created "I Believe (When I Fall In Love It Will Be Forever)." The track is in fact almost two songs in one, making a 90 degree turn toward the conclusion, becoming a funk jam session with the celebratory shouts of "Don't you wanna, don't you wanna, don't you wanna fall in love?" Those last thirty or so odd seconds of song could have easily been transformed into another song. In "I Believe," Wonder is not a naive youngster with a crush. He talks of love "this time" and "with you," not hiding the fact that he's loved and lost in the past. No wonder (no pun intended, yet again) it worked at the close of High Fidelity!
Stevie went on to more fame in the '80s, including his contributions to USA for Africa, a hit duet with Paul McCartney, and the biggest single of his career, "I Just Called to Say I Love You." Although he had success in that succeeding decade, it was the '70s that truly belonged to Wonder. There have been many imitators over the years, but there is only one Stevie Wonder.
---
Label: Tamla/Motown
Year: 1972
---
Similar Albums: