SXSW 2008: Feels Just Like the First Time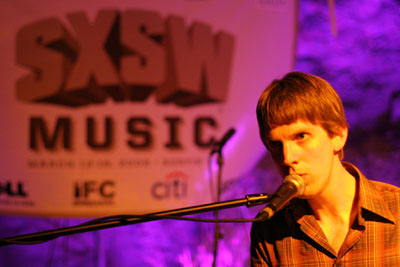 The first time that I was given the opportunity to go to Austin for South by Southwest was in my sophomore year in college. At the time, I was working at my school's daily newspaper. Each section had a budget it could use on magazine subscriptions, seminars, trips related to big stories (sports typically took more than any other desk) or whatever we felt necessary to better our piece of the paper. Having not spent practically any of our budget for the year, we had some school money burning holes in our pockets, so the Arts editor brilliantly suggests we take the money and head to SXSW. As assistant editor, theoretically, I would be the one to accompany him on this rock 'n' roll excursion, but there was one snag—I was 20.
Now, there are a fair share of all ages activities at the music festival, but once the sun goes down, chances are the A-list shows won't be, and so I declined to go. It's probably all for the best; I heard tensions mounted between the editor and his trip companion anyhow, though that's another story altogether. Since then, however, I've always intended to mark SXSW on my calendar, I just never got around to actually making it.
This year, that finally changed, thanks to some early planning in late 2007. But after all of the applications, plane tickets, hotel reservations and schedule planning, I still had the nagging feeling that, going into it fresh, I might be neglecting something, or perhaps planning my week all wrong. So I asked for some tips from my brother and friends that had gone in the past, and got a promising litany of responses: 'go to shows early,' 'visit Waterloo records,' 'soak in the atmosphere of the city,' 'go to Best Wurst,' 'get some margarita slush,' and 'drink lots and lots of Lone Star.' Duly noted.
Day One: Wednesday, March 12
Most of the first day was spent on airplanes and in airports, and on to a shuttle and finally our hotel in Austin, where a little recuperation was in order before we set out to catch the first shows of the week. Refreshed, cleaned up and eager to hear some music, we set out downtown, stopping at the Austin Convention Center first, where we would pick up our badges. As luck would have it, when we made it to the front of the line, the network goes down, rendering computers unable to print ID badges. Damn.
So, we patiently waited…and waited…and waited. After about an hour, the gentlemen behind us became irate, one even going so far as to scream like a maniac at the woman who was trying to give us an update. Sure, guy, that will get the network working faster. So, a couple people left shortly thereafter, and almost immediately after that, the network was back up again. Sure, it was late and we missed the first act of the evening, but we had our badges, and we were now able to conquer Congress Ave., err, 5th.
First up, Antone's for the Domino showcase. That was the plan anyway, but as it turns out, a club filled to capacity and a line around the block doesn't make for a good start. Rather than wait out the line, we reassessed the situation and got some pizza instead at The Onion. It could have been that we were so hungry that anything would have been tasted good at that point, but that pepperoni was dynamite at that moment. But truth be told, it was a pretty damn good slice.
So, with our stomachs full and some caffeine in us, we made the trek to Club de Ville for the Brooklyn Vegan showcase, which was more easily accessible. A bigger, outdoor venue and a somewhat smaller crowd contributed to this, though that's not to say the place was empty. Quite the contrary. With an impressive lineup and an enthusiastic crowd, Club de Ville provided a mighty fine introduction to the week's events. We arrived as Deer Tick were beginning to perform, charging through tracks from their album War Elephant, rocking out alt-country style. John McCauley looked much older and badass than his 21 years would suggest, but that probably has something to do with his burly facial hair. The band's bass player shredded as well, particularly during their cover of "La Bamba," which closed out their set.

Jeffrey Lewis and the Jitters
Next up was Jeffrey Lewis and the Jitters, a band that I, at first, assumed I had never heard of. As the four-piece jumped into their first song, a bouncy acoustic number with call and response vocals of "Do they owe us a living?" "Of course they do! Of course they do!" I could only describe their sound as cute, political, angry twee pop, which was certainly novel, but awfully entertaining as well. Then it hit me—this is the guy that released the album of Crass covers, and then everything began to fall into place.
Between Crass songs, Lewis played a few originals, including a Dylan-like epic about meeting and being subsequently assaulted by Will Oldham on the El train, and two storybook performances, one involving the history of communism and one for an amusing horror story called "Creeping Brain." Though their performance was idiosyncratic, and even a bit confusing at first, they proved to be a thrilling experience in the long run.

Martha Wainwright
Next up was Kaki King, which we actually missed because we were catching up with old friend Chris Pacifico, and doing a round of Absolut Mandrin shots. Suffice to say it was a fun diversion, but we returned to the front of the stage to catch Martha Wainwright, who played a set with a new band and a group of entirely new songs. Animated and cheery, Wainwright was an absolute delight to see, not to mention her songs sounded buoyant and lovely. Ed Harcourt even made it up the street after his own performance to see her in action. That ain't bad publicity. But Wainwright's music isn't that hard of a sell; after all, musical talent runs in the family.
The main event for the evening was a personal favorite—Shearwater. The crowd had thinned out a little and the wind chill was making the atmosphere surprisingly cold, but that didn't stop the performance from being completely amazing. A band of Austin residents, Shearwater charged through a powerful set of songs, half from their outstanding Palo Santo album and half from their upcoming release Rook. On the former, Jonathan Meiburg's impassioned vocals and the band's tight arrangements made for an exciting and familiar blend, "Johnny Viola" and "Red Sea Black Sea" being two of the highlights that made this set well worth waiting for. The new material sounded amazing as well, and its freshness made it all the more exciting. I was already eagerly anticipating Rook, but I can hardly contain myself now.

Shearwater
Cold and hungry, we headed back to the hotel, attempting to get some Best Wurst on the way, but the cart was completely sold out. Too exhausted to keep looking, we settled on the granola bars we saved from the plane ride. Good planning on our parts if you ask me.
Day Two: Thursday, March 13
Day Three: Friday, March 14
Day Four: Saturday, March 15