SXSW 2008: Feels Just Like the First Time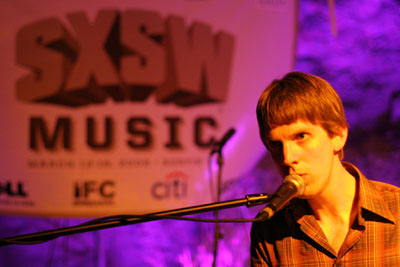 Day Three: Friday, March 14
Before embarking upon Friday's events, I had read in the daily SXSW edition of the Austin Chronicle a sort of guide to the event provided by Cadence Weapon's Rollie Pemberton. While partially meant to be humorous, as he threw in a suggestion to drink a Sparks between just about every sentence, his show at Friday's Hot Freaks party proved that there's some truth behind every joke.

Cadence Weapon
At 2 p.m. when he took the stage, temperatures had risen to sweltering. Pemberton remarked that he wasn't going to drink today, because he had four Sparks the night before and his heart was beating so fast he couldn't sleep. You wouldn't have known it from his performance. The 21-year-old Edmonton rapper was not only energetic, but allowed that super fun burst of energy to spill over into the crowd, with crowd response shouts of "I'm selling real estate!" in Afterparty Babies jam "Real Estate" and "that means stop biting my shit!" in Breaking Kayfabe's "Sharks." His high energy tear through "In Search of the Youth Crew" sounded pretty awesome as well, as did the whole set, though at one point he had to pause due to DJ equipment "melting." Still, it's always hotter in the Coachella valley.
With some time to spare in the afternoon, we hung around the Mohawk a little longer, catching the last 15 minutes of Bowerbirds' rustic, haunting set. I now have reason to give that album a closer listen. Jason Collett took stage next, alternating lovely folk-rock tunes from his albums Here's to Being Here and Idols of Exile.

British Sea Power
One notable band sighting from the prior evening was British Sea Power, having cigarettes and ale on a British pub on Red River. When not performing, the UK group doesn't quite go out of their way to look 'rock 'n' roll.' Something you'll notice at SXSW is that just about everyone has a 'look', so to speak, and nine times out of 10, the guy with the skinny jeans, teased hair and leather jacket (and maybe handlebar mustache or beard) is probably in a band. On stage, The British Sea Power is a different story. Dressed in their uniforms (exactly what kind of uniforms is the part that's not so clear), the four-piece (joined by a keyboardist and violinist) took to the stage on the Mohawk Patio and brought the appropriately titled Hot Freaks party to a close. With their hour on stage, BSP eschewed Open Season's poppier sound for highlights from bombastic new album Do You Like Rock Music? and a few choice tracks from Decline of British Sea Power. There was no need to address the crowd with the titular question—everyone here most certainly liked rock music, and it showed. When Hamilton took to the mic to sing "No Lucifer," there were shouts of "easy! easy!" throughout the venue. Yeah, I did it too. I challenge you to hear this song live and not join in the merriment. It's just stunning.
There are always a couple hours between the day parties' closing and the start of the evening showcases, and so, we took this opportunity to have some of Stubbs' legendary barbecue. They make a mighty fine brisket, and the margaritas weren't too shabby either. With full stomachs and eagerness to set out for another evening of loud rock 'n' roll music, we set out to our next destination, Bourbon Rocks, where the Sub Pop showcase was taking place.

The Ruby Suns
The primary reason for going, for us anyhow, was New Zealand's Ruby Suns, who performed in gaudy day-glo clothing and bounced around giddily to the sound of their exotic, sunny psych-pop. Technical difficulties partially plagued their set, with a guitar or two becoming inaudible at certain points, though that by no means ruined the set. The peak of the set was "Kenya Dig It?", in which Ryan McPhun pounded furiously on a standup drum kit, the rhythm of the song being central to its true power. That said, sound issues did hamper the show a bit, preventing the band (and apparently subsequent acts) from revealing their full potential.

Be Your Own PET
While we could have stuck around for the rest of the acts, which included Grand Archives, Sera Cahoone and No Age (who were scheduled to play something in the order of a dozen shows during the week), we high tailed it back to the Mohawk for Be Your Own PET. Now, Be Your Own PET is a punk band. They're young (just barely legal drinking age if my math is right), they're sassy, chaotic, and have an adorable front-vixen in Jemina Pearl Abegg. But most of all, they're just about the most fun band you could possibly see these days. After furiously blasting through no more than three songs, the power cut out on their equipment (which was attributed to a generator in need of refueling, though a concerted effort to unplug and replug everything gave the impression that that was not the case). While crews were fixing the problem, Pearl discussed the merits of John Waters' Polyester with the crowd, and even did a brief Q&A to keep everyone entertained.
Soon enough, the power was back on, and the Nashville group seemingly went into double time. While the club was probably pleased that they finished almost on schedule, their speed and ferocity only added to the entertainment value. As stated before, they're a punk band, and sloppiness is par for the course, but somehow works perfectly with their songs. Particularly notable was "Adventure" played faster than seemingly imaginable, though successful in raising adrenaline levels to an all-time high. Looking extremely pleased with the sight before him, Thurston Moore watched the mayhem that ensued before him.

Man Man
After leaving the Mohawk, we headed to The Scoot Inn for a spell, which is a bit of a hike, mind you, but worthwhile for the opportunity to see Man Man at the Solid PR/Sailor Jerry showcase. Dressed in white and wrapped in headbands, the Philly outfit aggressively hammered out a set consisting mostly of Six Demon Bag highlights, taking their Tom Waits-like hobo clang to louder and more intense levels. Let me tell ya, "English Bwudd" sounds just as cool live as you might think it would.
At SXSW, there's rarely a break in the action. After the showcases close at 2 a.m., you're still likely to find something going on well into the morning. That could mean anything from parties on rooftops, spontaneous street performances, afterparties or even warehouse raves, depending on what it is you're looking to do. The big buzz around town was the Blender Afterparty on Friday (technically Saturday morning I guess), but we had been at plenty of venues with DJs all week and were looking for something a little more interesting, even unsettling. So we followed a tip about a guerilla show on the Lamar Pedestrian Bridge, where No Age was supposed to be performing later on.
We weren't the only ones who followed this tip, as hundreds of people crowded onto the bridge for some good old punk rock rule breaking. A series of hardcore bands played, which led to some unruly moshing (a word I haven't used in years) and a giant clusterfuck of crust punks and curious onlookers. At 3 a.m., still no No Age to be heard, we shrugged and moved on. They're playing three times on Saturday, and the hardcore got kind of boring, in spite of the activity before us, but if nothing else, the event was a sight to behold, and while the music wasn't winning me over, the spirit certainly did.
Day One: Wednesday, March 12
Day Two: Thursday, March 13
Day Four: Saturday, March 15