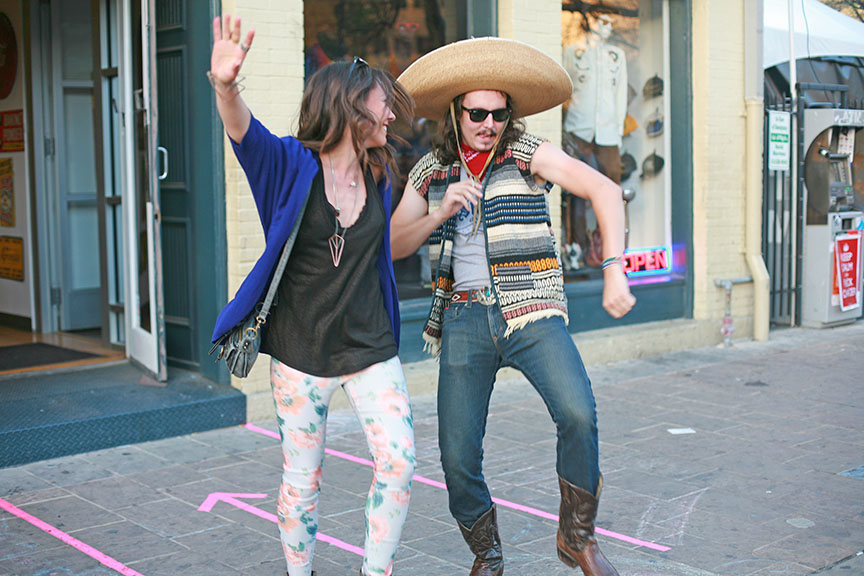 Being in Austin during SXSW means being presented with a lot of bad decisions, like, for instance, drinking alcohol all day and neglecting to hydrate. Or, say, forgetting to eat because you're in shows all day. But I'm just going to go ahead and say something that nobody wants to admit: The worst thing you can do at SXSW is spend time waiting in lines. Admittedly, it's hard to get around. With the caliber of artists that SXSW attracts, every night there are bound to be quite a few with demand much higher than their venues' capacity. Sometimes, it's worth hanging around; if you wait in line for 20 minutes to see a night's worth of amazing artists. But chances are good that 20 minutes is an optimistic estimate, and at any point during the festival, there will be someone in line for more than an hour, missing out on something better likely just a block or two away, and potentially wondering just what the hell he's doing.
It happens to the best of us. And popular showcases tend to fill up early, thus increasing the likelihood of line growth. When faced with this dilemma of whether to stick it out or stand your ground, there are several other options to consider. The first, but most frustrating option is to stay put, in the hopes that the line will shrink right away. It might — you never know! — but whether it's worth it depends mostly on how much you want to see that show. The second option is to find another show to drop in. With more than 20,000 acts in town, there's always something else going on, and possibly something better, so why not go with the flow and stay flexible? The third option is to take some time out to soak in the chaos of Sixth Street and Red River. The freaks come out at night, of course, but they're pretty much all over the place at all hours of the day. "Keep Austin Weird" is a fairly common cliché around these parts, but there's some truth behind it. There's an almost Mardi Gras-like progression of buskers, costumed weirdos, entrepreneurial actor types and just plain quirky folks up and down Sixth, and it's a headlining show of its own. In just one afternoon, a guy in a Gumby costume, a violin-playing werewolf, a unicorn-headed guy and a topless woman with a statement about the Austin police written on her back popped up.
Local color aside, there's no reason to be standing around in line when you don't have to. There's a universe of live music at SXSW, and if you missed it on the off chance to see the buzziest band at the fest, you might want to rethink why you're there in the first place.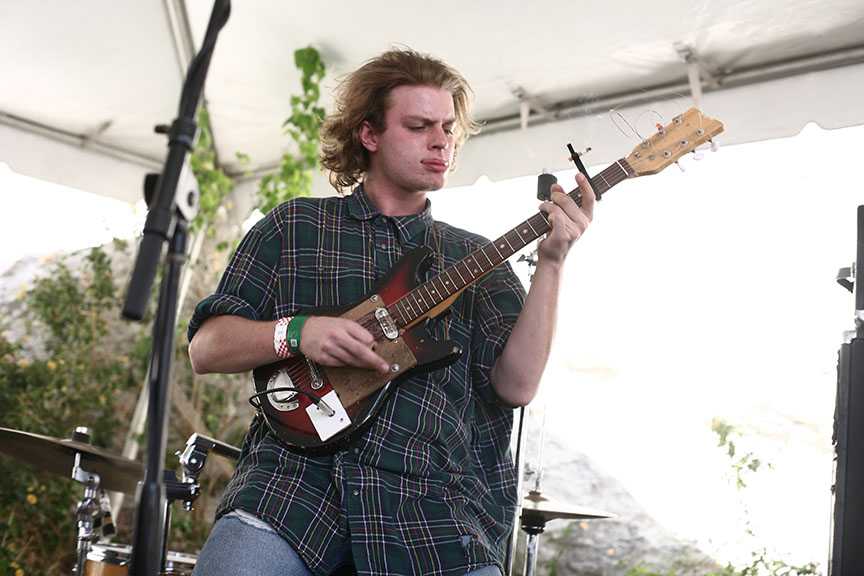 Mac DeMarco – Club deVille, 12:55 PM
For Mac DeMarco, stoned digressions mutate into amazingly tight and funky jangle jams. The Canadian singer-songwriter has built up as much notoriety for oddball stage antics (like making out with his bandmates) as he has for his stunning, feel-good guitar-pop tunes. And in an early spot at the Insound party, he kept true to that reputation, if in somewhat subdued fashion. Wacky banter, drinkin', smokin', and an inspired choice of covers — Bachmann-Turner Overdrive's "Takin' Care of Business" into Dave Brubeck's "Take Five" — made this early afternoon slot an early highlight. It's easy to call DeMarco's most entertaining moment that impromtu "Take Five" jam, but the true highlight (among many) was "Ode to Viceroy," from new album 2. On record, it's a breezy and dreamy love song to cigarettes. In a live setting, it rocks surprisingly hard.
Local Natives – Cedar Street Courtyard, 5 PM
I have no idea what the capacity at Cedar Street Courtyard is, but the FILTER party on Thursday pushed that to the limit, with a sea of drunken bodies ebbing and flowing in and out of the indoor bar, out on the sidewalk, up on walls and staircases. Free shows with noteworthy names tend to have that effect, but in a venue that's unusually narrow to begin with, maneuvering becomes all the more complicated. For Local Natives, however, it was worth braving the mighty sea of flesh and sunglasses. In the three years between 2010's Gorilla Manor and their new album Hummingbird, the Los Angeles band has undergone a lot of growth, songwriting-wise. But live, their layered, otherwise subtle indie rock songs transformed into emotional, dynamic show-stoppers. The group delved into a handful of tracks from their debut, including "Wide Eyed," which resulted in a venue-wide sing along. Yet the inspired vocal performances and instrumental dazzle of "You and I" and "Breakers" revealed just how immense of a live act Local Natives has become. Judging by the pile of onlookers lining the streets outside, watching in rapt awe, it's safe to say that this is the band's moment, and it's exciting to watch it in real time.
Doldrums – 1100 Warehouse, 8 PM
It's not just a clever name — 1100 Warehouse really is a big warehouse, the kind of dark, cavernous venue designed for an all-night rave where neon is your guiding light, and the ecstasy flows like $3 Lone Stars. That wasn't exactly the atmosphere at the Pitchfork Showcase (though there were some tweets about Ryan Hemsworth turning the place into a dance party later on), but credit goes to young Canadian electro act Doldrums for making good use of the Hacienda vibes in the joint. After an early mishap with a falling mic stand, Airick Woodhead and his backing band, which included a maraca shaking sideman a la Bez, got right into the groove, playing a high energy set of highlights from new album Lesser Evil. Yet the group's set, heavy on percussion, seemed a lot more like a rock show than a rave. That actually made more sense in context of the next couple sets, actually, as things were about to get even louder and noisier.
FIDLAR – 1100 Warehouse, 8:40 PM
Following Doldrums, the Pitchfork showcase transitioned into raucous revelry thanks to Los Angeles garage rockers FIDLAR's lovable dirtbag sounds. Those two words probably shouldn't go together, but in a fiery half-hour of blazing punk rock tunes from their new, self-titled album, FIDLAR won over more than a few new converts. Immediately after plowing through breakout track "Cheap Beer," the guy standing next to me erupted with a hearty cry of "These guys rip!" And rip they did, through songs about drinking, surfing, asshole friends and how much it sucks to go to rehab (or so they tell us). Good, drunken and snotty times.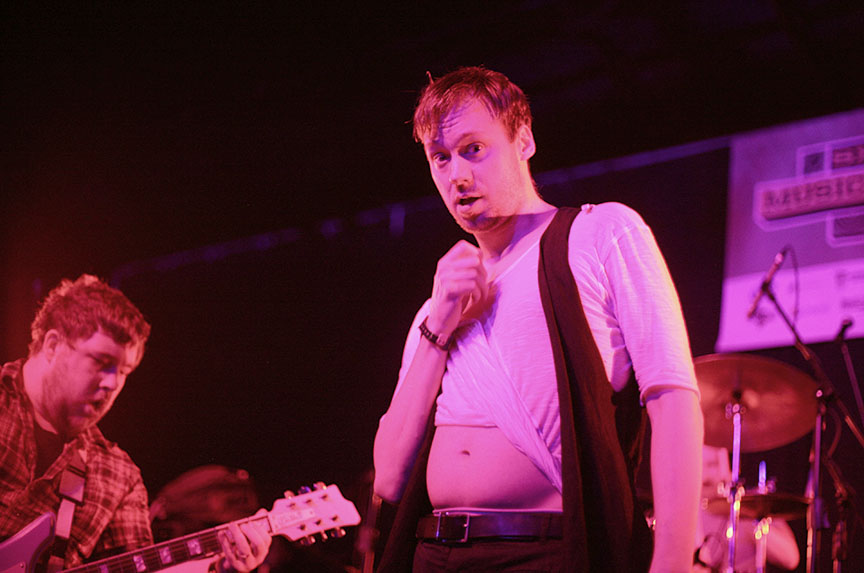 Pissed Jeans – 1100 Warehouse, 9:20 PM
Before Pissed Jeans could begin ripping faces at 11o0 Warehouse, frontman Matt Korvette made an announcement that David Bowie was playing with Foo Fighters, at a free show with free drinks, and everybody might want to bail out and see that happen (Someone actually believed him, we found out later). This opening act of good natured misanthropy (which is Pissed Jeans' genre) set the tone for a ferocious, hilarious and above-all awesome set from the Pennsylvania noise rockers. Korvette's a pretty charismatic dude, mugging for cameras with goofball charm and punk-rock-David-Duchovny looks, dropping the microphone in his pocket and pulling up his shirt to reveal his belly. At any given moment, Korvette was off engaging in ridiculous antics, and while he's certainly the focal point (I don't think the bass player even looked at the crowd), Pissed Jeans as a band kicked maximal ass. The opening power chords of "False Jesii Part 2" from 2009's King of Jeans turned the room into a massive circle pit, with beer and water beginning to soar through the air. And just the feedback to introduce "Bathroom Laughter" from this year's Honeys made a group of giddy rabble-rousers lose their collective shit. A new bar has been set at SXSW; your move every other band.
Thee Oh Sees – Hotel Vegas Patio, 10:45 PM
The situation at Hotel Vegas when Thee Oh Sees began to send out acid-laced shards of psychedelic garage rock grew precarious pretty quickly. The tent sheltering the stage seemed more than a little unsteady, swaying back and forth as giddy audience members climbed up its poles and richocheted back for some crowd surfing. But the San Francisco psych-rockers seemed unfazed. Having played SXSW at least 10,000 times, Thee Oh Sees need not fret over the possibility of something going wrong. Chaos is part of the fun, after all, and the band has logged so many miles and played on so many stages that unpredictability could never really get in the way of their ability to scorch faces with some heavy garage rock. And that's exactly what they did. Tight, loud and guaranteeing one of the best times you'll experience in front of a stage, Thee Oh Sees gave everyone their money and trouble's worth, including the guy outside who got arrested for dancing on a truck.
Kinski – Maggie Mae's Gibson Room, 12AM
There's nothing all that complicated about Kinski's sound. It's guitar rock, done frequently in a Stooges or MC5 style, sometimes instrumentally, and it's never couched in pretense or frivolity. It's loud, it's heavy, and it goes straight to the gut. And earplugs are a necessity whenever they're on stage. It's because of this roaring simplicity that Kinski is so fun to watch. Frankly, they don't need that much to rock bodies and eardrums. And while the setting at Maggie Mae's Gibson Room during the Kill Rock Stars showcase seemed a little incongruous with their style, that mattered little in the end. Kinski still rocked.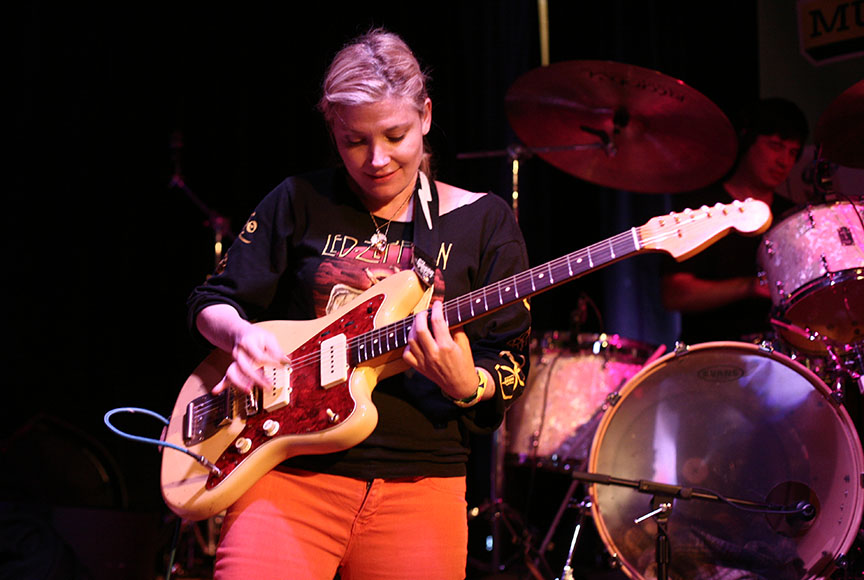 Marnie Stern – Maggie Mae's Gibson Room, 1 AM
One other guarantee during SXSW is that at least one act you see will have some sound issues. They're usually not dealbreakers, but they can sometimes mess up an otherwise impeccably kept schedule. And they usually happen at the end of the night, after an entire day's worth of performances has put a strain on the sound system. This sort of thing happens all the time, and it happened right before Marnie Stern began her set at Maggie Mae's, which happened to be the headlining spot. But Stern handled it with cool and a "fuck it" attitude, getting the show rolling by 1:15 AM, sound issues be damned. And it only took a few minutes to get it all sorted out anyhow. Stern's finger-tapped math shred style dazzled in person, though the amazing thing about Stern is how effortless she makes it look. It's downright graceful! Marnie, I'm in awe. If only other guitar virtuosos made it look so easy.