T. Rex : Electric Warrior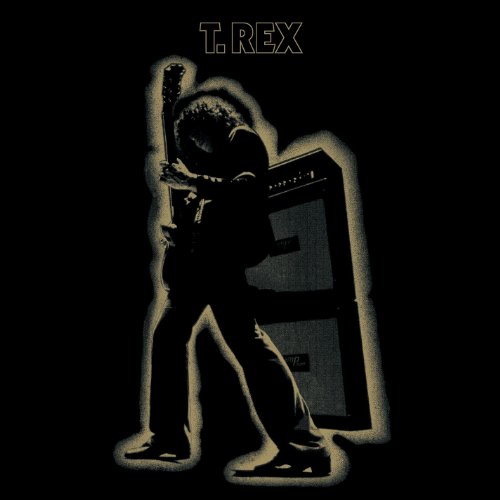 The cover image of T. Rex's Electric Warrior is a monolith in rock 'n' roll iconography. It's a simple but powerful image—a black-tinted Marc Bolan bending a note on his axe in front of an amp stack, surrounded by an aura of gold. It says merely one thing: This album rocks. And that's all it really needs to say—Bolan was always one for brevity.
Anyone who has listened to Electric Warrior (and you certainly should have), knows this statement to be true. It definitely rocks. But any deep dive into the history of glam rock should start here. Bowie was a fan and a friend, often borrowing from Bolan, including having him play a solo on Aladdin Sane's "The Prettiest Star." And seeing as how Bowie is, himself, synonymous with glam rock (at least in the early stages), that Bolan actually influenced him puts him at the top of the power-chord pyramid.
On Electric Warrior, Bolan's formerly folky Tyrannosaurus Rex shortened their name and re-introduced themselves with a new set of songs that would re-define the band as a new, formidable force in rock 'n' roll. There is no voice in rock 'n' roll quite like Bolan's—sultry, high and altogether out of this world. And at the same time, the guitar sound on this record is also unique: fuzzy and powerful but not altogether overwhelming. Before heavy metal pushed the sounds of guitars to their absolute nastiest, rock 'n' roll still harbored some level of restraint. And that's one of the things that makes T. Rex such a peculiar specimen. In spite of all the excess and dripping sexuality, the volume only went to 11 when it was really necessary.
Warrior boasts T. Rex's only U.S. hit single, "Get It On (Bang a Gong)," despite a fanatic era of "T Rextacy" in the UK. Yet the legacy built on this song alone is enormous, as The Power Station covered it in the eighties and every band that emerged since has used some permutation of its lead riff. It's a rockin', catchy monster of a tune, and, of course, hot and sticky with hormones as well. But with odd references to cars throughout, Bolan brings new meaning to "auto-erotic": "You're built like a car/you got a hubcap diamond star halo/you're built like a car, oh yeah." On the bouncy standout "Jeepster," Bolan once again conjures up images of stick-shift love with the lines "Just like a car/You're pleasing to behold/I'll call you Jaguar if I may be so bold."
When Bolan isn't singing about cars, he's singing about girls. Well, come to think of it, when he is singing about cars, it's just a metaphor for a woman. Still, he sings about girls a lot. And in his own concise way, Bolan turns brief, simple verses into poetry, romantic or otherwise. On opener "Mambo Sun," Bolan offers a wide range of bizarre images, all of which relate to his courtship of a young lady:
"With my hat in my hand
I'm a hungry man for you
I got stars in my beard
And I feel real weird for you"
T. Rex's ballads, like the stargazing "Cosmic Dancer" and the obtuse "Girl" are as equally powerful as their rockers. Both songs see Bolan's acoustic guitar backed by strings and horns, making for a beautifully orchestrated, almost heavenly sound. But, of course, it's the bluesy, swaggering uptempo songs that really drive it home. "The Motivator" is like a subtler, sexier cousin to "Get It On," utilizing a similar melody, but altogether more slinky and less concerned with automobiles. And closer "Rip-Off" is the loudest and most reckless display of hedonism in the bunch. Over thunderous riffs, Bolan shrieks "Dancing in the nude/being such dude/It's a rip off/Dancing in the dark with all the tramps in the park/It's a rip off/such a rip off."
It doesn't take much to understand why Electric Warrior is the amazing piece of music that it is. T. Rex kept it simple, filtering out unnecessary bullshit in favor of an album that's lean, balanced and bluesy. Though T. Rex did release quite a bit of material during their career, nothing came close to the impact of Electric Warrior. Even if all you knew of this album was the glowing cover art and the opening riff of "Get It On," you'd have a pretty good idea how much ass it kicked.
Similar Albums/Albums Influenced:


David Bowie – The Rise and Fall of Ziggy Stardust and the Spiders From Mars


Roxy Music – Roxy Music


Suede – Suede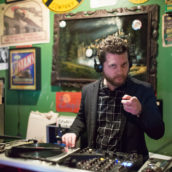 Jeff Terich
Jeff Terich is the founder and editor of Treble. He's been writing about music for 20 years and has been published at American Songwriter, Bandcamp Daily, Reverb, Spin, Stereogum, uDiscoverMusic, VinylMePlease and some others that he's forgetting right now. He's still not tired of it.