The 90-Minute Guide: Summer Hip-Hop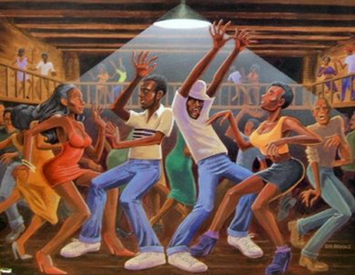 Initially, the plan for the next 90 Minute Guide was to be a punk rock mix, following the theme set in place by those on New Wave and Post-Punk. But then summer happened. Now, I listen to my share of punk in the summer, but even more than that, I tend to listen to hip-hop. Summer is hip-hop season. There's something about hot weather, barbecues and holiday weekends that goes so well with a great beat and lyrical wit.
But that got me thinking; you can't listen to just any hip-hop during the summer. The grittier Wu-Tang Clan stuff is probably best left to winter, as with solo efforts like GZA's Liquid Swords. Cannibal Ox, El-P, forget it. Dälek? Only if you're antisocial. And use discretion when dealing with acts like Mobb Deep. Icepicks don't really make for enjoyable summer imagery. Rather, for a great summer hip-hop mix, one for blasting by the pool, or just in your car on the way to work (because summer break doesn't carry over into adulthood), you need songs that project that fun onto the listener. Some obvious choices would be "Summertime" by DJ Jazzy Jeff and the Fresh Prince, "Rump Shaker" by Wreckx-N-Effect, or any of the big Naughty By Nature singles—"Feel Me Flow," "Hip Hop Hooray" or "O.P.P."
That said, this 90 Minute Guide avoids some of the obvious choices and goes for an evergreen approach to summertime hip-hop jams. Some of these you'll definitely recognize, some of them you may not, but one way or another, you'll be nodding your head in approval.
Side One
Common – "Be"
This mix could have started off with any number of artists, but we'll begin with Common, for several reasons. The Chicago rapper's penchant for chill positivism makes his best albums seem like compact, summer block parties. Be, in particular, conveys this vibe through its soulful, warm tracks, with Kanye West and J Dilla providing the crackly, vibrant production. The title track, just slightly more than two minutes long, is a bright and joyous affirmation, which sums up Lonnie Lynn in a concise fashion.
Download at

The Roots – "Dynamite!"
"Touch that Ill-a-fifth dynamite!" "Come On!" "Touch that Ill-a-fifth dynamite!"
It's hard not to get swept up in The Roots' infectious refrain in Things Fall Apart standout "Dynamite!" Of course, you have to make sure you're saying it right. The group even made a point of clarifying in the album jacket that they're saying "ill-a-fifth," and not "elephant." Nonetheless, with the group's laid back, jazzy backing, this chill barbecue jam is irresistible.
Download at

A Tribe Called Quest – "Electric Relaxation"
Summertime and romantic conquest are practically synonymous, especially when there's the promise of gettin' some. A Tribe Called Quest provide what is pretty much the perfect soundtrack to summertime nekkid mischief with "Electric Relaxation," a song that finds Q-Tip and Phife trading verses about their admiration of fly ladies. And yet, it's far, far less offensive than some of the sex jams of the past ten years or so. But whether you're looking to hook up with a special someone or just enjoying a laid-back summer weekend, "Electric Relaxation" is an essential.
Download at

Outkast – "Rosa Parks"
Outkast is a strange group, primarily due to their tendency to not adhere so strictly to hip-hop as a genre. But before Stankonia found them embracing their experimental side (which turned out to be a good thing), the group released a progressive, sprawling hip-hop epic in Aquemini. Sprinkled among the lengthier tracks were singles like "Rosa Parks," which ranks as one of Outkast's most amazing songs. A simple acoustic guitar hook loops while Big Boi and Andre 3000 spit crunk fire, only to lead up to a harmonica solo hoedown. It's pretty much impossible not to feel good when this is on.
Download at

Souls of Mischief – "93 `Til Infinity"
While Atlanta, Chicago, New York and Philadelphia can boast their fair share of hip-hop summer jams, this immortal single comes straight from California's Bay Area, where fog can sometimes linger through the summer months. Nonetheless, Souls of Mischief capture that sweaty, Friday night sunset vibe, with hypnotic, aurally dazzling samples and a refrain for the ages: "This is how we chill, from 93 til…" Well, it's 2009, and we're still chillin'.
Download at

Gang Starr – "Work"
One thing that, basically without fail, makes for a flawless summer hip-hop single is a sprightly piano hook, preferably from a jazz, gospel or soul record. DJ Premier added some strings to "Work," however, making for a more elegant bounce behind Guru's mellow lyrical flow. It does seem a little ironic, though, that a song called "Work" should make for a great companion for wasting summer away. But then again, it's that summer job that put the gas in your ride and the music on your stereo.
Download at

Cyne – "The Runaway"
Florida hip-hop group Cyne tends to deal in sociopolitical lyrics and fiery cadence, and "The Runaway" isn't necessarily an exception to that pattern. But this standout track from Pretty Dark Things still has a slightly lighter feel about it. Its Nigerian highlife samples give it just the right amount of bounce and melodic color to make a subversive choice for a summer jam.
Download at

De La Soul – "Ring, Ring, Ring (Ha Ha Hey)"
De La Soul, even at their most pissed off, are still more fun than most. "Ring Ring Ring (Ha Ha Hey)," from the group's vitriolic second album De La Soul Is Dead is a prime example of the kind of frustration and cynicism that Mase, Posdnuos and Trugoy could stack up in a song with such a funky hook and solid boom-bap. Still, the kiss-off chorus of "hey, how ya doin'/ sorry you can't get through/ But leave your name and your number/ and I'll get back to you" is such an endlessly repeatable earworm, that it demands a spot on your summer party playlist.
Pete Rock & C.L. Smooth – "They Reminisce Over You (T.R.O.Y.)"
And now we get to the `nostalgia rap' section of this 90 Minute Guide, dedicated to paying tribute to the good old days, old friends, heroes and basically all `back-in-the-day' type ruminations. Arguably the best example of this type of hip-hop song is "They Reminisce Over You," which was written for Trouble T. Roy of Heavy D. and the Boyz, who died in 1990. But more than an elegy, the song is a sort of celebration of being able to look back on one's life and take solace in the memories. Take that bittersweet, but positive message, combine it with Pete Rock's saxophone-laden production, and you've got one hell of a track.
Download at

Edan – "Fumbling Over Words That Rhyme"
Boston's Edan has been known to indulge in weird rhymes about outer space and visions of colors. But one of his most purely enjoyable tracks is "Fumbling Over Words That Rhyme," a tribute to his hip-hop heroes. In three frantic verses, Edan Portnoy name checks Kool Moe Dee, Kool Herc, LL Cool J, Run DMC, Grandmaster Flash, Big Daddy Kane, Wu-Tang Clan, Ultramagnetic MC's, Slick Rick and a hell of a lot of other cats. And dude's clearly done his homework, because this thoroughly enjoyable slab of old school hip-hop conjures up the same aesthetic feeling that Edan's lyrics convey directly.
Download at

Cool Kids – "88"
On Cool Kids' "88," the Chicago duo of Mikey Rocks and Chuck Inglish very explicitly state that they're "bringing 88 back," and do so by means of referencing Adidas track suits, "The Safety Dance," The Fresh Prince and doing the smurf. But even more than that, they create a late '80s vibe with this stripped-down banger that relies solely on the duo's smirking verses and one heavy beat. Rick Rubin would be proud.
Download at

Blackalicious – "Make You Feel That Way"
Closing out side one is the last of the nostalgia jams, the first mainstream single from NorCal duo Blackalicious. Over Chief Xcel's smooth backing, Gift of Gab runs down a laundry list of good memories and things that make life worth living, from getting his first bike, to KRS-One and Rakim tapes, to finding a hundred dollar bill, to going on a date. And as the song comes to a close, Gab merely ends his soliloquy with "It's love." Couldn't have said it better myself.
Download at

Side Two
Jay-Z – "Izzo (H.O.V.A.)"
Hearing his production on this 2001 smash, it's no wonder that Kanye West became such a monumental star in the past decade. But when the source material is the Jackson 5, it's hard to fail I suppose. Still, without Jay-Z's charismatic delivery, the song wouldn't be nearly as powerful and, well, just plain likeable. I can recall quite a few folks back when this came out reciting its chorus: "H to the Izz-O, V to the Izz-A/ that's the anthem, get your damn hands up." And really, when you're spouting lines like that, it's hard not to be in a good mood, even when Jay-Z touches upon some of life's unfortunate hardships. Everyone likes a good story of triumph and redemption, however, and as stories of triumph go, they don't get catchier than this.
Download at

Kanye West – "The Good Life" (feat. T-Pain)
I distinctly recall driving in 90-degree heat on Labor Day weekend of 2007, listening to this as I made a run to buy some tequila. Sounds like a pretty fantastic weekend in retrospect. And I'm not the biggest T-Pain fan, but I like him in this context, surrounded by huge synthesizers and a slowed-down sample from Michael Jackson's "P.Y.T." West, himself, manages to pull off one of his most life-affirming lyrics, as he raps about going "on a livin' spree," and how "we like the girls who ain't on TV/ cause they got more ass than the models." Sure, there's a lot of money being thrown around, but look at it this way: you can live large for three minutes and 27 seconds in this song for about 99 cents.
Download at

Mos Def – "Casa Bey"
One of this year's most pleasant surprises was hearing Mos Def's mojo return on his amazing new album, The Ecstatic. And while the album certainly has its share of ecstatic moments, the brightest, most vivacious track is saved for the very end. Previewed a little earlier in the year, "Casa Bey" finds Mos weaving some funktastic science as he flows over Banda Black Rio's polyester samba grooves. That it sounds like he's enjoying himself more than he has in some time translates to a joyous celebration of music that could win over the harshest of critics, or the one guy at the party who refuses to have a good time.
Download at

2Pac w/ Dr. Dre – "California Love"
A summer hip-hop mix wouldn't be complete without some representation from the mid-'90s West Coast gangsta era. Granted, there are plenty of tracks that wouldn't fit—"Murder Was The Case," for instance—but you don't grow up in Southern California without hearing your fair share of Death Row singles booming out of car speakers. In fact, I accompanied my brother on his trip to purchase a cassette single of "Nothin' But a `G' Thing" way back when. But I digress…for my money, "California Love" beats them all just because the song is a party. The Roger & Zapp funk elements, the big brassy horns, the vocoders, that concrete face punch of a beat, and Dre's description of "a vest for your jimmy in the city of sex"—to borrow a phrase from the Beastie Boys, oh my god, that's the funky shit.
Download at

Lupe Fiasco – "I Gotcha"
The Neptunes produced only one song on Lupe Fiasco's Food & Liquor, so it only figures that it's one of the best tracks on the album. Climbing a jazzy piano staircase, Fiasco rolls out a rapid series of witty one-liners, chief among them "I warn y'all cornballs, I hush puppies." Given the song's combination of chill, old school vibes and heavy hitting, syncopated beats, not to mention Lupe's clever wordplay, the most important line in the song is the one that initially seems the most inconsequential: "you know we do it right."
Download at

Cadence Weapon – "Real Estate"
It gets cold up there in Canada, where Rollie Pemberton, a.k.a. Cadence Weapon, calls home. But it just so happens that when he started off a set with this single at SXSW last year, his equipment started melting. Yeah, it's that hot. First, there are those opening drum snaps, which sound almost like vinyl funneled through an 8-bit filter, or vice versa. Then there are those horns and chipmunk voices. But when all is said and done, it's that chorus refrain, "I made a deal today/ I'm selling real estate," that will get hands waving and voices rising.
Download at

Black Star – "Brown Skin Lady"
Hip-hop love songs can be a bit dicey. I can probably count on one hand the number of rap love joints that don't make me cringe a little (Common's "Break My Heart" being an example of how not to rap about girls). But Talib Kweli and Mos Def approach this ode to a lovely lady with tenderness and respect, and above all, honesty, which makes it a refreshing track that's neither tawdry nor misogynistic. Pair that with its cool, breezy beat and there's a fine track for getting closer to your lady when the sun goes down.
Download at

Slum Village – "Fall-N-Love"
Slum Village crafts a different sort of love song on Fan-tas-tic Vol. 2 single "Fall In Love," not one about women, but about hip-hop itself. Producer Jay Dee's life was hip-hop, and the large, not to mention fantastic, body of work he left behind is evidence of the work he put into it during his time on this earth. This slow, easy going track finds T3 and Jay Dee lamenting some of the pitfalls of following your passion, but Dilla sums it up nicely when he raps, "I do it because it gives me a sort of peace of mind/ and for the love." On a summer evening, it's enough to rekindle anyone's affection for hip-hop.
Download at

Madvillain – "Great Day"
When Madlib and MF DOOM teamed up as Madvillain in 2004, some of the most incredible, abstract hip-hop resulted from their pairing. Toward the end of the album is this two-minute track, a sort of non-stop free association of bizarre imagery ("written in cold blood with a toothpick") and carefree fun ("hey you, got a light?/ Nah, a Bud Light!"). Behind the tin mask, Daniel Dumile is no doubt grinning as he delves out goofball red herrings, like "spit so many verses, sometimes my jaw twitches/ one thing this party needs is more (cough) booze." Well, you heard the man, open up another cold one.
Download at

Nas – "It Ain't Hard to Tell"
It's a wonder how frequently a Michael Jackson sample results in a truly amazing hip-hop single. "Human Nature" is just part of the equation in Nas' classic track "It Ain't Hard To Tell," however, which finds producer Large Professor layering in some Kool and the Gang and Stanley Clarke, for that matter. And we're also treated to the invigorating verbal onslaught of a young Nasir Jones. This classic never goes out of style, and Illmatic is a year-round favorite. But when a song feels this good, you just have to break it out when the mercury rises.
Download at

Camp Lo – "Luchini, a.k.a. This Is It"
To cap this 90 minute mix of beats, rhymes and good times, we'll leave you with this single from Camp Lo, one of those groups that should have been bigger, based on the strength of a single like "Luchini, a.k.a. This Is It," or for that matter, anything on their debut album Uptown Saturday Night. Big on blaxploitation culture and '70s funk, Camp Lo knew how to put together a dazzling funky track, and "Luchini" has style and flash to spare. Its gigantic horn hooks make the song, but Sonny Cheeba and Geechi Suede no doubt sell the funk with their lyrical finesse. "This is it, what?!!"
Download at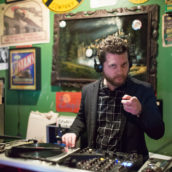 Jeff Terich
Jeff Terich is the founder and editor of Treble. He's been writing about music for 20 years and has been published at American Songwriter, Bandcamp Daily, Reverb, Spin, Stereogum, uDiscoverMusic, VinylMePlease and some others that he's forgetting right now. He's still not tired of it.