Truly Great: The Artist formerly and now currently known as Prince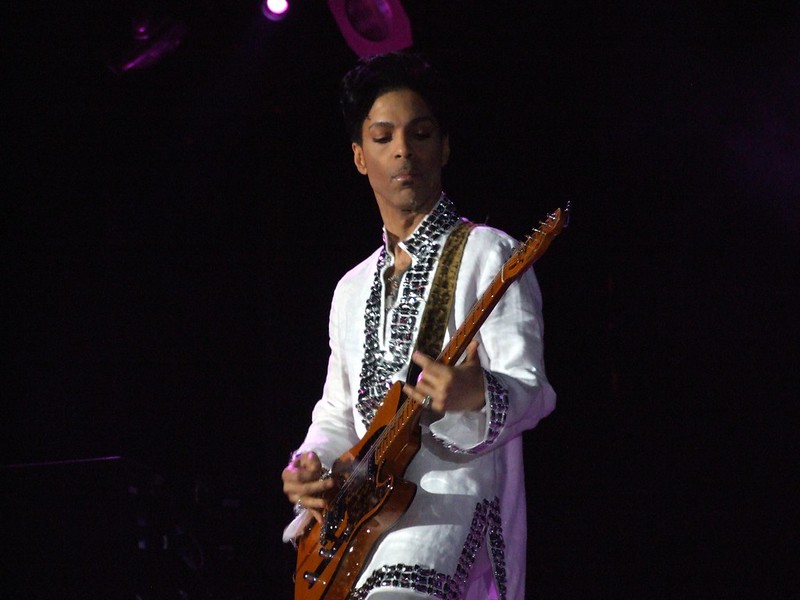 So, I had done a completely idiotic thing by volunteering to provide the music for our sixth grade dance. Our school didn't have the dough for a proper disc jockey or even a decent sound system, and thus we had very little options. My homeroom teacher asked us if there was anyone who maybe had a boombox and enough of the day's popular music to provide at least two hours of entertainment for three classrooms worth of sixth graders. What could I say? I had the box and I was quickly learning that access to music made me cool, something I had never really been. The day of the dance came and there I was, the pathetic picture of a scrawny kid with glasses standing aside a portable stereo on top of a cafeteria table, ready to blast the tunage.
I had, what I considered to be, the best music of the time: Oingo Boingo, Depeche Mode, Duran Duran, Stray Cats, Wham!, Culture Club, and the Thompson Twins. From the second I pushed the play button I was besieged with requests and complaints. For one, this was in the days of cassettes. I didn't have a tape to tape dubber, so I couldn't make a mix tape to just play all the way through. Instead, I had to take the time to cue up every song from each tape. I, of course, didn't do this ahead of time. When I eventually, among the tears created by cruel twelve year-olds, cued up Prince's "Let's Go Crazy" from the brilliant soundtrack album Purple Rain, the mob seemed appeased and rather than switching tapes yet again, decided to just let the sucker play. Success!
I will always remember the day that Prince saved my ass and I wonder to this day if the event in question colored my perception of the artist for the years to come. I don't know and I don't care.
I first heard Prince in 1981 on a K-Tel compilation double LP called Certified Gold which featured, among other songs, Blondie's "The Tide is High", Devo's "Whip It", Pat Benatar's "Hit Me With Your Best Shot", the Pretenders' "Brass in Pocket (I'm Special)", and Kiss' "I Was Made for Lovin' You". Wow! Why the hell didn't I hold onto this gem? Anyhoo, one of the last songs on the second side of the second record was "I Wanna Be Your Lover". (Please note that this was before Prince practically invented internet abbreviation which would have changed it to UR). I would say that Prince had a new fan, but I know that he doesn't like that word. Instead, he prefers the term `friend' as `fan' is short for `fanatic' and he doesn't think of his peeps as fanatics. So in 1981, using a cheesy portable record player, I became Prince's friend.
The friendship flourished with the releases 1999 and Purple Rain. In fact, with the release of the latter, I had my first `which is the better album' argument with people. At the time I favored Purple Rain, now I'm just not sure. Prince's greatest contribution to music is the blurring of the lines between funk, pop, rock, soul, and jazz. The man and his music could and would not be contained. Prince had and has the goods and has delivered them for the past twenty-six years and counting.
SEX Prince's first four albums were dripping with the word. With such songs as "Soft and Wet", "Dirty Mind", "Do It All Night", "Head", "Do Me, Baby", and "Jack U Off", Prince quickly became an unconventional, if not exotic, sex symbol. Whether it was the addition of a band, namely, `The Revolution', or a symbolic graduation after four years, 1999 became a breakout hit. The title track alone became a hit once again at New Year's Eve parties everywhere once the actual year came to pass. "Little Red Corvette" was another in a long line of songs about his favorite subject, but with a storytelling songwriting style that came to be a signature of some of his best work, the song took on a life of its own. "Delirious" and "D.M.S.R." were fantastic dance tunes in the vein of "Controversy". The album became a club as well as a commercial hit.
STARDOM After the success of 1999, Prince became a movie star with his first feature motion picture, Purple Rain. While the film was not a huge commercial hit (in fact it is ranked #894 of all-time box office gross, right after Passenger 57 and right before The Beverly Hillbillies), the album was HUGE. Over half of the album, five tracks, were released as singles, "Let's Go Crazy", "Take Me With U", "When Doves Cry", "I Would Die 4 U", and "Purple Rain". "When Doves Cry" marked his first #1, "Let's Go Crazy" his quick second, while the others hit #2, #8, and #25 at their peaks. The film itself was a semi-autobiographical account of Prince's rise to stardom, portraying the character `The Kid', and beating out protégés The Time at a battle of the bands. Hmmm, sounds familiar. I think 8 Mile pretty much copied a lot of this film.
The hits continued with "Raspberry Beret" and "Pop Life" from the album Around the World in a Day, Prince's pseudo-hippie period. A second film then followed called Under the Cherry Moon, which happened to be Kristin Scott Thomas' film debut. In this one, Prince plays Christopher Tracy, an American expatriate who steals money from European conquests. Both the film and soundtrack, oddly retitled Parade, are vastly underrated. The film shows Prince's comedic side and has some great repeatable lines, while the album contains some of his best work to date. Besides the massive hit "Kiss", there are gems in the songs "Girls & Boys", "Mountains", "Anotherloverholenyohead", and "Sometimes It Snows In April".
PROLIFICITY Then came Sign O' The Time, an ambitious double album which reflected a combination of social consciousness, fun dance music, storytelling, religion, and sex, a combination which would continue in his future work. "Housequake" is purely and simply one of the best funk / dance tracks ever written. For days afterward it had me saying, "Shut Up…already! Damn!" "Starfish & Coffee" is a gem of storytelling which ended up being played out by Muppets on the show "Muppets Tonight" with the man himself singing it! Following on its heels were the underappreciated Lovesexy, a forgettable soundtrack to the first Batman film, and then the soundtrack to his third and final film (to date) Graffiti Bridge, which also heralded the debut of his new band, `The New Power Generation'. While the entire album was not terrible, it marked the beginning of a slow decline in Prince's popularity. All of his `friends' started to wonder if his track record was going to end up like the quality of Star Trek films, every other one being good while the others were sub-par.
Diamonds & Pearls was a short-lived return to the heights of his early singles with his sex-driven songs "Gett Off" and "Cream". And then the feud started. Prince and Warner Bros.' much publicized argument over pretty much everything sparked him to change his name to that damn unpronounceable symbol which drove typesetters crazy. But rather than fade into the night with such an audacious move, every newspaper and magazine were forced to find a way to print the damn thing, propelled by the power of club hits "My Name is Prince" (ironically) and "Sexy M.F." To finish off his obligation to Warner Bros., Prince released a collection of oddities in the album Come, the much bootlegged Black Album, The Gold Experience, the edgy Chaos and Disorder (supposedly meant to piss the label off), and a multi-packaged Greatest Hits Collection.
The three-disc Emancipation was just that. It was his symbolic (no pun intended) celebration of his freedom from contractual obligation and his first record under his own label, NPG Records. Prince's impetus for releasing a three-disc set was twofold. Firstly, he was free now to do things his way and Warner Bros. had initially vetoed all of his efforts to release even double albums because of profit margins. Secondly, he wanted to pay homage to the days of his idols such as James Brown who used to release, on average, more than an album a year. The music flowed like wine with more NPG releases like the soundtrack to the ballet Kamasutra, collaborations with New Power Generation, and a three-disc (limited four-disc) set of rarities called Crystal Ball.
LONGEVITY A minute percentage of recording artists have it. An even smaller percentage of those have been able to couple it with financial success. The Beatles only lasted nine years, but were able to release a total of 13 real albums. The Rolling Stones are still going strong, 40 years and almost 30 albums of original music. David Bowie, 32 years strong and over 25 albums. R.E.M., 21 years, 12 albums. U2, 24 years, 11 albums. As you can see, the trend with output seems to be lessening. Whereas acts in the sixties released an average of over an album a year, now music lovers end up waiting three to four years between albums of their favorite artists. It has been five years since the last Prince album, not counting a live box set, and thank God it is finally here!
With the release of Musicology, Prince has now released over 31 albums, 27 on his own and four more with his band, New Power Generation, and various other works. That's impressive enough, but remember, he has also written hit songs for a myriad of other artists such as The Bangles and Sinead O'Connor. And dude still has time for the ladies! He has had a string of protégés including Vanity 6, Apollonia, Sheena Easton (sort of), Sheila E., Tevin Campbell, Carmen Electra, Mayté, and Diamond & Pearl, one of which became Ms. Calendar on Buffy the Vampire Slayer. The Artist. Insert Symbol here. His Purple Badness. The Godson of funk. His name is Prince…and he is funky.
***
Photo by Scott Penner [CC BY-SA 3.0 or GFDL], via Wikimedia Commons