The Best Song Ever, Part One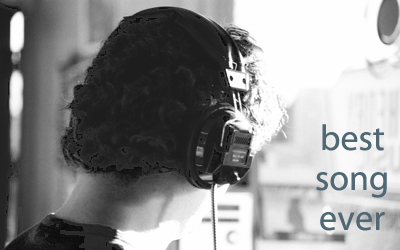 For a while now, people have been prophesying the end of the album, and that mp3s and songs alone will be the last musical format standing. That doesn't seem likely, as somehow, vinyl and, strangely, cassettes still manage to be manufactured and sold. But the success of iTunes and the iPod do prove that a random selection of songs, like an endless mixtape, can be a refreshing way of listening.
The album isn't dead. Rather, there just happens to be a newfound interest in the context of sounds outside of the album, and that doesn't just mean singles. Deep within our favorite albums hide some brilliant and life-changing songs. Some of them are singles, some of them album tracks, some b-sides and outtakes. But no matter what format, these songs demand repeated listening, lyric memorization and the occasional air guitar.
For the last year-and-a-half, Treble has focused solely on the album, but as of today, we begin our exploration of our favorite songs and why they happen to be so. These are the first 25, and as such, we think they warrant an introductory feature. Each week, we'll publish ten more as a column. After a couple years, we'll be well past 1,000. But for now, here are just a few of our favorites.
"Third Planet"
by Modest Mouse
from The Moon and Antarctica
There are many songs that document historical events. From the assassinations of presidents and dictators to the falling of the Berlin wall dealings of the past have always made for interesting and passionate song writing. Modest Mouse's "Third Planet" is no exception to this trend. As if plucked from the diaries of the first man and woman, the lyrics expose an ancient and pure love affair. Told as though the narrator was present during the conception of earth, and survived the evolution and destruction of what was once his Garden of Eden, the song illustrates a feeling of tenderness for mankind and skepticism for a creator. Why this song is the best: One reason that people connect with music, especially lyrically is because of a songwriters knack to externalize feelings that we have yet to discover or divulge for ourselves. "Third Planet" is about our separation from God, from nature, from each other and from ourselves. It is love and lust in their most natural forms. It is science and faith. Darwinism and spiritualism at peace together at last. It's the song you listen to and each time you learn something new, a secret behind every sentence. It is as vague as we need it to be and as comprehensible as we want it to be. The answer to the universe's biggest question could lie betwixt its verses, but you always listen to it a little too carefully or not quite carefully enough, therefore just missing total enlightenment. How many songs can claim that? — Alex Austin
"Dress"
by PJ Harvey
from Dry
I ain't no woman. I'm a man, man. And yet I'm forever captivated by PJ Harvey's 1992 track "Dress," a song told from the perspective of a woman uncomfortable with her own objectification. Over a pounding beat and raw guitar riffs, Miss Harvey sings of going out dancing with her man in a dress that feels more like a prison cell than a garment: "Music playing make it dreamy for dancing/Must be a way that I can please him/ It's hard to walk in the dress, it's not easy/I'm spilling over like a heavy loaded fruit tree." Each verse is more intense than the last and the song builds up into an enormously tense and anxious rocker, with abrasive cellos scratching away at each chorus. When Harvey wails about her night out, you can feel the shame and awkwardness in her voice. It's intense and uncomfortable, but it rocks all the same. And it shows the ugly truth about being presented as a sex object. — Jeff Terich
"Fake Plastic Trees"
by Radiohead
from The Bends
After everyone thought Radiohead would end up in the scrap pile of one hit wonders, the band still remained a favorite of mine. I refused to give up on them like most had. When the second album was released, I found a promo copy in a Venice Beach record store and couldn't believe my luck. The first three songs on the album impressed me, but it wasn't until "Fake Plastic Trees" played that I found myself speechless, dumbfounded and thunderstruck. I still remember playing it for my brother, very picky about his music choices, and wanting to gauge his reaction. Unlike most times when I play him a track, he was deathly quiet, waiting for the song to end. He simply said this, "I'm buying this album as soon as we stop this car." I now consider this song to be one of the best-written songs ever, but it is the performance by vocalist Thom Yorke that truly takes the track to another stratosphere. The "it wears her out" of the first stanza sets you up so intensely for the bombastic "it wears him out" of the second that you never see it coming, yet long for it every time. When Thom drags out the "wears" to the breaking crescendo leading into the third verse, you just feel so full of emotion that you're about to burst, just like he is. And after all that, after the slow burn, he simply sings, almost whispering, "If I could be who you wanted all the time," and you simply want to cry. — Terrance Terich
"Panic"
by The Smiths
from Louder Than Bombs
"I wonder to myself, could life ever be sane again?" Another day breaks at my job at JMR (for it is here that I used to waste away, daily) and not even a dream of Jude Law could fix my sinking spirts and morale as I receive the "what the hell did you say" stare from the boss. I don't work there anymore. Life is sane again and I'm no longer stuck in a place that "says nothing to me about my life." — Ayn Averett
"Generals and Majors"
by XTC
from Black Sea
One of the most palatable political statements ever made, XTC's "Generals and Majors" was one of many highlights off of their third album, Black Sea. But the statement was absolutely genius. Unlike more half-assed attempts of late, XTC actually had a catchy single on their hands with a memorable melody, whistling harmonies and a disco punk beat that throwback bands like Franz Ferdinand have borrowed countless times. The real highlight, however, is Andy Partidge's cartoonish portrayal of the military: "Generals and majors uh huh/they're never too far/from battlefields so glorious." And the "World War Three" refrain at the end of the chorus was, in effect, the song's "wham bam thank you ma'am," as it picks up just when you think the song is ready to come down. This song would be huge if it were to be released today. And it's a reminder of how kickass XTC were, even though everybody who has covered their songs has effectively watered them down. — JT
"Tell Me Why"
by Neil Young
from After the Goldrush
For the last year or so, my girlfriend and I had been planning on replacing the needle on our record player. Every LP we threw on was subject to relentless static and fuzz coming from the stylus. But as much as we valued our record player, it took forever for us to get around to actually replacing the cartridge. But a few weeks ago, we finally got a new stylus and renewed our listening experience. After a little surgery, it came time to test it out. And the first record I grabbed was Neil Young's After the Goldrush, because its first track, "Tell Me Why," when played on vinyl, is one of the best songs you'll ever hear in your life. From the opening four notes, Young's arrangement is simple and melancholy, but starkly beautiful. Little more than a simple, acoustic love song, "Tell Me Why" is one of the most amazing songs in Young's catalog, most likely because of that reason. The vocal harmonies during the chorus are breathtaking, and everything is made just a little bit better with the addition of the warm pops and crackles of a record player's needle. — JT
"Ditch Digger"
by Rocket from the Crypt
on Circa: Now!
I don't know how to rightfully explain Rocket From the Crypt's "Ditch Digger." It's easily my favorite RFTC song with "Killy Kill" coming a close second, and is a combination of rockabilly, Irish drinking song, and tender ballad. And after all that, it's about leprosy. Huh? Well, sort of. Once I realized that the shouted chant in the song was "LEP-RO-SY!!", it just made the song that much cooler. Just put it into context when John Reis sings "Lend me your ears" and "Slap me some skin." Weird, and kind of gross. And yet, the great Speedo makes it work. The "You're the same" refrain makes you want to swing your Guinness pint and sing with your closest buddies. Somehow, the processed vocals add to the mystique of the song, making one wonder what he is really singing about. To this day I can't find accurate lyrics for the song anywhere. I do know that he says "I bet you paid a lot of money for that hair (head?)" See, even that I'm not sure of. What I am sure of is that I will often put Circa: Now! into my CD case just to listen to that one song…and maybe one other one. — TT
"Four Seasons in One Day"
by Crowded House
from Woodface
Tim and Neil Finn just seem to keep collaborating together, whether it's in Split Enz, Crowded House or the aptly named Finn Brothers. Never before had they come together as beautifully as when Tim rejoined his brother to form Crowded House's Woodface. The song "Four Seasons in One Day" is the type of song that novelists create whole books out of. It is both precise and vague all at the same time. Essentially about taking the good with the bad, the ups with the downs, the song is stripped down acoustic splendor. The harmonies which join Neil's exquisite voice during the chorus are stunning, leading us all to believe that things, no matter how messed up they get, are going to be okay. "Smiling as the shit comes down" is the perfect line that represents the song as a whole. This song has helped me through more than a couple bad times and never loses any of its brilliance. — TT
"Strobe"
by Miss Black America
from God Bless Miss Black America
The God Bless… line up of Miss Black America was one of the finest British guitar bands of the last five years. "Strobe" is a particularly bouncy pop song like Radiohead made circa Pablo Honey, with lots of shadowy ink floating around, and all the positive intent of the best early Strummer/Jones material. Sadly the NME ignored them due to their lack of interest in personal self-immolation (though their conscious decision not to sign with a major label did them no favors) during 2002's garage-rock frenzy. This song, like the entirety of God Bless Miss Black America was capable of making much more impact than was permitted. – Tom Lee
"Wonderwall"
by Oasis
from (What's the Story) Morning Glory?
From the opening guitar strums you know exactly what song it is. This is the power of great songwriting. Just like one of his heroes, John Lennon, Noel Gallagher has created a song that is so easily recognizable that everyone knows it. Not only that, most everyone can agree, overplayed or not, it's a great song. Noel once said that Liam had the best voice in rock and roll. Whether sheer self-promotion, sarcasm, or both, he also wasn't far off the mark. With Noel's quiet guitar strums you expect a Sam Beam or Elliott Smith like voice to waft over them, but instead you hear Liam, nearly shouting that "Today is gonna be the day that they're gonna throw it back to you." But somehow it's not jarring. Then the strings and drums kick in accompanying the second verse, with the drums hitting just after the word `backbeat' (Brilliant). Even an instrumental version would be stunning. But Liam's "Because maybe, you're gonna be the one that saves me" transports it into history. Through all the Beatles references (Backbeat, winding roads, etc.) and even George Harrison references in the title itself, one would think the song is about George or the Fab Four, but it is a simple love song written by Noel to his girlfriend at the time. It's the little things that add up to perfection and that last little touch are the repeated five piano notes at the coda. Oasis had more hits than this one, but this is their "Yesterday," their "Hey Jude." It doesn't get much better than "Wonderwall." — TT
"Good Woman"
by Cat Power
from You Are Free
I once read that "that hell would have no flame, just a front row seat to watch your true love pack his things and drive away" and I think that's true. "Good Woman" is one of those songs for recovery that you can nurse while you heal. — Kate McDonald
"Heroin"
by The Velvet Underground
from The Velvet Underground and Nico
Symbolism is used so often in song lyrics anymore that it can be a difficult task to interpret the artist's intentions. When done well, imagery can make us feel smart by telling us something without telling us something. We've always patted ourselves on the back when something clicked inside us that said, "Wait a minute, they don't actually mean a girl named Lucy flies around in the sky carrying diamonds, do they?" We're such good little listeners. Besides generally speaking, songs that dumb down the art as if to look down at the audience are typically boring, and often offensive. However, one such song comes to mind that couldn't have possibly been clearer, from title, to lyrics, to artist and while invoking passion and presenting true vision. "Heroin" by The Velvet Underground says it, point blank and pretty clearly, Lou Reed loves the smack! Why this song is the Best: While Lou may not have taken a blatantly artistic lyrical route, the song somehow appeals to the heart on a very honest beautiful level. Perhaps by accident, Lou had provided a romantic schematic for any obsession. You could take out the word "heroin" and replace it with your lovers name, or sunrises, or the season finale of American Idol. The idea is clear; obsession is relevant to all of us. — Alex A.
"Train In Vain"
by The Clash
from London Calling
Mick Jones encapsulates heartache with more passion, poise and tunefulness than the impressively-lunged masses. The Clash re-ignited my interest in guitar-music at age fifteen. Nu-Metal was huge and I was listening to David Holmes' Lets Get Killed (as well as the first Limp Biz-Kit album) on repeat. I bought London Calling, and its still one of my favorite records. Hearing "Train In Vain" at the album's end made me press play straight away. — TL
"Metal Guru"
by T. Rex
from The Slider
Few guitar sounds are as recognizable as Marc Bolan's, and few songs are as recognizable as "Metal Guru." With a fat distortion tone and a scream of "Who-ah-haaa-yeaaaahhh," the song is two-and-a-half minutes of pure pop joy. This is what glam rock is in its purest form — silly, loud, unadulterated fun. Bolan's lyrics were always a bit nonsensical, but few lines beat "Metal Guru/has it been/just like a silver-studded sabre-tooth dream." This is the kind of song that makes you want to get out of your chair, do cartwheels and jump around like a maniac. It's unclear who Bolan is addressing in this song, but if you ask me, Bolan himself was a true metal guru, making some of the most awesome-sounding loud rock `n' roll in history. — JT
"Junior Kickstart"
by The Go! Team
from Thunder, Lightning, Strike!
The guitar intro to this song leads you to believe that you're in for some Sonic Youth-style guitar rock, but when the horns kick in, it's a completely different story. All of a sudden, the song bursts into the most ass-kicking TV detective theme song ever. Think "Hawaii Five-O" for a new, hipster generation. In fact, when the WB finally decides to expand their line-up with a cop show (albeit a pretty rich kid cop show), this should be the song playing during the opening credits. It'd be kinda like the video for "Sabotage," but with fewer fake moustaches. I think I got a goldmine in my hands, here! — JT
"Hey Lisa"
by David Holmes
from Bow Down to the Exit Sign
Bow down To the Exit Sign was a very different beast to Let's Get Killed, which it followed. The latter is still one of my favorite albums of all time, and as such I put the former in and listened intently, without doing anything else. This song simply floored me; I wasn't listening to the album and thinking about its relative merits, because I was too immersed in this. –TL
"Coffee & TV"
by Blur
from 13
Songs fall into so many categories. Ultimately the ones that mean the most are the ones that touch you personally. Blur's "Coffee & TV" was the soundtrack to a certain period in my life. It was pre-marriage, post-breakup, mid-confusion, deep alienation. It was my Holden Caulfield, Charlie the Wallflower moment in time, except I wasn't trying to find my place in the world, I knew what my place was and it sucked. And yes, Graham, I did feel like a chain-store, practically floored. Every line, clear or mumbled meant something to me. Whether Coxon was singing about "Holding out your heart to people who never really care who you are" or "people there who will hurt you `cos of who you are," I felt he was singing directly to me. It's a naïve thought and I knew better, but it comforted me to know that the song even existed for me to hear it. I spent a good hour playing and pausing my CD player trying to transcribe the lyrics. And the brilliant part is, Coxon sings "Take me away from this big bad world and agree to marry me," and that's exactly what happened within the next few months. I met the woman I would marry and I was taken away from the big bad worlds I inhabited, within myself. – TT
"1000 Pounds"
by Superchunk
from Come Pick Me Up
I've never been one for motivational, inspirational or super-positive songs, but when done right, it can make you feel like yer on top of the world. Superchunk's "1000 Pounds" has just that effect. Amidst the subtler, Jim O'Rourke produced textures on Come Pick Me Up, this song was an anthem that stood out and let out a mighty roar. When Mac Mcaughan sings "You came through, you came through/when nobody expected you to," you can't help but feel like you just ran a marathon. It's a song about overcoming obstacles and not giving up, and though it may sound like some half-assed prime time drama pep talk, it hits you where it hurts. And it feels so good. — JT
"Dutch Courage"
by The Beauty Shop
from Yr Money or Yr Life
John Hoeffleur murmurs "they call me Mr. Whiskey Head" as though meaning matters little. The Beauty Shop are one my favorite bands period, and criminally underrated. "Dutch Courage" makes like Leonard Cohen if he had the tunes to cut through off-peak FM radio. — TL
"Only You"
by Portishead
from Portishead
You were beginning to wonder if you'd been stood up again. There you sat with your short cigarette threatening to burn out before you were ready. Nervousness sets in and you notice your leg, as if on its own accord, has been bouncing for minutes. Suddenly warmth sets in on the top of your shoulders as if the sun was rising behind you. Your leg calms down, and your cigarette hangs in there. You feel her enter the room so you glance with your eyes only so as not to disrupt the stillness. Upon your first look at her the bass line of Portishead's "Only You" drops heavy and thick in the air around you. Her: 1940's classy; long silk gloves, red; extended cigarette holder between her delicate fingers. She ignores your stare, but approaches the table one foot in front of the other; does she mean to walk in slow motion? Her lips are sapphire red, hair jet black, weeps in ripples close to her face. She gets closer, without words demanding you to remain seated until she finishes her entrance. What she has to say could be the first or last thing you ever wanted to hear. She leans down; her lips only just feather your ear. The warmth from her body seems to fill the room as she breathes in to speak the busy room stops as if they too, have awaited this secret. Why is this song the best? Is it the sexy, yet effortless lyrics? Is it the demandingly seductive bass line? Is it the howling class in Beth Gibbons' voice? Is it the curiosity of who this song was written for? We may never know for sure. We may never ever know. — Alex A.
"City of Motors"
by Soul Coughing
from Ruby Vroom
Soul Coughing's first album was an exercise in beat poetry set to coffeehouse be-bop jazz and it was a breath of very fresh air. Containing the quasi radio hit "Screenwriter's Blues," the album gained a cult following in cities like their own New York and Los Angeles, home to many a screenwriter serving time as cinema and video rental managers. But it was the song "City of Motors" which caught my attention so profoundly. Not only is frontman M. Doughty a good poet, but he is also a great noir mystery writer. Every noir element resides within the track, the rooftop chase, the Latina ingénue, the leaking shot out car. Everything clicks in this song from Doughty's lyrics to Yuval Gabay's inspired drum raps, to Sebastian Steinberg's subdued standup bass. I still get a shiver up my spine when I hear the lines "An empty body but it still bled" and then a pause until "Oil from the axle and it left a trail." It gets even better when the music stops as Doughty intones "Flicks an ash like a wild loose comma." We can see the car jump just as Manuela does, and I can listen to this song over and over and over again, just like I can watch The Maltese Falcon hundreds of times over. — TT
"Comptine d'un Autre Été: L'après Midi"
by Yann Tiersen
from Amélie
When I die, this is the song I'd like to hear while my life flashes before my eyes. This is exactly how I want to remember it. – KM
"Let's Stay Together"
by Al Green
from Let's Stay Together
I remember watching him perform this on TV live from Glastonbury festival in 1999. It made me smile. A lot. It definitely sparked my interest in soul music. This song was exactly what I needed to listen to in my spotty, vaguely anti-authoritative sixteen-year-old state. I should listen to it more often, particularly as it now gives me feelings of smug sub-Nick Hornby insecurity. Whether times are good or bad, happy or sad.— TL
"Tired"
by Snow Patrol
unreleased
It's going to be hard for anybody reading to actually see this and say "Yeah! That's a damn good song!" because, well, nobody's heard it. That's not true of course. People have heard it. But not many. It was originally slated to be on the US release of Final Straw, but last minute tracklist changes left it to be shelved in the studio. The funny thing is, it could have been a gigantic hit single for the band. Gary Lightbody proves his Scot-pop heartthrob worth with the über-emo but fist-pumping chorus of "I'm tired of lyin'/It breaks my heart/Just wanna be with/You everyday." That it was cut from the album is a shame, but any curious digital pedestrians should do whatever they see necessary to track this down. No pun intended. – JT
"Boxing"
by Ben Folds Five
from Ben Folds Five
Starting off as an old twenties piano waltz with slow sad keys that you might hear in a Chaplin film, "Boxing" enters its way into songwriting history. This is Folds at his storytelling best, relating the imaginary last interview between Muhammad Ali and Howard Cosell. Folds has Ali telling Cosell that he's growing old and has to give up the sport that was so `good' to both him and Howard. I put that in quotations because of the fact that its use is ironic in the song. Boxing brought Ali fame but also damaged him for the rest of his life. The combination of that plus the fact that he is searching for validation leave him asking Cosell if he had the same experience. When Folds dramatically increases the volume and tempo during the bridge, I get goosebumps.
"Well sometimes I punch myself/Hard as I can/Yelling nobody cares/Hoping someone will tell me how/Wrong I am." — TT