The Decemberists : The Hazards of Love
Ever since releasing The Tain, an EP-length song cycle based on an Irish folktale, The Decemberists have flirted with the idea of creating their own rock opera. On 2005's Picaresque, they created one in miniature on the seafaring "Mariner's Revenge Song." And on 2006's The Crane Wife, the Portland group took it a step further by weaving songs based upon a Japanese folktale around the album's other tracks, one of which, "The Island," was a self-contained epic journey of its own. Add to this Colin Meloy's penchant for well-crafted narratives, and soon enough the idea of The Decemberists releasing their own rock opera becomes more a matter of `when' than `if.'
With album number five, The Hazards of Love, The Decemberists make good on this unspoken promise, unleashing a 17-track odyssey of theatrical pop, burly rock riffs and intricate productions galore. I would be lying if I said I wasn't worried about The Decemberists turning a bloated, unwieldy prog-rock monster. Lord knows we don't need another Muse. Yet I'm pleased to say that my fears were unfounded—The Hazards of Love shows off The Decemberists at their most musically complex, while simultaneously revealing their most impressive concept-based work. Supposedly, the group had even initially imagined the album as a play, but ultimately deemed it unfit for theater. No matter, as a rock album, it kicks ass. That might sound ridiculous, but I jest not. While much of the group's melodic, folk-rock sound is still prevalent, The Hazards of Love finds The Decemberists rocking harder than before.
The storyline of The Hazards of Love revolves around two central characters (lovers, to be precise)—William and Margaret—and the wicked forest queen that has Margaret abducted. William fights to save her, and the two ultimately find themselves together, at last…on a sinking ship. While this may not sound entirely surprising in the context of The Decemberists' discography, the group even went to the lengths of casting their characters' roles. While Meloy handles the narration of William, Becky Stark of Lavender Diamond sings the parts written for Margaret, and My Brightest Diamond's Shara Worden takes on the role of the queen.
If any of this begins to sound like some overbearing narrative taking precedence over songwriting, well, that's simply not the case. Though The Hazards of Love works strongest as a whole, the songs are incredible when taken on their own. "The Hazards of Love 1" finds Meloy setting the scene over a gorgeous acoustic guitar melody, with each other instrument coming to life like a critter awakening within the forest of which he speaks. An explosive riff erupts in "A Bower Scene," which appears again throughout the album, as does numerous other melodic motifs, tying together the album's seemingly disparate parts not only in story but also in sound. Stark makes her first appearance in groove heavy standout "Won't Want For Love (Margaret in the Taiga)," singing to the woods surrounding her, "gentle leaves, gentle leaves, please array a path for me," before the first mention of her pregnancy. "The Hazards of Love 2" marks another gorgeous peak, somewhat reminiscent of "The Crane Wife 1 & 2," though not nearly as long.
After the comparatively underwhelming "Isn't It a Lovely Night" comes peak track "The Wanting Comes In Waves/Repaid," an awe-inspiring epic that begins with Meloy singing over a lone harpsichord. Soon enough, that erupts into a glorious climax with soaring backup vocals. But it doesn't really begin to cook until a squealing electric guitar riff heralds the entrance of Worden as the queen, who sounds absolutely badass as she wails "this is how I am repaiiiiiid." The group continues the fiery rock sound with first single "The Rake's Song," a first person confession from the perspective of the Rake, who's not only a ladies' man, but a cold-blooded killer: "Dawn was easy, she was drowned in the bath/ Isaiah fought back but was easily bested/ burned his body for incurring my wrath." The opening riff to "Annan Water" is a bit similar to XTC's "Dear God," but carves its own path with stunning hammer dulcimer accompaniment. While we're talking riff similarities, the opening of "Margaret In Captivity" recalls Bon Jovi's "Dead or Alive," but that's where the songs' similarities end.
In the album's final act, a blazing, hard rock version of an earlier harpsichord riff emerges in "The Hazards of Love 3 (Revenge!)", which finds Stark singing with a children's choir over dizzying, discordant string sounds. And while our heroes may find themselves doomed on "The Hazards of Love 4," they go down gorgeously, and still in love. That The Decemberists would have the wherewithal to tackle an ambitious project such as The Hazards of Love isn't entirely out of character. That they were able to make it such a powerful and sonically dazzling artistic statement is just a testament to how much they've grown as a band. Their songs were always good and, when faced with an even more challenging task in front of them, the band has gotten that much better.
Similar Albums:
The Decemberists – The Crane Wife
Fairport Convention – Liege and Leaf
Led Zeppelin – Physical Graffiti
MP3: "The Rake's Song"
Download at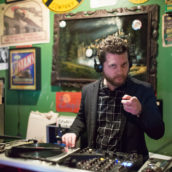 Jeff Terich
Jeff Terich is the founder and editor of Treble. He's been writing about music for 20 years and has been published at American Songwriter, Bandcamp Daily, Reverb, Spin, Stereogum, uDiscoverMusic, VinylMePlease and some others that he's forgetting right now. He's still not tired of it.