10 Essential Portland Albums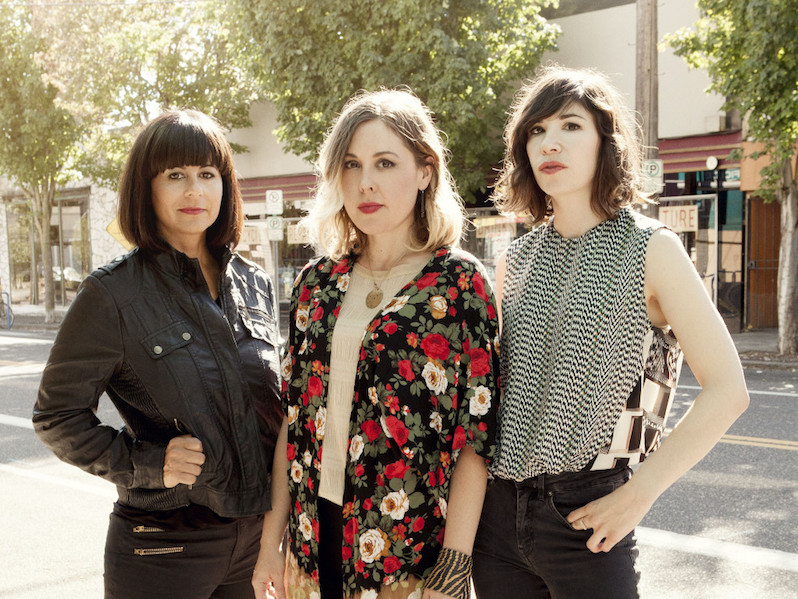 Welcome back to the Treble World Tour, a series of Top 10s covering albums that best represent certain locations—cities, states, territories, even entire nations. We consider representative releases on three levels: They were made by artists from a place, they contain music about or inspired by the place, and/or they were made in that place. Today we visit a city that we're somewhat surprised we haven't already covered: Rose City, aka Portland, Oregon. There's something of a stereotype about Portland being hipster central, which is more or less reinforced by the sheer amount of indie rock that the city's exported. Even bands that didn't originally start in Portland—Sleater-Kinney, The Shins, The Decemberists, members of Spoon—somehow end up there, welcomed into the Pacific Northwest town where the number of artists per capita is rivaled only by annual precipitation levels. And yes, indie rock is a big part of that. Though well before that Portland was a punk town, boasting bands like The Wipers and Dead Moon, later cultivating robust communities of metal and hip-hop artists as well. Choosing only 10 albums to represent the city is only scratching the surface, but these 10 albums are a damn good start.
---
The Wipers – Youth of America
(1981; Park Avenue)
Greg Sage was the original DIY punk. Hell, he was DIY even before he was a punk, learning to cut lathe records in seventh grade well before starting a band. And once The Wipers formed and took off, Sage intended to put that industriousness to use, planning to release 15 full-length albums in 10 years, no touring necessary. It didn't work out that way, but his intent to build mystique via maintaining a recorded presence over a live one is a technique that has certainly trickled down into later generations, particularly in the too-anonymous-for-its-own-good black metal realm. But for a few years, The Wipers did keep up a steady schedule of releases, achieving a peak in Pacific Northwest post-punk artistry with Youth of America. Inspired as much by the proto-punk of The Stooges as it is krautrock and even early gothic rock, Youth of America is a strange and dark record, structured quite differently than most American hardcore records of the early '80s. The title track alone is a majestic work of epic, anti-punk grandeur—intentionally stretched out over 10 minutes as an affront to punk rock clichés. The Wipers zagged where everyone else zigged, and if they didn't pull off 15 records, delivering a damn-near perfect one on only the second try is a pretty good consolation prize. – Jeff Terich
---
Dead Moon – In the Graveyard
(1988; Tombstone)
Though they resided in Clackamas, Oregon, Dead Moon was the Portland band. Their concoction of bluesy garage-punk offerings and down-on-their-luck protagonists were always offered in several shades of black and grey—from the LP sleeves inward, Dead Moon was a dark, eerie band. Though not their finest achievement, their 1988 album In the Graveyard stands out among the PNW musical canon; it is always the best place to start. Chalk it up to Kurt Cobain's list of his "favorite" bands and albums, or to their relentless DIY ethic (they are practically the godparents of DIY rock), Dead Moon, and In the Graveyard for that matter, are as essential to Portland as the hundred-plus days of rain are to the sprawling green landscapes of the city. "In the Graveyard," "Parchment Farm," and "Don't Burn the Fires" exemplify the nasty minimalism so essential to the band's sound, while "Can't Help Falling in Love" and "Hey Joe" (though entirely separate beasts and attitudes) are absolute stand-out covers, offering a nasally rendition of Hendrix's tune with Fred Cole on vocals, while Toody Cole's cooing version of the Elvis staple is beautiful, messy, and heartfelt. At its core, In the Graveyard epitomizes the dark, menacing underbelly of rural Oregon (or America in general), and burns false stereotypes we foist upon aging musicians (Fred and Toody were in their forties when In the Graveyard was released). – Timothy Michalik
---
Poison Idea – Feel the Darkness
(1990; Vinyl Solution/American Leather)
There's something hilarious about the fact that Poison Idea, a band of hardcore ruffians that underwent various lineup changes and various eras of snotty, sweaty destruction, only officially broke up in 2017 just to reunite a year later. Then again, in punk rock, there are no rules. Yet the band hit their peak in the late '80s and early '90s, delivering a raucous yet melodic essential with 1990's Feel the Darkness. The missing link between Hüsker Dü and Fucked Up, Poison Idea had as much of a knack for pop hooks and vocal harmonies as they did for pure aggression, and one listen to leadoff track "Plastic Bomb" showed they could fit all of these elements into one soaring anthem. Its best-known song (if a bit dubiously so) is probably "The Badge," which samples Taxi Driver and was covered by Pantera on The Crow soundtrack, but whose anti-police-brutality and -corruption message remains relevant after nearly 30 years. Everything about Poison Idea feels out of step with the Etsy-and-Portlandia culture of the Rose City as it's been stereotyped, which is in part why it remains such a crucial release in Pacific Northwest punk history. Feel the Darkness is chaotic good. – Jeff Terich
---
Elliott Smith – either/or
(1997; Kill Rock Stars)
Elliott Smith's work with indie rock band Heatmiser had made him a known quantity in the Pacific Northwest, but his star rose to a national level with either/or. Sitting at the fulcrum of Smith's career, either/or built on the bare-bones musical structures of his first two records while retaining their hushed intimacy. The result was his best batch of songs; surely "Between the Bars" and "Say Yes" would be just as beloved even if they hadn't appeared in Good Will Hunting. It's tempting to think of Smith's willingness to have his work featured in a major Hollywood film, as well as the lyrics of fan favorite "Angeles", as foreshadowing of his move to LA. But no, either/or is very much a Portland album, with the intimate "Alameda" and "Rose Parade" reading like rain-soaked love letters from the songwriter to his hometown. – Jacob Nierenberg
---
Sleater-Kinney – One Beat
(2002; Kill Rock Stars)
Sleater-Kinney began life as an Olympia band, only later making the gradual move to Portland in pieces. But by the time they released One Beat, Portland wasn't just the place in which they lived, worked and rehearsed, it became a backdrop for their music as well. One Beat isn't a hyperlocal album—not exactly. Released in 2002, it dealt heavily in the anxiety of living in a post-9/11 America ("Far Away"), the jingoistic march to war shortly thereafter ("Combat Rock") and the terrifying moment of being a new parent to a premature baby ("Sympathy"). It's a heavy record, thematically, though that in turn resulted in some of the strongest melodies and lyrics the trio ever wrote. But the band also made some space for their home city, paying tribute to it in "Light Rail Coyote," inspired by a true event in which a coyote hopped a ride on the city's light rail system. – Jeff Terich
---
Exploding Hearts – Guitar Romantic
(2003; Dirtnap)
The story of Guitar Romantic is tragic—a band whose career was cut all too short, a van accident killing three out of the four members of the band only shortly after releasing their acclaimed debut album (only guitarist Terry Six survived). But what remains is a half-hour of punk and power pop that's among the most infectious and joyous music ever to come out of Oregon. Charmingly out of step with the indie pop trends of the Pacific Northwest at the time, The Exploding Hearts took influence from bands like The Undertones and The Jam, The Records and The Beat—upbeat, overstuffed with hooks but still rife with punk attitude, safety pins and Elmer's glue. In an alternate universe there's a romantic comedy in which some sad sack is told "I'm a Pretender" will change his life. – Jeff Terich
---
The Shins – Chutes Too Narrow
(2003; Sub Pop)
Before "New Slang" changed Zach Braff's life, it was used to sell Big Macs. James Mercer was branded a sellout for licensing his song to McDonald's in 2002, but the commercial paid enough for him to relocate The Shins to Portland and start work on their sophomore record. Chutes Too Narrow's songs are fuller and bouncier than those of Oh, Inverted World—I mean, just try not tapping your foot along to the jaunty guitar riffage of "Kissing the Lipless" and "So Says I"—but it shares its predecessor's world-weariness. "I'll try not to give in, batten down to fare the wind / Rid my head of this pretense, allow myself no mock defense," Mercer sings on the album's Elliott Smith-ian highlight, "Saint Simon." Mercer's critics might've taken that lyric as proof that the McDonald's money couldn't buy him happiness, but even the most cynical among them had to admit that Chutes Too Narrow's sublime songcraft was proof of money well spent. – Jacob Nierenberg
---
The Decemberists – The Crane Wife
(2006; Capitol)
Portland is home to one of the largest bookstores in the world—no vacation to PDX is complete without a few hours in Powell's City of Books—so it's only fitting that the hyperliterate Decemberists are one of the city's standout bands. They were never more well-read than on their masterpiece, The Crane Wife, an album that'll brush you up on the following subjects: the titular Japanese folk tale, Shakespeare's The Tempest (and to a lesser extent, Romeo and Juliet), the Siege of Leningrad, and the Shankill Butchers. But The Crane Wife is hardly a literary studies lecture. Instead, it's a rip-snorting delight of an album that mixes indie folk ("Sons and Daughters", "O Valencia!") with progressive rock ("The Island", "The Crane Wife 1 & 2"). Half Mountain Goats and half Jethro Tull, The Crane Wife is The Decemberists' finest hour—each song not just a marvelously told story, but a celebration of storytelling. – Jacob Nierenberg
---
Chromatics – Night Drive
(2007; Italians Do It Better)
This album is emblematic of the entire career of Portland electro gadfly Johnny Jewel. The Italians Do It Better label is the home Jewel built there in 2006 for synth-driven acts and projects, all of which he contributes to in some way. His best-known group is arguably Chromatics, and Night Drive the LP that heralded their sudden yet smart move away from indie and punk. It brings together a variety of insistent pulses from across the dance music spectrum—Ibiza, Detroit house, Italo-disco, New Order's Manchester—under a haze of softly strummed garage guitars and Ruth Radelet's dreamy vocals. Everything about this road movie concept album makes perfect sense: covering Kate Bush, the gentle and elegant grooves of "Healer" and "I Want Your Love," even the suggestive church-organ horror of "Killing Spree." – Adam Blyweiss
---
Sallie Ford & the Sound Outside – Untamed Beast
(2013; Partisan)
Native North Carolinan Sallie Ford has a marvelously elastic voice, strong appreciation for tube amps, precious little respect for affected coyness, and a welcome understanding of the wild abandon early rock 'n' roll was really about. Untamed Beast, her last album with her backup band the Sound Outside (though they reunited for shows earlier this year), is a roughhouse adventure with Ford's runaway impulses over stomping retro guitar-bass-drums. The lyrics read like what uptight churchgoers in the '50s and '60s feared rock and roll was actually saying: "I can fuck, I can drink, and I don't care what you think" ("Bad Boys"); "I just wanna scratch from the inside/'Til I feel raw and wild" ("Rockability"). But there are also hints of bloodlust coming from the raw center: the simmering anger of "Devils," the crazy jealousy of "They Told Me," and the sympathetic hedonism, if that's a thing, of "Party Kids." Ford sings her self-delivering mantras with her own unique diction, a negotiation of Loretta Lynn's hillside howl, Chrissie Hynde's take-no-crap put-down, and Corin Tucker's forthright squall. Untamed Beast is Saturday night revelry for those who know the real menaces to society stand behind pulpits on Sunday morning. – Paul Pearson
---
Support our Site—Subscribe to Our Patreon: Become one of our monthly patrons and help support an independent media resource while gaining access to exclusive content, shirts, playlists, mixtapes and more.