The Dismemberment Plan : Uncanney Valley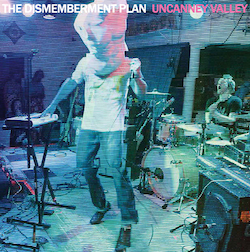 Buy at iTunes | Buy at Insound (vinyl)
The Dismemberment Plan's last album, released in 2001, was called Change. That's not coincidental, and at the time that single word spoke volumes. Though still the witty, rhythmic, endlessly creative band that released 1999's outstanding Emergency & I, The Dismemberment Plan had shed their most spastic, hyperkinetic tendencies in favor of a more measured, mature approach. And though it didn't surpass its predecessor — it's hard to imagine much that could — it's the album of theirs that came the closest, showing off a completely new side of their music when the one they had cultivated for half a decade had finally reached perfection.
After that album, however, The Dismemberment Plan underwent an even bigger change: They broke up. Four albums, a few EPs and singles under their belt, The Dismemberment Plan could close the book on their time together and be proud of what they did, leaving behind a concise but consistently great catalog. And for a while, it seemed like that's exactly where the band planned to leave it, Travis Morrison issuing a pair of solo albums, Eric Axelson joining Maritime, and Jason Caddell and Joe Easley keeping a lower profile for the most part. That ended in 2011 when the band announced a reunion tour, which kept going a little bit longer, stretching all the way to 2013, when they finally announce that they've recorded a brand new album, titled Uncanney Valley.
It's tempting to call the new album Even More Change, as the path The Dismemberment Plan embarked on back in 2001 seemed to indicate they might eventually land where Uncanney Valley positions them now. Where Change indicated a shift away from the band's punk influences, here, they more or less don't even register. Uncanney Valley is a pop album — one rife with all the quirks, foibles and peculiarities that have always characterized Dismemberment Plan albums — but a pop album all the same.
At first spin, however, it's easy to get sidetracked with just how goofy it starts off. On opening track "No One's Saying Nothing," after a rattle of synthesizer and sleigh bells, Travis Morrison drops a lyrical doozy: "You hit the space bar enough and cocaine comes out/ I really like this computer!" It's almost easy to get sidetracked before the song transitions into a hard-hitting drop into the chorus, which sheds the silliness completely and seamlessly transitions into a pretty badass chorus. And though it sounds different than it would have 14 years ago, it's a Dismemberment Plan song through and through. Humor, experimental arrangements and dynamic songwriting — all the elements are there, albeit in considerably different portions.
With all of the members of The Dismemberment Plan in their late 30s or early 40s, Uncanney Valley reflects this stage of their maturity in a similar way to how Emergency & I embodied the uncertainty and loneliness of being in your 20s. As such, it's a lot more upbeat and sure of itself. And yes, it is certainly goofy at times, though not to the extent of being excessively jokey, and for that matter, Travis Morrison's greatest strength in the past has been his sense of humor. It's certainly every bit the valuable asset it's always been, but here he balances it out with the wisdom earned from doing some growing up, and those are the moments when the album is at its strongest. Low-key highlight "Lookin'," which could pass for a Change outtake, is a very rare kind of love song — one about grown-up, enduring love, rather than white-hot passion, the most poignant line of which comes in an allegory about an artist: "Once he wanted to paint her naked/ now he only wants to paint her." And the Eels-like "Daddy Was a Real Good Dancer" is the most heartbreaking Morrison has ever been, showing in hindsight his appreciation for his father's sacrifices: "Daddy was a real good dancer/ That's what everybody'd say/ Daddy was a real good dancer/ Until he had me, and then he threw his dancing shoes away."
For all the mellowing out the band has done, the creative spark and knack for arranging pop songs into unconventional, dynamic structures remains at the center of Uncanney Valley. It has its moments of rock 'n' roll convention, such as in the glam-rock bounce of "Go and Get It," or the soaring emo chorus of "Living In Song." But as dads, husbands and grown-ass men, The Dismemberment Plan still know how to groove, and they show that off through the cool, eerie string samples on "Invisible," the hard-driving "Mexico City Christmas," and the badass, rocking "White Collar White Trash," which incorporates a poignant reflection on the difficulty in reconciling a band lifestyle with adult responsibilities.
There's a consistent warmth and affection to all of the songs on Uncanney Valley that makes it endearing and likable, even when it seems shamelessly unconcerned with what's cool. One of the greatest aspects of Uncanney Valley is how comfortable in their skin The Dismemberment Plan sound, and though in one sense they're not the same band they were in their 20s, they are very much still the same band. At least one write-up on the album dropped the "dad-rock" bomb, and while it's a little cheap, it's also fair. They're dads and they play rock. But if this is what passes for dad-rock in 2013, then growing up and mellowing out looks pretty damn appealing.
Similar Albums:

Maritime – We, the Vehicles


The Shins – Wincing the Night Away


Superchunk – Majesty Shredding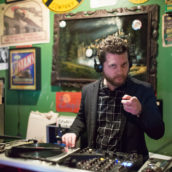 Jeff Terich
Jeff Terich is the founder and editor of Treble. He's been writing about music for 20 years and has been published at American Songwriter, Bandcamp Daily, Reverb, Spin, Stereogum, uDiscoverMusic, VinylMePlease and some others that he's forgetting right now. He's still not tired of it.