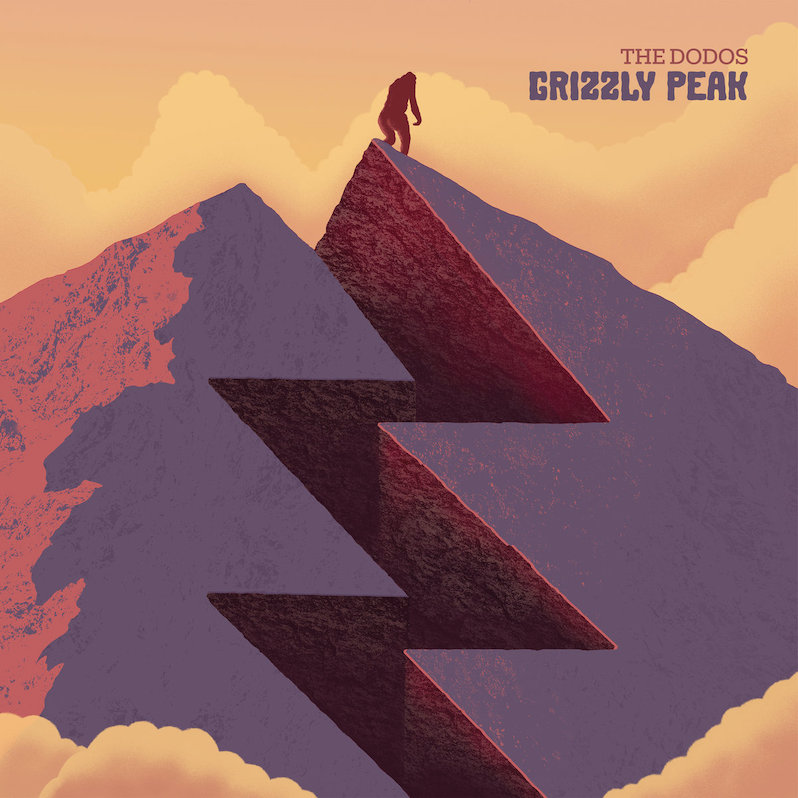 The Dodos have forged onward for the better part of 15 years, building up a resolute musical vision together against strong odds. From the outset, guitarist-vocalist Meric Long and drummer Logan Kroeber's self-proclaimed (and oddly specific) sonic manifesto has been to generate songs that sound like they emanate from the interior of an acoustic guitar—turbulent, but also brisk and invigorating. Their 2008 breakout record, Visiter, was both a high mark for their booming approach, as well as most listeners' introduction to the band. The pair have sent out other kinds of searching vectors since that sophomore release, employing new instrumentation (vibraphone!), and expanding the project's membership with an intimate loop of collaborators, live bandmates and producers, among them Neko Case, Phil Ek and the late Christopher Reimer, all edging toward the elusive sound in their heads. Few of the pair's experiments flew very far afield: Long and Kroeber have nobly kept to their overarching core ambitions, generating an uncommonly focused discography of seven prior records (on a slate of iconic indie labels). It's a testament to their long-game, too, that The Dodos' releases are almost always compared only to themselves, their discography an all-encompassing closed loop. In the age of streaming music, with its genre fluidity and limitless grab-bag of influences, this kind of creative steadfastness is a rare feat.
Grizzly Peak, The Dodos' eighth record, finds Long and Kroeber at a high point of their journey, summiting a mountain of their own creation and surveying what lies before them. On past albums, the duo's reliance on clattering noise meant that memorable melodies could sometimes be lost, obscured within the din. From Grizzly Peak's cloudless vantage though, the songwriting is far clearer—warm, rejuvenating, urgent. Opening track "Annie" alternates between brisk fingerpicking and big declarations at the top of Long's range: "The show is about to start," he cries out, a frank invocation for the record. On "Pale Horizon," Long finds a sublime slipstream, gliding straight through the song's otherwise dizzying sky. "Step back a moment / just need to see who we are / I only want to witness / Remember when we only wrote / Used to see the words before we could hear them," he reflects with wild energy. Long's memories practically spill over here, fully in step with Kroeber's thrumming drums, countless thoughts swelling across just a few short bars. When auxiliary textures are employed—a piano bobbing along in "The Atlantic"; strings, carving vigorous unison grooves through most of the album's first half—they're precise and purposeful, making a big impact with a narrow wake.
Consequently, some of Grizzly Peak's most dynamic moments occur when Long and Kroeber take hard turns away from the album's overall big-hearted approach, burrowing into the dark crevasses of their mountain. (The record's cover art, a peak with a big cartoony gash down the middle, seems to suggest as much.) "With a Guitar" is an earnest paean to Long's companion instrument, but he deliberately pulls back on the choruses, resigned and retreating inward. "I guess I'll have to fight you with a guitar…" he tosses off twice, casually snide. It's a line that on paper could easily be the song's climax, but Long knowingly leaves the hook dangling limp like a kind of hanging chad, not standing a chance. This kind of ambivalence could risk undercutting the song's clear-eyed vibe; instead though, the eye-roll and dark humor is more a sign of the pair's assuredness, their ability to deconstruct their own ambitions without letting the peak crumble.
The Dodos are at their best when they play to their longtime strengths: sloshing around in the crude organic thumps and loose tessellated rhythms, the hallmarks of their sound since its earliest days. "Sunrise/Sunset," Grizzly Peak's most exciting track, has a sunny splendor, moving in punchy bursts and featuring the band's most memorable vocal hook since Visiter's "Fools." Album closer "The Surface," begins on a note of heavy exhaustion and self-doubt—"Tired / Almost out of ideas / I'm starting to think this was an accident"—but quickly shifts gears, spinning out with an optimistic energy in spite of it all. "When you thought you were done, you scratch the surface," Long posits at the song's close. Though they've arrived at some kind of long-deserved pinnacle of their journey with Grizzly Peak, it's affirming to hear that The Dodos may yet have more to explore.
---
Label: Polyvinyl
Year: 2021
---
Similar Albums:
Ben Easton
Ben Easton is a writer and musician based in Brooklyn, NY. He's a member/producer of the rock quartet The Academy Blues Project, with whom he has made six records, and plays Live Piano Karaoke in-residence at Sid Gold's Request Room, New York City's flagship modern piano bar. Beyond Treble, Easton is a staff writer at Cover Me Songs, the web publication devoted to cover music of all genres.