Saintseneca : Such Things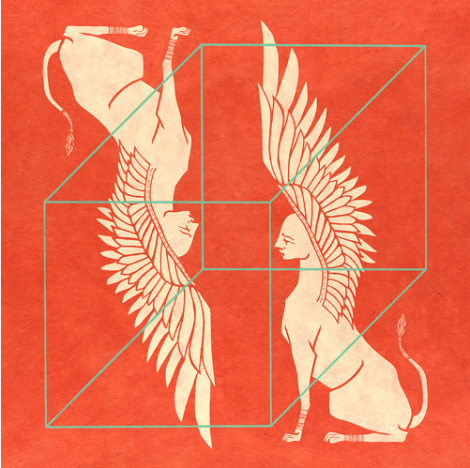 Being a fan or follower of popular music can often mean playing the waiting game. The thing that keeps us from locking ourselves in with our old favorites and standbys is a desire—a thirst, even—to hear something beautifully innovative or breathtakingly cathartic. With modern indie rock, though, that challenge can often be akin to finding an authentic needle in a factory that manufactures counterfeit sewing implements. Every year there are more labels and artists pumping out the stuff and can be difficult to guess what to spend your time investigating. What will be truly rewarding and authentically original? How many 'passes' will you omit before you truly hit a target?
In 2014, Saintseneca were one of those hits. Having already proven themselves as a captivating, lo-fi folk project, the Columbus band (a rotating cast of musicians led by singer/songwriter/multi-instrumentalist Zac Little) created something truly special, re-purposing rock tropes into their already genre-bent style to create a mysterious, driving sound. The result was Dark Arc, and it put Saintseneca on the map, opening their lives to massive touring opportunities, as well as exposure for the members' other Columbus-based projects, including All Dogs and The Sidekicks.
Despite keeping busy on the road, the band has been quick to turnaround a follow-up, promoting their third LP Such Things with a series of singles and proclamations that the new record will dive even further into pop music's bag of tricks, turning them on their head to create another record full of depth and exploration. And, while there's no problem with that game plan in theory, Saintseneca's execution crosses a line that takes them from innovation to impressive, yet sometimes dull, chamber pop.
Such Things isn't a bad batch of songs, and it's not as if Saintseneca are ripping off indie chamber-pop heroes like Belle and Sebastian or Andrew Bird. But where Dark Arc would often hold a listener in sustained disbelief, masquerading as a moody dirge before erupting into a minute of blissful pop catharsis, Such Things is an album that shows its hand a little more often than I would like. There are definitely moments, especially toward the end, that remind the listener of how precise and articulate the band's music can be—the quiet, edge-of-your-seat ballad "How Many Blankets Are In?", the lean, new wave influenced "Lazarus," the harmonic, unstable pace of "House Divided." But for much of Such Things, there's just a little too much going on, with the end results coming off as a little underwhelming.
Such Things isn't a bad record. But it also isn't an album that attracts the kind of attention that Dark Arc did. I'm sure some fellow fanatics will disagree but, for the time being, I'm going to keep my fingers crossed for a to-be-released follow up that packs the same returns as the band's sophomore slam dunk.
Similar Albums:


Andrew Bird – The Mysterious Production of Eggs


Grizzly Bear – Shields


Arcade Fire – Neon Bible