The Mountain Goats : Heretic Pride
John Darnielle is a lot of things—a singer, musician, writer, blogger, heavy metal fan, ex-Catholic, lo-fi legend, husband, a great interview and a magnificent storyteller. The one thing he's never been, however, is boring. The Mountain Goats' previous full-length release (13th overall), 2006's Get Lonely, felt awfully lonely. It was sparse and quiet, spacious and unobstructed by much in the way of extraneous arrangements or production. But subdued and withdrawn as it sounded, it was yet another exciting new direction for the California group, which also features bassist Peter Hughes and, as of the release of Heretic Pride, drummer Jon Wurster, formerly of Superchunk. That Darnielle's next move after offering such a bare collection was appearing on Aesop Rock's "Coffee" just goes to show his versatility and adaptability as a performer.
That versatility is put on greater display on Heretic Pride, a set that rebounds from Get Lonely's soft and somber reflection with a high energy set of songs that, like on earlier releases, finds Darnielle looking externally for inspiration. Reggae legend Prince Far I, horror writer H.P. Lovecraft, even Halloween's Michael Mayer are fodder for Darnielle's songs, all bolstered by the energy of The Mountain Goats' most permanent full-band lineup to date.
Heretic Pride is actually the most upbeat, even rocking, Mountain Goats album in a long time, probably ever. Keeping in mind that Darnielle often recorded solo on four-track earlier in his career, this isn't such a difficult concept to grasp. Leadoff single "Sax Rohmer #1" is an immediate rocker, Wurster's drums pounding out an intense foundation for Darnielle's anthemic leads and dramatic proclamation, "I am coming home to you, if it's the last thing I do." With just the right touch of piano, the title track is upbeat, even danceable, sort of, as much as a Mountain Goats song can be, of course. Nevertheless, this vigor and immediacy suit the band well. While these tracks in particular wouldn't sound out of place on another Goats disc, their extra oomph truly sets them apart.
On "Lovecraft In Brooklyn," Darnielle even plugs in an electric guitar and lets the distortion fly, mirroring the darkness and paranoia of his subject matter. "I stick to the shadows when I can," Darnielle sings, before purchasing a switchblade and telling of an unfortunate fate of the Ocean state: "Rhode Island falls into the ocean/ no place to call home anymore." "Sept. 15, 1983" counterbalances a similar darkness with a breezy reggae rhythm, Darnielle's lyrics detailing the murder of Prince Far I: "try your whole life to be righteous and be good/ wind up on your own floor choking on blood."
While Heretic Pride is much more bombastic overall, many of its best moments are still those in which Darnielle & Co. play up their subtlety. "So Desperate" is one of only a few ballads here, but is exceptionally gorgeous, and made more explicitly so due to its relative scarcity. Darnielle's voice is tender and vulnerable as he narrates one side of a reunion between two distanced people, all told within the setting of a parked car. "Craters of the Moon" is a more intensely building track, but takes its time getting to the big, climactic payoff. Hughes' quietly building bassline and Wurster's tom tom beats underscore Darnielle's wreck survivor lyrics, his voice raising toward a shout before a furious strum session.
It's a difficult thing to keep one's music interesting and vital after 13 prior efforts, but The Mountain Goats still manage to do just that. Heretic Pride is very much a Mountain Goats album, and Darnielle's songwriting is a distinctive sort, not to be mistaken for anyone else's. And yet it's a very different Mountain Goats album, bigger and bolder, and at times more sinister. Like most of their albums, what it does best is take that which is dark, uncomfortable, strange or even tragic and turn it into something to cherish and celebrate.
Similar Albums:
John Vanderslice – Pixel Revolt
Okkervil River – The Stage Names
Andrew Bird – Armchair Apocrypha
Video: "Sax Rohmer #1"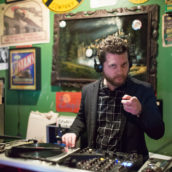 Jeff Terich
Jeff Terich is the founder and editor of Treble. He's been writing about music for 20 years and has been published at American Songwriter, Bandcamp Daily, Reverb, Spin, Stereogum, uDiscoverMusic, VinylMePlease and some others that he's forgetting right now. He's still not tired of it.