The Treble Literary Mix Project Vol. 1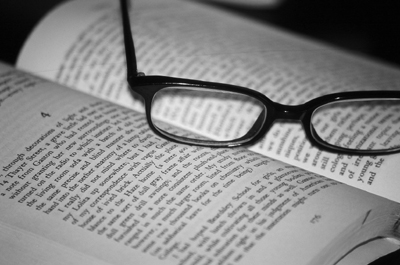 We here at Treble are not only obsessive about music, but we're book snobs as well. Take a look at any of our literary collections and you won't see any books with raised lettering. But we thought to ourselves, "why can't we combine literature and music?" So we came up with mix CDs to accompany our favorite books. So here's what we came up with. This will be a recurring feature so keep your eyes on this space for volume two, once you've burned copies of all of these.
Lolita by Vladimir Nabokov
For those who don't know, this novel is about a middle-aged man, Humbert Humbert, who falls in love with a nymphet named Lolita Haze
1."Don't Stand So Close to Me"—The Police
A "reverse Humbert" in that a schoolgirl falls in love with a teacher
2."Little Girls"—Oingo Boingo
3."When I'm Sixty-Four"—The Beatles
This is a song about a couple growing old together, but in this context becomes a little funny and just a little creepy
4."Into Temptation"—Crowded House
"Into temptation, knowing full well the earth will rebel"
5."Little 15″—Depeche Mode
6."Help the Aged"—Pulp
"It's time you took an older lover baby. Teach you stuff although he's looking rough"
7."Femme Fatale"—Velvet Underground
"The things she does to please. She's just a little tease."
8."Time Is On My Side"—The Rolling Stones
The lyrics are practically cribbed from Humbert's addled brain
9."f.n.t."—Semisonic
"Fascinating new thing, you delight me"
10."I'm On Fire"—Bruce Springsteen
"Hey little girl is your daddy home, did he go away and leave you all alone"
11."Old Timer"—that dog
Lyrics can somewhat fit Lolita's view of Humbert
12."Lolita"—Suzanne Vega
13."Good Life"—Weezer
"And I don't want to be an old man anymore"
14."Ballad of a Teenage Queen"—Johnny Cash
"Golden hair and eyes of blue, how those eyes could flash at you"
15."Too Young to Go Steady"—John Coltrane
16."Playground Love"—Air
17."How Old Am I?"—Frank Sinatra
"I'm old enough to know the difference between infatuation and a love that has a chance to grow
18."Haze of Love"—Cake
Playing with Lolita's last name here
-TT
Catcher in the Rye—by J.D. Salinger
If you haven't read Salinger's tale of Holden Caulfield and his alienation with, well, everything. You just ain't hip. This mix runs the gamut from Caulfield's being institutionalized to Ackley kid to that unfortunate incident with the prostitute. I've been told this is the best mix ever.
1."Where is my Mind?" — The Pixies
2. "Stupidity Tries" — Elliott Smith
3."Get Me Away from Here I'm Dying" — Belle and Sebastian
4."Screenwriter's Blues" — Soul Coughing
5."Let the Idiot Speak" — The Old 97s
6."Clean Shirt" — Railroad Jerk
7."Dimes Make Dollars" — The Lilys
8."Nothing Matters When We're Dancing" — The Magnetic Fields
9."Song Against Sex" — Neutral Milk Hotel
10."Let's Kill Saturday Night" — Robbie Fulks
11."78 Stone Wobble" — Gomez
12."I don't Wanna Grow Up" — Tom Waits
13."Spitting in the Wind" — Badly Drawn Boy
14."Actually It's Darkness" — Idlewild
15."You Were Right" — Built to Spill
16."Tomorrow, Tomorrow" — Elliott Smith
—JT
New York Trilogy—by Paul Auster
This fantastic postmodern novel consists of three novellas, "City of Glass", "Ghosts", and "The Locked Room". They all contain conflicts of identity, the city of New York as a character, and passages of time.
1."Changes"—David Bowie
"So I turned myself to face me, but I've never caught a glimpse"
2."What's My Name"—The Clash
"What the hell is wrong with me? I'm not who I want to be"
3."City of Glass"—Ikara Colt
4."Building A Mystery"—Sarah McLachlan
"And you won't give up the search for the ghosts in the halls"
5."How to Disappear Completely"—Radiohead
The third story revolves around a man who disappears from society / "That there, that's not me"
6."New York Telephone Conversation"—Lou Reed
The first story starts with a telephone call
7."You Said Something"—P.J. Harvey
"A rooftop, Manhattan, one in the morning, you said something,that I've never forgotten"
8."Watching the Detectives"—Elvis Costello
The second novella concerns two detectives hired to watch each other without the other knowing
9."Watching You, Watching Me"—Bill Withers
Another reference to the second novella
10."Waiting"—Devlins
All of the stories have characters impelled to wait for things to occur which never do
11."Mmm Skyscraper I Love You"—Underworld
Auster's words express his love for the city of New York
12."Harlem Nocturne"—Sam Butera & the Witnesses
Both a reference to New York and to the world of noir
13."New York, New York"—Ryan Adams
14."I'm a Pretender"—Exploding Hearts
Again, the stories all contain conflicts of identity and people pretending to be who they are not
15."Building Skyscrapers in the Basement"—Ted Leo & the Pharmacists
"I know some things I'd rather not, like, the time ahead is all the time you've got"
16."Change"—Tears for Fears
"Where does the end of me become the start of you"
—TT
Watchmen—Written by Alan Moore, Illustrated by Dave Gibbons
Alan Moore and Dave Gibbon's gritty twelve-issue series Watchmen placed costumed crime fighters in the thick of the Cold War. Regarded by many as one of the best comics ever written, the story is a dense, gorgeously illuminated meditation on human nature, superhero history, foreign relations and utilitarianism.
The story begins with the murder of The Comedian, a jingoistic, government-approved hero and former member of the Justice Society-esque team known as The Minutemen. With rumor of a hero-killer circulating, a few former members of The Minutemen, for the most part living banal civilian lives, don their tights again to unravel the mystery behind their colleague's death.
The following soundtrack attempts to capture the mood of the story and the characters. Three of the songs are taken directly from Moore's text, which either featured lyrics in the narrative or lyrics as postscripts for individual issues.
Disc One, Chapters 1-6
1. "I Started Something I Couldn't Finish" — The Smiths
2. "10:15 Saturday Night" — The Cure
3. "Straight to the Top (Vegas)" — Tom Waits
4. "I Am a Scientist" — Guided by Voices
5. "Nobody's Baby Now" — Nick Cave & the Bad Seeds
6. "The Murder Mystery" – The Velvet Underground
7. "Death of a Clown" — The Kinks
8. "Love American Style" — The Cowsills
9. "Ballad of the Sin Eater" — Ted Leo and the Pharmacists
10. "The Comedians" — Elvis Costello
11. "Me and the Major" — Belle & Sebastian
12. "What Shall We Do With a Drunken Sailor" — The Windjammers
13. "Good Things" — Sleater-Kinney
14. "Nuclear" – Ryan Adams
15. "The Scientist" — Coldplay
16. "It's the End of the Word As We Know It (And I feel Fine)" — R.E.M.
17. "The Whole of the Law" — The Only Ones
18. "Only a Lad" — Oingo Boingo
19. "Evil" — The Red House Painters
Disc Two, Chapters 7-12
1. "I Started a Joke" — The Bee Gees
2. "Birdsong" — Piano Magic
3. "New Slang" — The Shins
4. "You're My Thrill" — Bille Holiday
5. "Heroes" — David Bowie
6. "Jailbreak" — Thin Lizzy
7. "Chemical Warfare" — The Dead Kennedys
8. "Cause=Time" — Broken Social Scene
9. "4th of July" — Aimee Mann
10. "Everything Beautiful is Far Away" — Grandaddy
11. "99 Luftballoons" — Nena
12. "Farewell and Adieu (We'll Rant and We'll Roar)" — Fisherman's Group
13. "Here Come the Warm Jets" — Brian Eno
14. "All Along the Watchtower" — Bob Dylan
15. "Wouldn't it Be Nice?" — The Beach Boys
16. "Blaise Bailey Finnegan III" — Godspeed You Black Emperor
17. "The Birds Will Sing For Us" — Ed Harcourt
18. "Waiting for a Superman" — The Flaming Lips
19. "Jesus Etc." — Wilco
—HV
The Great Gatsby—by F. Scott Fitzgerald
The classic novel of a hidden past, a lost love, and high society
1."When Will We Be Married?"—The Waterboys
Of course, coming from the mouth of one Jay Gatsby
2."I'm Just a Killer for Your Love"—Blur
Gatsby is shot when he is mistaken by George Wilson for Tom Buchanan
3."Lover You Should Have Come Over"—Jeff Buckley
Gatsby pleads with Daisy to run away with him
4."We Hate it When Our Friends Become Successful"—Morrissey
People both admire and abhor Gatsby for his mysterious riches
5."Unintended"—Muse
Another love song from Gatsby to Daisy
6."Wasteland"—Dan Bern
Much of the first chapter was inspired by T.S. Eliot's "Wasteland"
7."Every Man A King"—Randy Newman
Gatsby represents the idea that anyone and everyone can become rich in America
8."I Want the One I Can't Have"—The Smiths
Gatsby just can't get Daisy
9."Blue in Green"—Miles Davis
That infamous green light at the end of the dock
10."I'm Going to Steal You Away"—Dean Martin
Again, Gatsby wants Daisy to run away with him
11."All or Nothing at All"—John Coltrane
Daisy is the "all" for Gatsby, and if he can't have her, he can't live
12."Lush Life"—Sammy Davis, Jr.
Life in West Egg
13."Why Can't He Be You"—Patsy Cline
What Daisy thinks about Tom and Gatsby
14."I'll Be Glad When You're Dead, You Rascal You"—Louis Prima
Thoughts of Tom and George
15."The One I Love Belongs to Somebody Else"—Frank Sinatra
16."You Made Me the Thief of Your Heart"—Sinead O'Connor
17."How I Made My Millions"—Radiohead
Gatsby's fortune is a big mystery
18."Letter from the Wasteland"—The Wallflowers
—TT
1984 — by George Orwell
A must-read for anyone living under the Bush administration in America. The story of Oceania and how Big Brother controls its inhabitants. These songs deal with being put down by the man, keeping a diary, forbidden sex, morbid fascination, etc. Plus they all have a sort of creepy, 1984 kinda tone.
1."National Anthem" — Radiohead
2."Broken Homes" — Tricky w/ PJ Harvey
3."Definitive Gaze" — Magazine
4."That's Entertainment" — The Jam
5."Papercuts" — Broadcast
6."Asbestos Lead Asbestos" — Meat Beat Manifesto
7."Sex is Personal" — The Faint
8."Swastika Eyes" — Primal Scream
9."Rascuache" — At the Drive In
10."Slave to the Wage" — Placebo
11."Underdog (Save Me)" — Turin Brakes
12."Something Must Break" — Joy Division
13."Dollars and Cents" — Radiohead
14."Rebel, Rebel" — David Bowie
—JT
On the Road—by Jack Kerouac
The original beat road novel
1."Move on"—David Bowie
2."Drivin' on 9″—The Breeders
3."Dream Brother"—Jeff Buckley
Refers to Sal Paradise and Dean Moriarty
4."Car"—Built to Spill
5."A Place Called Home"—P.J. Harvey
6."Can't Get There From Here"—R.E.M.
7."King of the Road"—Roger Miller
8."A Blues for Buddha"—The Silencers
9."Sack o' Woe"—Cannonball Adderley
10."Let's Get Lost"—Chet Baker
11."Bohemian Like You"—Dandy Warhols
12."Lost Highway"—Hank Williams
13."It's Nice to Go Trav'ling"—Frank Sinatra
14."We Got the Beat"—The Go-Go's
15."One Beat"—Sleater-Kinney
16."Hey Jack Kerouac"—10,000 Maniacs
17."Drive My Car"—The Beatles
—TT
Norwegian Wood—by Haruki Murakami
An essential tale of youth, love, lust, death and uncertainty in Japan in 1970. Most of these are songs mentioned in the book, with some added for plot reasons. But they all have a sixties/seventies sound about them.
1. "Norwegian Wood" — The Beatles
2."Accepting Applications at University" — The Lilys
Toru is attending college
3."Green" — The Dandy Warhols
Midori's name means `green.'
4."In a Sentimental Mood" — Duke Ellington/John Coltrane
5."Can You Come Down With Us?" — Olivia Tremor Control
6."Scarborough Fair/Canticle" — Simon & Garfunkel
7."The Girl From Ipanema" — Getz/Gilberto
8."Honeysuckle Rose" — Thelonious Monk
9."Jumpin' Jack Flash" — Rolling Stones
10."Raindrops Keep Fallin' On My Head" — Mercury Rev
11."Seven Stars" — Jets to Brazil
Reiki smokes Seven Stars cigarettes
12."End of the Season" — Kinks
Represents change of seasons and Naoko's death
13."Desafinado" — Getz/Gilberto
14."Here Comes the Sun" — Beatles
15."Blackbird" — Beatles
—JT
Crash—by J.G. Ballard
A dark novel in which a small group of people get off on watching car accidents
1."Always Crashing in the Same Car"—David Bowie
2."Stickshifts & Safetybelts"—Cake
3."Accidents Will Happen"—Elvis Costello
4."Car Song"—Elastica
5."A Car that Sped"—Gene
6."Cars"—Gary Numan
7."I'm In Love with My Car"—Queen
8."Airbag"—Radiohead
9."Drive"—R.E.M.
10."Hang on St. Christopher"—Tom Waits
11."Shattered"—Rolling Stones
12."Speed Trials"—Elliott Smith
13."Motorcrash"—The Sugarcubes
14."The Other Way of Stopping"—The Police
15."Killer Cars"—Radiohead
16."Full Throttle"—Prodigy
17."Speed Freak"—Orbital
18."Speed of Love"—Shudder to Think w/ John Doe
19."Passenger Side"—Wilco
20."Johnny Hit and Run Paulene"—X
—TT
Outsiders—by S.E. Hinton
The soc's against the greasers, a group of mostly orphans fighting for turf
1."Wouldn't It Be Nice"—The Beach Boys
This group of kids can never be quite sure if they'll ever grow old
2."With a Little Help from my Friends"—The Beatles
3."Death of a Party"—Blur
"Death of a party, death of a teenager"
4."Young Americans"—David Bowie
5."Last Gang in Town"—The Clash
6."Stay Gold, Ponyboy"—The Get-up Kids
This title is taken directly from lines in the book
7."Only A Lad"—Oingo Boingo
Cautionary tale of youth gone wild
8."Bastards of Young"—The Replacements
"We are the sons of no one, bastards of young"
9."Young Livers"—Rocket from the Crypt
10."Rumble in Brighton"—Stray Cats
11."Your Racist Friend"—They Might Be Giants
12."Teenage Angst"—Placebo
13."All the Young Dudes"—David Bowie
14."Born to Run"-Bruce Springsteen
—TT
Fight Club—by Chuck Palahniuk
The now cult classic novel of subconscious desires, the dismissal of female influence, and taking back one's life
1."Heart's Filthy Lesson"—David Bowie
2."Knock-down Drag Out"—Weezer
3."I'm so Bored with the USA"—The Clash
A big theme is disgust with American Capitalist culture
4."Spooky Girlfriend"—Elvis Costello & the Imposters
A reference to Marla, the equally dysfunctional girlfriend of Tyler
5."Fight"—The Cure
6."You Met Your Match"—Stevie Wonder
A reference to Tyler and the unnamed main character, but do they ever meet?
7."I'll Be You"—The Replacements
Another reference to the two men's unique relationship
8."Generation Why"—Reverend Horton Heat
9."How to Fight Loneliness"—Wilco
10."Ever Fallen in Love (With Someone You Shouldn't've)?"—Buzzcocks
Another reference to Marla
11."Ultraviolence"—New Order
12."Love and Violence"—OMD
13."Boxing"—Ben Folds Five
14."Death of an Interior Decorator"—Death Cab for Cutie
Refers to the `death' of the main character and his need for capitalist possessions, i.e. Ikea
The Corrections—by Jonathan Franzen
The National Book Award winning novel about a grandmother trying to get her kids and grandkids to come home for one last Christmas as her husband comes down with Alzheimer's Syndrome
1."Golden Years"—David Bowie
2."Maladjusted"—Morrissey
3."Come Back Home"—Pete Yorn
4."Grandma's Hands"—Bill Withers
5."Lonely Soul"—Unkle
6."When You Wake Up Feeling Old"—Wilco
7."Waiting for the Miracle"—Leonard Cohen
8."The World Has Turned and Left Me Here"—Weezer
9."My Generation"—The Who
10."Heart Attack"—Sleater-Kinney
11."Hope That I Get Old Before I Die"—They Might Be Giants
—TT
The Last Temptation of Christ—Nikos Kazantzakis
The reimagined tale of Christ's last temptations by the Devil, including the controversial temptation of a normal wedded life with Mary Magdalene
1."The Deceiver"—The Alarm
2."Kiss Me, Son of God"—They Might be Giants
3."Father Lucifer"—Tori Amos
4."Jesus Christ Pose"—Soundgarden
5."Human Behavior"—Bjork
6."Promised You a Miracle"—Simple Minds
7."God Knows I'm Good"—David Bowie
8."Magdalene"—Peter Sallett
9."Four Seasons in One Day"—Crowded House
10."Temptation"—Prince
11."Mrs. Jesus"—Tori Amos
12."Had a Dad"—Jane's Addiction
13."A Dance With the Devil"—Cyann & Ben
14."Original Sin"—INXS
15."Devil Will Ride"—Gomez
16."Blood of the Lamb"—Billy Bragg & Wilco / Woody Guthrie
17."Have a Talk With God"—Stevie Wonder
18."Were You There (When They Crucified My Lord)"—Johnny Cash
—TT
The Border Trilogy—by Cormac McCarthy
The great classic modern western novels, All the Pretty Horses, The Crossing, and Cities of the Plain.
Disc One
1."The Mercy Seat"—Nick Cave & the Bad Seeds
Nick's tale told from the point of view of a man to be executed
2."Tombstone"—Suzanne Vega
3."Guns Blazing"—Unkle
4."I Fought the Law"—The Clash
5."Desperado"—The Eagles
6."South of the Border"—Frank Sinatra
Two friends travel from their Texas hometown to Mexico in search of work and adventure
7."Indian Summer Sky"—U2
8."Horses"—Tori Amos
9."Cowboy Hat"—That Dog
10."Twisty Bass"—Neil Finn
"And no one came to see the oldest show in town", that being a hanging
11."High Noon"—DJ Shadow
12."Cowboy"—Sugarcubes
Disc Two
13."Badlands"—Bruce Springsteen
14."The Accidental"—Gene
About an accidental killing, which, of course, also happens in the book
15."Wild Horses"—The Rolling Stones
16."Texarkana"—R.E.M.
17."Tijuana Lady"—Gomez
The main character falls in love with the daughter of a wealthy Mexican ranch owner, not from Tijuana, but hey, work with me here
"18.I Hung My Head"—Johnny Cash
A song originally done by Sting, but fares better from Mr. Cash, especially for this mix
19."Horses in my Dreams"—P.J. Harvey
20."Cowboys"—Portishead
21."Love Vigilantes"—New Order
22."Six Shooter"—Queens of the Stone Age
23."Equus"-Blonde Redhead
—TT
Fear & Loathing in Las Vegas—by Hunter S. Thompson
1."Drug Train"—Social Distortion
2."Vegas"—Sleeper
3."Lucy in the Sky With Diamonds"—The Beatles
4."Speed is the Key"—Sugarcubes
5."Don't Make Me Come to Vegas"—Tori Amos
6."Sammy Davis City"—Brian Setzer Orchestra
7."Chemical World"—Blur
8."All the Way to Reno"—R.E.M.
9."Unwashed and Somewhat Slightly Dazed"—David Bowie
10."Las Vegas Dealer"—Gomez
11."Such a Rush"—Coldplay
12."Casino Queen"—Wilco
—TT
Fortress of Solitude—by Jonathan Lethem
The story of two boys, one black, one white, growing up in Brooklyn with a penchant for comic books, stickball, and music. Both boys are named after their fathers' musical heroes, Dylan and Mingus
1."Once Around the Block"—Badly Drawn Boy
2."Street Fighting Man"—The Rolling Stones
A big part of the kids' lives is being `yoked', essentially being mugged without a gun, simply through intimidation
3."Flying"—The Beatles
The boys are given a ring by a bum which ends up to be a power ring which enables the boys to become superheroes
4."Superman"—R.E.M.
5."Losers"—The Cardigans
Both Dylan and Mingus are in many ways `losers', especially Dylan as a boy and Mingus as a man.
6."Village Ghetto Land"—Stevie Wonder
A lot of the opening parts of the book speak to the gentrification of Brooklyn and how Dylan's hippie family doesn't quite fit
7."All the Critics Love U in New York"—Prince
Dylan ends up to be a music critic as an adult
8."Ghetto Defendant"—The Clash
9."City Song"—Luscious Jackson
In both sound and theme, fits the book and its love for the borough of Brooklyn
10."Superhero"—Ani DiFranco
11."In the City"—The Jam
12."The Supermen"—David Bowie
13."Superhuman"—Gus Gus
14."Waitin' for a Superman"—The Flaming Lips
15."Blues Music"—G. Love & Special Sauce
Mingus' father is a musician who sings Motown, but I felt that this also fit with the themes of music history
16."My Hero"—Foo Fighters
17."Living for the City"—Stevie Wonder
18."Superman"—Cinerama
19."Jailbird"—Exploding Hearts
Mingus ends up in jail in the second half, or the adult half, of the novel
—TT