The Truly Great Album Series: Brian Eno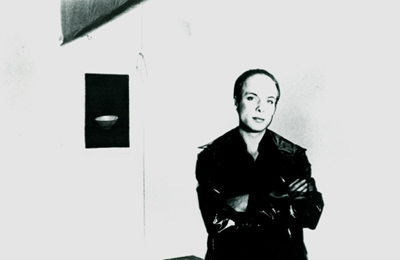 There are a great number of people who call themselves music fans who know very little of Brian Eno's impact on pop music. As a founding member of Roxy Music, he helped shape the face of glam and art rock of the 1970s. As a solo artist, he proved that you can be artsy and catchy simultaneously, and a little later practically invented ambient music with albums like Discreet Music and Another Green World. And later in the 70s and 80s, he aided the Talking Heads and David Bowie in making some of the best albums of their respective careers.
But still, some dismiss Eno as nothing more than a musical eccentric, having no real significance to pop music on a wider scope. This, dear friends, is ignorance. As you'll read in Terry's review of Another Green World, there's nary a musician that can't be linked to Eno in some way or another. He's worked with Bowie, Roxy Music, John Cale, Devo, Talking Heads, Peter Gabriel, U2, Genesis, James, INXS, Daniel Lanois, Arto Lindsay, Nico, Sinead O'Connor, The Ramones, Slowdive, Robert Wyatt and UNKLE. Don't tell me that you have no interest in Eno. There probably isn't a person in the world who owns a cd player that doesn't have a record by one of these artists. But right now we're focusing on Eno's solo work, which was recently reissued and remastered by Astralwerks Records.
A good starting point for those interested in getting into Eno would be the first four pop records: Here Come the Warm Jets, Taking Tiger Mountain (by Strategy), Another Green World and Before and After Science. Eno stretched the limits of what you could do with a pop song, while maintaining accessibility and a strong sense of melody. Not only that, but he's the only guy in history to successfully sport a skullet.
Eno is arguably one of the most important people in music. Period. Yet, he's often overlooked in best album lists, most important people lists, etc. Well, we want to give Eno his due, so here are our reviews of what are considered his four best albums.
Brian Eno – Here Come the Warm Jets
Brian Eno – Taking Tiger Mountain (by Strategy)
Brian Eno – Another Green World
Brian Eno – Before and After Science
For further listening, check out these other albums, on which Brian Eno appears:
Brian Eno and David Byrne – My Life in the Bush of Ghosts
Talking Heads – Fear of Music and Remain in Light
David Bowie – Heroes and Low
Roxy Music – For Your Pleasure and Roxy Music