Thee Oh Sees announce new album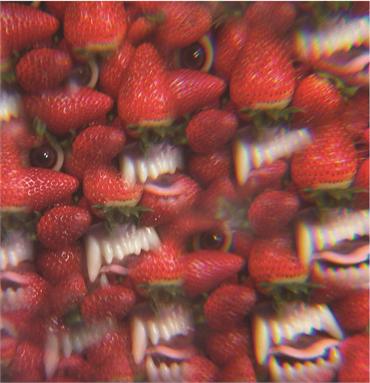 John Dwyer doesn't ever stop moving. Just this past fall, his long-running psych-garage band Thee Oh Sees released the excellent Putrifiers II, and now there's yet another new record on the way. The band's new album is titled Floating Coffin, and it's set for release April 16, via Castle Face Records.
Fans can expect something a little bit more crushing this time, however. Dwyer explained in a press release, "These songs occur in the mindset of a world that's perpetually war-ridden. Overall, it's pretty dark, and much heavier than our other albums."
The strawberries, eyeballs and teeth you see above make up the album's cover.
UPDATE: The full tracklist of the album has been released. Check it out below.
1. I Come From the Mountain
2. Toe Cutter – Thumb Buster
3. Floating Coffin
4. No Spell
5. Strawberries 1 + 2
6. Maze Fancier
7. Night Crawler
8. Sweet Helicopter
9. Tunnel Time
10. Minotaur