Five years ago, with the release of triple-disc collection Orphans, Tom Waits neatly divided his music into three simple but distinct categories. There are the "brawlers," the ragged and rowdy blues rock tunes that have become staples since Swordfishtrombones, such as "Sixteen Shells from a Thirty-Ought Six" and "Goin' Out West." Then there are the "bawlers," the tender ballads that Waits has recorded throughout his career, from early piano ballads like "Martha" to more recent favorites like "All the World Is Green." And then, lastly, there are the "bastards," the weird, more difficult to categorize tracks that typically include some kind of spoken-word narrative, like the mystery behind "What's He Building?" or the jaunty narration of suburban nightmares and arson in "Frank's Wild Years." For the past 30 years, and to a lesser degree the preceding decade, all of Waits' albums have been composed of some combination of these three types of songs. Sometimes the lines get blurred between the brawlers and bawlers, and at times, as on much of Mule Variations or Alice, half the album could qualify as "bastards." But much like the three colors that get filtered through a television set's chrominance decoder, these three primary hues make up the more complex whole of Waits' work.
These three basic compounds still form the basis of the 13 songs on Bad As Me, Waits' first album of all new material in seven years. But, more so than any of Waits' other albums in recent memory, Bad As Me leans much heavier on the brawlers. An unusually lean album at 44 minutes, Bad As Me is a bluesy but hard rocking set of songs only Tom Waits could have recorded, though he certainly has good company on this outing. Frequent collaborator Marc Ribot lends his fretwork skills to the recordings, as does Keith Richards, with whom Waits last worked on 1985's Rain Dogs (and even gets a lyrical shout on Rolling Stones response song "Satisfied"). But no matter how noteworthy the contributor, a Tom Waits album is always a Tom Waits album, and Bad As Me is most definitely a Tom Waits album — a really good Tom Waits album.
There's a feisty, noisy, rough-and-tumble feel to Bad As Me, even by Waits standards, though sonically it's a bit more polished and tightened up. As much of a barroom rumble of a record as Bad As Me is, it has a crispness to it that an album like Real Gone left sounding a bit more bruised. That said, this only gives the fiery blues-rock numbers like "Chicago" and "Get Lost" an extra punch. Extra sonic details like the horror-movie organ in "Raised Right Men" pop with added brightness, and the surf guitar treatment of "Talking at the Same Time" lends an old-time eeriness beneath the flourishes of piano and horns. Of course, it doesn't hurt that these are just great songs. Waits sounds even more unhinged than he typically does as he wails "You're the same kind of bad as me!" on the title track. And on the jarring wartime true-life horror inspired by the tragic story of Jeff Lucey, "Hell Broke Luce," Waits unleashes some rare politically-inspired rancor: "how is it that the only ones responsible for making this mess/ got their sorry asses stapled to a goddamn desk?"
While the louder, rougher rock tracks dominate the bulk of Bad As Me, it still contains some of Waits' characteristically tender and heartfelt ballads, some of which make up the album's best tracks. "Kiss Me" is one such cool and smoky tune, in which Waits grumbles the curiously romantic request, "Kiss me like a stranger." In closing waltz "New Year's Eve," Waits paints an evocative picture of a chaotic Dec. 31 full of mischief and mayhem: "The stars looked like diamonds/ and then came the sirens/ and everyone started to curse." And in a fun, unexpected turn of events, the melody briefly morphs into that of "Auld Lang Syne." But perhaps the best of these is "Back In the Crowd," a pretty, Spanish-tinged tune that finds Waits softly crooning heartbreaking verses like, "There's a battle going on between the blue and the grey/ and if you don't love me anymore, don't make me stay."
It's a funny thing how, after nearly 40 years of making music, Tom Waits finds more interesting and often revelatory avenues to explore through familiar and fairly simple components. Bad As Me is built upon many of the trademark Waits ingredients – blues, rockabilly, beat poetry, jazz and folk — and nonetheless comes out the other side a highly entertaining, fantastic listen. The most radical thing about Bad As Me is just how straightforward it is, but for Waits that still means taking the listener over some unpaved back roads and onto one unforgettable riot of a wild goose chase.
Similar Albums:
Crooked Fingers – Red Devil Dawn
Nick Cave and the Bad Seeds – Dig, Lazarus, Dig!!!
Joe Henry – Blood From Stars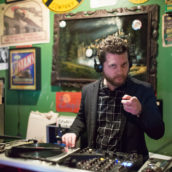 Jeff Terich
Jeff Terich is the founder and editor of Treble. He's been writing about music for 20 years and has been published at American Songwriter, Bandcamp Daily, Reverb, Spin, Stereogum, uDiscoverMusic, VinylMePlease and some others that he's forgetting right now. He's still not tired of it.