Trans-Atlantic Underground: Autumn 2005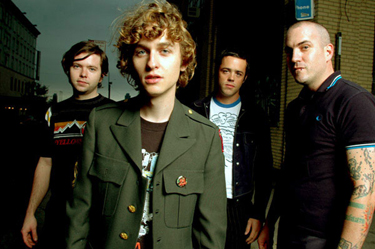 The name might not be fantastic, but it's the best I could do on the nondescript sleep and generous coffee I've been operating with today. To clarify proceedings, this is the first installment of my new unsigned/unheard of column for Treble. I'm writing from the UK, and much of the material is based (along with this site) in the USA. The term "unsigned" is hardly clear cut, most releases tend to be on a label of some sort, even if it's just a name for said artist and their CD-writer. Basically I want to hear material, wherever it's from (infer little from the title), provided it's not already bagging masses of industry publicity elsewhere. I'd be lying if I said the prospect of opening a batch of Sheryl Crow and Korn clones from every continent filled me with glee, but I'm not going to stab anything with a song structure. Ideally, I'd like this column to work as a vehicle to give interesting, innovative music a helping hand. A press quote is often useful, regardless of the degenerate who penned it. I digress…
On the U.S front this month I received a couple of (loosely defined) singer-songwriter CD's. Holden Richards is a veteran of North Carolina's punk-rock and indie scene. He's played with the likes of the Replacements, Richard Lloyd and Alex Chilton. His most recent album What I Gave Away is an accomplished half-hour of lush Alt. countrified power pop. There are shades of The Byrds, Will Ford and Steven Stills throughout, and the songs slyly alternate from pleasant to poignant ("I Fall Prey"). San Francisco songwriter Arlah's debut In search of… sees her step into Kate Bush and Bjork territory. The industrial, synth and orchestral-imbued production is sometimes constrained technologically, and the songs occasionally drift into anonymity amidst this. However there are a variety of ideas on the canvas, and clearly no shortage of ambition here. I'd be interested to hear her try a post-rock record a la Sigur Ros.
Washington DC four piece Army of Me has opened for bands ranging from Phantom Planet, Coldplay and Good Charlotte to The Strokes and OK GO. It becomes easy to understand why after a listen to their most recent demo CD. Rather than reflecting their Bjork-echoing moniker, these are anthemic, commercial guitar songs. Cribbing from eighties new wave and nineties indie, but sticking to a trusted melodic pop-rock template, the inclusiveity of this music is its biggest strength and weakness. "Safe Here" nods to Duran Duran and Powderfinger, while "My Defence," with its proximity to the Killers and Boy Kill Boy, could slot easily onto this week's NME cover CD. "Come Down To DC" is a melodic ballad reminiscent of U2 and Train. No less radio-friendly than the company they've kept over the past three years, it wouldn't surprise me if Army of Me joined their past gigging partners on the airwaves in the future. Brooklyn's Mussels offer seven tracks of varied indie-rock on Night Lights. "God gets creative" is a fantastic tune, mixing Oberst vocals and Paul Simon harmonies with an instrumental setting akin to The Shins being very noisy indeed. "I've Arrived" makes like Death Cab For Cutie adeptly spliced with the Strokes. There's quality throughout, and these songs will serve them well in the future, quite possibly on the other side of the Atlantic.
On the UK front The Priory's first single, Freeworld has received plaudits from current UK gloom heroes' editors and the New York Times. The title track whirs with menace in a disjointed manner, with nods to Bauhaus, Love and Rockets, and Boom Bip. "Social Hand Grenade" implodes like early Lo- Fidelity All-stars and Underworld with a grain of the cut clasped beauty of the Blue Nile. It's a rather promising debut. Elsewhere Sheffield's Smokers Die Younger offer two cuts of inspired indiepop on their Kermit the Frog single. Previously compared to the Fall, Pavement and Dexy's Midnight Runners, there's a healthy marriage of dry breadth and shambolic fun here. Imperfection at its finest. Meanwhile Back in Communist Russia… offshoot Mesaplex have had three demo tracks on their website since February, but they're impressive enough to warrant attention here. This is commendable ghostly dream-pop recalling party's as disparate as Autechre and Joy Division.
That's about it for this initial effort, thanks for reading.
If you are interested in sending a demo or self-released album to Thomas for review, contact him at [email protected]