Transatlantic Underground: Summer's End 2008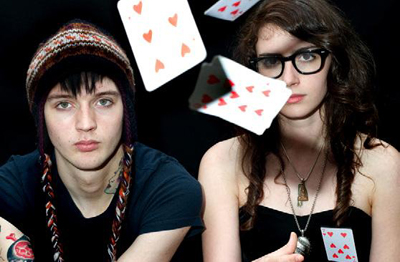 Summer is nearly over before I finished planning my spring. For a change, I'm not segmenting my column in relation to loose geographical boundaries. I attended the excellent Indietracks festival in Derbyshire last month, and was really impressed by several bands there. On the Saturday night, Punk TV played a spellbinding set to close the outdoor stage. The Moscow-based Siberian trio pack plenty of shoegaze and indie-dance crossover into songs which face fondly back at the midst of the 1990s. "Every Minute Is OK" evokes Ride and the Lo-Fidelity All-stars streamlined into tension enhancing anthemia. "Wintersample" is propulsive like the Chemical Brothers "Private Psychedelic Reel" obliterating a Mary Chain riff. "Sunderground" reaches common ground between XTRMNTR and Royksopp, while "Day By Day" could leave lovers of Select magazine beaming when blending South and UNKLE. This is really excellent stuff, mixing familiar ideas with a unique fashion and adeptness. All supplemented by one of the best band mascots I've ever seen.
Bologna's A Classic Education played the small church (well, chapel) stage on Sunday. Fans of atmospheric, beautifully arranged indie could find much to love here. "Stay Son" displays weather beaten hyperactivity comparable to Funeral and the first Semifinalists album. "Wartimes" shudders mournfully like the High Llama's Hawaii and On the Beach-era Neil Young. Their first (vinyl/Mp3) EP is available at the link below.
Brighton's Shrag played the main stage on the Saturday. Their menace is all the better for its sugar coating. Rubbish schools and passive aggressive reclusiveness are addressed in "Long Term Monster." It's shouty, catchy and messy enough to merit comparison with Help You Cant Swim's fantastic The Death of Nightlife album. "Hopelessly Wasted" is a wonderfully horrible ballad that squelches and makes inconsequence of "the years you've lived" along the lines of the Pipettes and Siouxsie. Check out the releases and tunes on the band and label links beneath.
Indietracks aside, London quintet exlovers impressed me hugely back in June. Their music is streamlined, serene, and really pierces the consciousness. "SOF" is like some sort of super-single hidden track from Death Cab's We Have the Facts and We're Voting Yes. The chorus kicks in and it hits home how perfect this would be for good independent cinema. "Weightless" tacks faint traces of The Swords Project, Gravenhurst and the Delgados onto a racket that brings to mind Sebadoh's noisier moments. Their first, hand numbered and ribbon wrapped EP is worth investigating, and deserves to be a sign of much bigger things to come.
Stateside, I've consistently re-visited the MySpace songs uploaded by Tampa and Orlando based producer Heart Collapse. His music touches on Quannum hip hop and droning ambience with a made to measure sense of eclecticism and polish. "Digital Holiday" wins like some sort of infusion of a Linkin Park/Jay Z click track with Sigur Ros and Mute Records' Pre Set compilation. "Blue Shift" stutters James Lavelle and Dan the Automator. "Pacific Dream" has a classic DJ Shadow ambience with added Smokers Delight era Nightmares of Wax. "Night Cruise" recalls the latter's exquisite Mid Elevation, while "Metamora" bends tempo to sinister, from Orbital to Telefon Tel Aviv and back. This (leftfield/IDM/beats and…whatever you want to call it) is a type of music with a place close to my heart. While easily tasteful wallpaper, it packs a beautiful, trap free headrush when done really well. I overdosed on it when I had more time than money to spend on music back in the very early zeros, and the Heart Collapse tracks are as good as my favorites. His Buried in the Fold and Tourism releases are available via Apple now.
Helena, Montana quartet Broadband Shortwave does something productive with their "Pretentious indie rock" influence. "Space Real Estate" subtly touches on Quasi. "City Lights" fills my stereo with warmth, like a Remy Zero take on Ben Christopher's. This can bind over unsteadiness on any inopportune day, and that's among the highest of compliments. Elsewhere, MySpace (and a friend of the band called Charlie) seems to have unearthed a bit of a lost classic from deceased early zeros Myrtle Beach, SC group Blonde Ophelia. "The Robot Song" begins with the immortal "If I could build a killer robot, he'd be just like you," and proceeds to be the sound of REM and Half Man Half Biscuit doing mechanoid friendship pop-punk. The other tunes don't let the side down. "Low" has plenty of (Replacements) Let It Be squelch, and "Davie's Red Cup" could be an early Emo cousin to the Fall's "Container Drivers." Let's hope fate will substitute for John Peel.
San Francisco's Needle sound hypnotic with a finely proportioned downbeat-melodic balance. The live cut of "On the Run" on their MySpace recalls Jesse Sykes, Portishead and Laura Marling blended to soundtrack a cornfield setting, viewed from the passenger seat of a speeding car. It's studio sibling meshes Dummy and Mazzy Star to Dot Allison aesthetics. The ambience has a little of Four Tet and the noise made by cell phones too. Their cover of Neil Young's "Helpless" meets the high standards of the Triumph of Lethargy… version, as the Farm's "All Together Now" grinds to a standstill. "Good Intentions" brings me to the kind of "but we're so happy" ambience that Heartbreaker invokes, and the means of delivery matches Frida Hyvonen and Low's more melodic b-sides. Last year's Songs Your Mother Never Sang You is available now, and I intend to check it out some pay day in the future…possibly prematurely.
That's it for the summer's end. Feel free to mail me links or recommendations, and expect a belated TAU for the drab seasons as soon as possible.
Links: