Travis Morrison : Travistan
When the Dismemberment Plan broke up in 2003, I had accepted the loss. I was never going to hear any more new music from the D.C. quartet. I was never going to see another one of their spastic live shows. I was never going to be able to dance onstage to "The Ice of Boston" again. Yet I had hoped that Travis Morrison and Eric Axelson's post-Plan projects were going to, at least halfway, fill the void left by the Plan's grand exit. Shortly before the band was kaput for good, Morrison put some mp3s of his solo work on his website. I made the mistake of actually listening, as I had come to learn that "Sixteen Types of People" and "Checkers and Chess" were ear-achingly bad. After Emergency & I and Change, two of my absolute favorite albums, the oddball singer resorts to self-indulgent crap such as these, resigning me to the hope that good music by ex-Dismemberment Plan members would actually be made.
Not long after that, Axelson's band, Maritime, released their first EP, which was good, though not as strange or innovative as I was hoping. Rather, it was simply good pop music, almost nothing like The Plan at all. I was frustrated. I wasn't ready to let go that easily. They were my last hope after losing Shiner and Burning Airlines, as deSoto Records was about ready to fold and I had to search for some new favorite bands. But then Morrison posted an mp3 for "Song for the Orca" on his website. The song was more melodic, yet still weird and even lyrically funny. Morrison sang of animals revolting against their captors over a basic acoustic guitar backing:
"This song is for the orca
swimming in circles at Sea World
Someday, you'll drown the dude with the clipboard
Someday…
This song is for the gator
Sitting in the roadside cage in F-L-A
Someday you'll tear the cracker to shreds
Someday…."
It was fun, even slightly reminiscent of The Plan, though I wasn't sure if I was ready to commit to Morrison. But then "The Word Cop" showed up, a peppy piano pop song that falls somewhere between Ben Folds and Vince Guaraldi. Morrison rattles off words, parts of speech and definitions as verses, which he pulls off magnificently. The chorus is where he really shined, harmonizing with a female vocalist lines like "don't talk to me about decency/ you wouldn't know it if it fucked you up the ass/ and now I'm being crass all over again." In two steps, Morrison went from embarrassing to brilliant. "The Word Cop" had as much energy as any of The Dismemberment Plan's songs, yet featured a more unusual arrangement and vocal harmonies, something that you didn't hear much of on the Plan's records.
When the time came that Travistan, Travis Morrison's debut showed up in the mail, I had shrugged off any assumptions I had previously made about his solo work. Though his first couple glimpses weren't successful in winning me over, his next two songs proved that he really did have a potentially good album in him, and his early attempts shouldn't deter me from enjoying the album. And they didn't, as neither "Sixteen Types of People" nor "Checkers and Chess" were on the record, but the songs I did like were.
I should have never doubted him. Travistan quickly became a regular resident in my CD player. The range of textures and sounds on the album show how sophisticated his music is, though it also proves how far outside of the constraints of "singer-songwriter" he's willing to go. The album opener, "Get Me Off This Coin A," is one of four jazzy, vaudevillian ditties about former presidents, albeit ones that you may find on your pocket change. He takes on Lincoln ("I freed the slaves and saved the union/and what thanks do I get?"), Jefferson ("I must have smoked a pound of mary when they made that relief/ me and Sally and all the black girls love that happy leaf"), Roosevelt ("Fought a war to save the world from evil undistilled/and to do the job right a lot of folks were killed") and Washington ("You bitches flip me one more time, your ass is getting flipped in the hereafter"). It comes off as a bit silly, though these tracks make perfect segues between blocks of songs, almost breaking the album up into thirds, though track 14, "Represent," actually comes after the last one. But that's another story.
The first song after "Coin A" is called "Change," which some Dismemberment Plan fans may remember the band playing on their last couple tours, though Morrison claims it as his own here, upping the funk factor and using only keyboards and drums in doing so. "Born in '72," another old unrecorded Plan song, comes next, featuring some of Morrison's most overtly socio-political lyrics, though still thinly veiled by narrative: "Born Caucasian, it's true/ I'm white and that's a good thing too/ `cause I never get pulled over by the cops/ and when I do it's once and it stops/ not three." The song ends with some high-pitched "yeah"s and "woo"s, which are greeted with a low-pitched "I'll fuckin' kill you!"
"My Two Front Teeth parts 2 and 3" is a dancey epic about getting your teeth knocked out, though there's no evidence of a part 1. "People Die" comes after the next "Coin," boasting a bizarre arrangement, though when speaking of Morrison, that's not saying much. After rattling off the plain truth about getting old and dying, Morrison coyly croons, "Believe it or not, I'm trying to cheer you up."
"Angry Angel," the near-closer, is another old Plan song, yet Morrison transformed it from a mellower, Plan-style song to a lush ballad with gorgeous string arrangements. It's an achingly beautiful track, and a surprising turn from a songwriter who's debut album is rife with humor, danceability and an overall defiance of all things normal.
I couldn't have asked for anything more from Travis Morrison, even though I was initially apprehensive about listening to his new material. I miss The Plan, sure, but Travistan is enough to satiate my desire for post-Plan material. It's an entirely new realm that open-minded fans will be excited to explore along with Morrison. And regardless of how familiar newcomers were to Morrison's former band, Travistan is fun and interesting enough to win them over. It's just that good.
Similar albums:
The Dismemberment Plan – Change
Ben Folds – Rockin' the Suburbs
Self – Subliminal Plastic Motives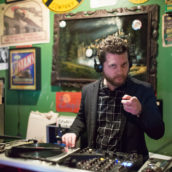 Jeff Terich
Jeff Terich is the founder and editor of Treble. He's been writing about music for 20 years and has been published at American Songwriter, Bandcamp Daily, Reverb, Spin, Stereogum, uDiscoverMusic, VinylMePlease and some others that he's forgetting right now. He's still not tired of it.