Now Entering Travistan: An interview with Travis Morrison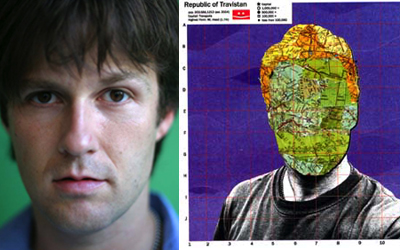 Pop open a bottle of bubbly. Here's to Travis Morrison's brand new solo album. As 2000 drunk Dismemberment Plan fans are singing "The Ice of Boston" out of tune, Morrison is touring the country with new musicians, playing songs off of Travistan, the D.C. based musician's solo debut. For those who have been paying attention, Morrison has been teasing us with constant updates about his progress on Travistan for the last year. And thanks to the good graces of Barsuk records, it's finally here.
Travistan is a crazy, rollercoaster of a record. In some places, it grooves, like on opener "Change" or "Born in '72." In others, it's tender, like on the moody closer, "Angry Angel." But overall, it's just plain good pop music, thanks in no small part to Morrison's eccentric talents and the production assistance of Death Cab for Cutie guitarist Chris Walla. Though the album has a laundry list of guest appearances, there probably aren't any you would recognize, save for Walla or John Vanderslice. But Morrison had originally intended on having countless indie-level celebrity guest appearances. Unfortunately, almost all of them were doomed to fail.
"None of them really worked out," Morrison said. "We just couldn't hit a groove. I wouldn't have singled anyone out, but since he's been very forthcoming about it, Cex, Rjyan Kidwell, was one that just didn't work out. We couldn't come up with anything. It's not that I don't do collaborations. I mean, I had a whole string arrangement worked out for `Angry Angel.' But there isn't really anything on the record by any bands that the press would care about. You get real results from regular folks. But I'm not going to put anything on my record that sucks."
Regardless of an absence of a-list indie rockers, Travistan rocks all on its own, despite what a pesky hipster entity on the internet might tell you. The album sees Morrison trying his hand at more politically oriented lyrics, though not in the vein of Rage Against the Machine. Morrison's approach is more storytelling and less propaganda. Where some might be content to simply state their beliefs, Morrison puts a face on the political unrest with songs like "Born in '72," which has Travis stating his luck in being born a white male because he won't be pulled over by highway patrol or given a lower salary by employers. And "Song For The Orca" takes animal rights to a new level by telling a story about the animals attacking their captors. But just because Morrison has found a new outlet for his political ideas, don't expect him to reduce his ideas into black and white party lines.
"I didn't want it to sound like cornball sloganeering, and I wanted it to still sound good in five years," Morrison said. "One thing about telling people how to vote is that you're handing over your skepticism and I kind of feel like artists should go deeper than that. Politics is the top of the tree and everyone wants to do some trimming. These songs are political, sure, but it's really more about what's right and fair. In a way, it's almost more about spiritual issues. I just couldn't write any love songs. I couldn't focus on anything else. I prefer that people listen to these songs and each person can get something different out of it, rather than just saying `please God vote for Kerry.'"
More of Morrison's political narratives have been filtered into his "Get Me Offa This Coin" series, a four-part group of song-lets that Morrison calls his attempt at De La Soul-style skits. In each, Morrison sings from the perspective of the dead presidents on your pocket change, but does so with comic parody rather than tributary reverence. According to Morrison, it stems from his own personal interest in American history.
"After September 11th, I just have been reading a lot of history," Morrison said. "I've had this desire for information, so I've been reading patterns of history. You also get a sense of comfort when you read about people trying to do their best without the proper perspective. There were some really hairy situations. These were people who in no way had all the answers. Lincoln was just some clown from the country. These were kind of crazy people who lived in crazy times."
While listening to Travistan at home may be all well and good, what many fans will most likely miss about The Dismemberment Plan is their intense live shows. But fear not. Morrison has assembled a new team of musicians to take his weird-assed pop jams on the road. According to Morrison, the five-person lineup is, more or less, a permanent band that will be playing on future records and touring with him from here on out. If all goes well, Morrison says, he and the band may actually end up in the studio as early as summer of 2005.
"I kind of have a real band again," Morrison said. "We have three keyboards, percussion and drums. It's pretty awesome. The main reason it differs from The Plan, besides having no guitars, is that it has less of a masculine, aggressive thing. We're doing some R&B covers. It's more dancey and more southern, groove-oriented. It's not as loud. There's less of a Zeppelin rock, titan thing. It's really just more of a straight-up dance band. I'm really beside myself with excitement. We're knockin' `em dead. It's super exciting and a testament to how well we've been playing."
There may not be any more "Ice of Boston." There may not be any more "Ok, Joke's Over." But now there's "The Word Cop," "Song for the Orca" and a slew of strange top 40 covers. Travis Morrison and his band of funk-da-fied musicians are in full swing, less than a year after The Dismemberment Plan's final show, and we couldn't have asked for anything more.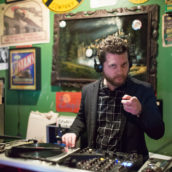 Jeff Terich
Jeff Terich is the founder and editor of Treble. He's been writing about music for 20 years and has been published at American Songwriter, Bandcamp Daily, Reverb, Spin, Stereogum, uDiscoverMusic, VinylMePlease and some others that he's forgetting right now. He's still not tired of it.