Treble Roundtable: Live Music's Comeback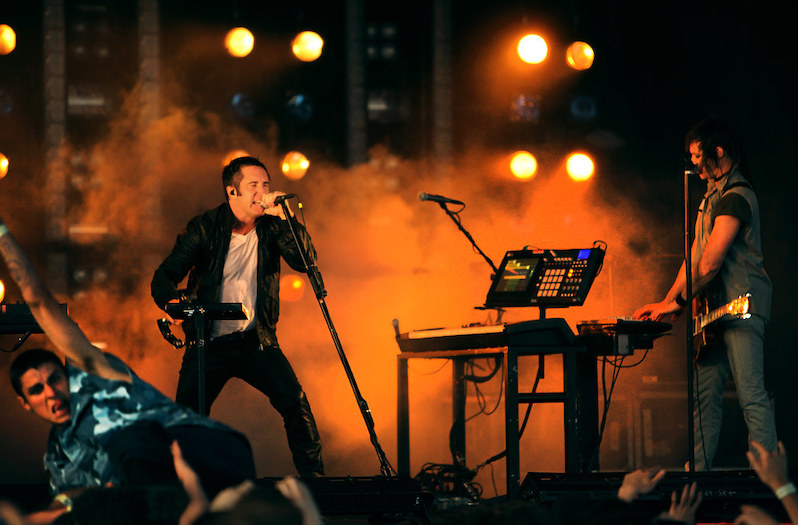 Rob Sheridan/Creative Commons
Welcome back to the roundtable, in which Treble's writers engage in a casual discussion on music, pop culture and our relation to both. Got a question for us? Drop it in the comments!
This week's topic: All of last year, live music was put on hold as a result of the pandemic, a necessary precaution to keep people safe, but a fact that nonetheless made the year just that much more of a bummer. But things are starting to turn around. Venues are opening back up. Festivals are announcing their lineups and bands are announcing tour dates. And on top of that, vaccination rates are going up, which suggests that things will return to something sort of like normal before too long, or as close as we can get without throwing caution to the wind. So with some real prospects of returning to a landscape of live music again, we ask: What band or artist can you not wait to see live?
Adam Blyweiss: So 2020 was supposed to be The Year Every Meaningful Industrial Band Toured, at least until half of the apocalyptic scenarios they ever wrote about came to pass. If and when science and art get their collective shit together, I'm most looking forward to rescheduled shows by Ministry, whom I've never seen, and with Al Jourgensen apparently experience a moment of performance clarity; Rammstein in a stadium setting, as God intended; and Einsturzende Neubauten, who had to bail on their first US tour dates in decades.
Virginia Croft: During the pandemic, one band I went back to a lot, and not even just purely in music form, was Car Seat Headrest. Sometime in May 2020 was my first time going through Teens of Denial in its entirety. In May, they also released their latest album, Making a Door Less Open. Pre shutdown, I had been eager to see them on tour for the new album, not just because I had heard friends talk about fun CSH show memories, but also because their live album is one of my favorites. Sitting at my computer, getting through the work days, Commit Yourself Completely brought me joy and reminded me of the special excitement a concert crowd can feel together. Besides finding comfort in Will Toledo's world of anxiety and confusion, I recently watched this video that reminded me how good it feels to be in the know of CSH, and I also got around to watching the three part documentary series Tidal made about the band. With all these different resources and what feels like an endless supply of tracks, I can't wait to find myself deep in a crowd of fellow fans, shouting along the chorus of "Drunk Drivers/Killer Whales."
John-Paul Shiver: A treat for a trick question in my book. After counting toilet sheets for 14 months I want a return to the ol' local bars, venues, order up some strong drinky dranks and let a regular Friday night take the reins. With so many controlled environments we've been conditioned to exist in, I want the old "damn this band is good" or "damn this band stinks" experience. Then I will know for sure, we're back. So many times I ran into new-to-me bands, DJs, potential DJ gigs, stand-up comedians, and new girlfriends just by being present on a Friday night, hanging out. Right now, that sounds like paradise.
Jeff Terich: Back toward the beginning of the pandemic, Nine Inch Nails began selling t-shirts for a tour that never happened. But it was going to happen—or so we're told anyway. It wasn't announced until after it was already canceled. But the thought of it was exciting enough that I knew I'd buy tickets as soon as that announcement finally happened in 2021 (fingers crossed?). I'd seen them once before, on their tour with Soundgarden in 2014—a memorable night for both good and bad reasons, one of which was arguing with the manager of the venue about their slippery policies about whether or not a photographer needs a ticket in addition to a photo pass. (Always have an insurance policy.) But look, the show was still great, and an opportunity to see them again without having to "work" would be the ideal way to see them again. I also, for one, absolutely cannot wait until The Armed finally make their way to this side of the country. ULTRAPOP is a masterpiece of a hardcore/pop record and the band play sensory chaos as well as they deal out riffs, and I desperately need to experience that firsthand.
Brian Roesler: As someone who thrives in a live setting, missing out on live shows for me has been nothing short of agonizing. Still, I cannot fathom what it's been like for the artists themselves. I can safely say this: I've bought more merchandise in the past year than I would care to admit honestly, but it's all for great causes. As for a singular artist that I am eager to see, well the answer wont come as a shock to those who follow me on any kind of social media, but that would be Primitive Man. Without their 2020 work of near perfection, Immersion I don't know if I would have made it as far as I did in a relatively sound mind. The album was pure catharsis for me, and being able to scream "The Lifer" live would be worth blowing out vocal cords for.
Butch Rosser: I don't have any specific plans for any specific bands, but I sure didn't survive Captain Trumps to not go out and see live music this year, even those concerts where four songs in I regret having even gone out. To be frank, I knew I would survive 2020 because I had to use the bathroom at The Casbah, so for the sake of symmetry I hope that the first concert I see is there and that waves of nausea, optimism and nostalgia form a silk hoodie around my heart.
Ian MacPhee: Jefre Cantu-Ledesma is an artist who's been on my live music bucket list for years. I first found out about his music through 2016's In Summer EP, and since then have dove deep into his discography, which ranges from noisey shoegaze to jazz-tinged ambient releases. His songs have a pretty heady, all-encompassing quality to them, and I've always wanted to experience alive interpretation of his sound. It seems like he's maybe taken a break from concerts over the past few years, and there's only a few videos of his sets scattered around the internet, so he's an artist I'd love to see perform live whenever that's safe to do again
Liam Green: I'm not a constant show-goer. When I do pay for live music, I want to be shaken, wrecked and rebuilt by the experience. That's what happened when I first saw Nine Inch Nails, on 2008's Lights in the Sky tour. I've never seen a lighting and stage setup as complex as the ultraluminous patterns and shades they enfolded Trent Reznor and co. into. It blew out the entire visual spectrum, as best I could tell; only the second time I saw them (for Tension 2013) came close. (Cold and Black and Infinite in 2018 was more stripped down.) 
But most importantly, a NIN show is the most profound and effective form of collective catharsis I've ever gone through. Reznor's music has grown far more musically and lyrically complex than "Head Like a Hole" and "Wish…" but he also knows full well how important those songs are. I think "I'd rather die, than give you control" will feel more meaningful than ever when I next blow my voice out screaming it.
Wil Lewellyn: Most of the bands I am seeing crop up for booking rescheduled events are those I have seen multiple times: Judas Priest, Deftones, Ministry and Deicide. As for what I would be more motivated to go out and see I think leading the pack would be Miley Cyrus. With her gradual turn towards rock with her new album, I think much of dancing would be scaled back for a more organic good time so that is who I am keeping my eyes peeled for. If it had to be one of my old regulars I would say Dead Can Dance.
Konstantin Rega: A few years ago when I was still in college over in England, I saw my favorite jazz singer Stacey Kent live. Though I had always been an ardent fan of her albums, with her mellifluous voice and bossa nova-influecned style, I was happily amazed to find her live performance just as enjoyable. During the first break, I met and talked with her husband, saxophonist Jim Tomlinson, who signed my ticket. I can't wait to go traveling again to see them in concert ASAP!
---
Support our Site—Subscribe to Our Patreon: Become one of our monthly patrons and help support an independent media resource while gaining access to exclusive content, shirts, playlists, mixtapes and more.