Treble's Top 50 Albums of 2006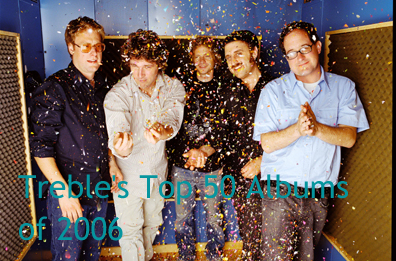 I'm not quite sure, at first glance, what our picks for best albums of the year represent. You see, last year, our song and album lists were pretty much dominated by Sufjan Stevens and the New Pornographers. This year's lists really have no dominant force within, save for maybe two members of the latter band. While A.C. Newman continues to tour as the N.P.'s without his songwriting cohorts, Neko Case and Dan Bejar put out albums that truly represent the pinnacles of their careers with no sign that the trends don't continue. Yet, even though they made our end of the year roster, they didn't reach the `top.' I won't spoil it for you, so you'll just have to log on every day and see.
As for the rest of the list, diversity seems to be the watch-word. Though the majority of our top fifty hail from the U.S., artists from the U.K., Canada, Japan and Sweden are also represented. Punk, folk, dance, electronic, psychedelic and somewhat Eastern European music are all dotted across this incredible list. Some of last year's favorites make return appearances, and some were conspicuously absent.
For the most part, the one thing that this list could be said to represent is maturity. There is not only a maturity to the taste of every one of Treble's talented bullpen of writers, but there's a seasoning to some of these artists that is expressed in the end result of their musical efforts. The majority of albums on this list are the artists' third album or beyond. There are only a handful of second efforts, those bucking that `sophomore slump' tat, and there are a smattering of debuts, though the majority of those fall into the categories of either `long awaited,' `collaboration,' or `emergence from a previous band.'
There was enough diversity and strong opinions in our end of the year poll that we even felt the next fifty albums were worthy of inclusion. So, in the coming weeks, you'll see that list as well, somewhat our `alternate best of the year.' 2007 already has some list-worthy efforts just around the corner in the latest from the Shins, Modest Mouse, Radiohead, Clap Your Hands Say Yeah, Wilco, the Arcade Fire and LCD Soundsystem, but for now, let's simply bask in the audible joy that are the best albums of 2006:
50. The Blood Brothers – Young Machetes (V2)
The follow up to The Blood Brothers' 2004 outing Crimes is a spastic, high-octane musical thrill ride. Every possible musical genre is represented or overheard, from jazzy piano to grinding Sonic Youth-esque guitar. Unifying the album is the band's non-stop nature, from the beginning of "Set Fire To The Face On Fire" to the last notes of "Giant Swan" the frenetic beat never stops. Lyrically and musically, they've matured in every sense of the word. – Dean Steckel
49. Liars – Drum's Not Dead (Mute)
Probably the only three tolerable people from the Williamsburg section of Brooklyn, Liars stepped up their uh…weird vibe and trotted off to Berlin with TV on the Radio's David Sitek in tow to indulge in pounding drums and guitar droning and singer/gorilla man Angus Andrew's paranoid falsetto to release what may be their finest shining moment. Revolving around a "concept" concerning two characters/entities known as Drum and Mt. Heart Attack, Drum's Not Dead contains moments that will jar the senses. Let us not overlook "It Fit When I was a Kid" a tune that'll probably scare you shitless, more so than the first time you heard Suicide's "Frankie Teardrop." – Chris Pacifico
48. El Perro del Mar – El Perro del Mar (The Control Group)
Sometimes a record comes along which seems both familiar and foreign, composed of recognizable elements, yet obviously imbued with something furtive and distinct. Each song on El Perro del Mar's latest record shines with a dream-bright luminosity, the kind that creeps into the world around as you listen, altering shapes and colors, intensifying gestures and mundane details. By blending gossamer textures and idiosyncratic, at once melancholic and expectant, lyrical refrains, Sarah Assbring always succeeds in enchanting. With her whimsical songs about parties, a feeling for a dog, going far to buy some candy, coming down a hill and loneliness, she seems to have composed an album out of small, specific moments and the feelings they engender. Yet, there is something slightly indeterminate in her songs, which leaves you feeling that she may have access to some alternative world where everyday experience is effortlessly translated into bewitching pop songs. – Tyler Parks
47. The Blow – Paper Television (K)
With "Parentheses"—specifically, the line "If something in the deli aisle makes you cry, of course I'll put my arm around you and I'll walk you outside through the sliding doors. Why would I mind?"— Khaela Maricich and Jona Bechtolt created an anthem for vegetarian lovers worldwide. Even more, Paper Television is one of the most quirky and compelling albums of love songs I have ever heard, constantly offering skewed perspectives on relationships; their silliness, neuroses, joy and obsession. From the opening "Pile of Gold" with its glitchy-rumblings and blunt account of sexual politics, to the mesmeric groove and characteristically inventive lyrics of "True Affection," the album radiates playfulness, intelligence, originality, and un-affected hipness. Very Portland, in the best possible way. – Tyler Parks
46. The Sleepy Jackson – Personality: One Was a Spider, One Was a Bird (Astralwerks)
Harrison and Wilson were two of this country's more wiki-friendly presidents, the first having served in office for only 30 days until his death, and the second dying just after his eight-year tenure. But to music fans, and to Luke Steele, there is only one true pairing that those names signify, George and Brian. Who better for Steele, aka Australia's the Sleepy Jackson, to have as musical heroes? Both were the quiet artistic ones in their respective bands, both reached pinnacles of perfection in songcraft and both wrote symphonies to a higher power. Time will tell if the Luke Steele can count his albums alongside Pet Sounds or All Things Must Pass, but for now, Personality is more than a step in the right direction. – Terrance Terich
45. Morrissey – The Ringleader of the Tormentors (Attack! – Sanctuary)
Back when the Smiths were at the peak of their success, there seemed to be a lot of critics who essentially claimed that all Morrissey needed to cheer up were a cheeseburger and a good lay. Twenty years later and, lo and behold, they were half right. It's not necessarily that the Mozzer needed sex, but it sure didn't hurt. Our hero finally gave up his life of celibacy and moved with his paramour to Rome. And thus lyrics like "heaven knows I'm miserable now" gave way to "I have explosive kegs between my legs," which is truly the Morrissey way of saying he has blue balls. Ringleader is the type of Morrissey album that grows on you. Jesse Tobias and Tony Visconti share some of the credit, but it's yet again Morrissey's words and delivery in songs like "The Youngest Was the Most Loved" and "Life is a Pigsty" that will cement this album as one of Mozzer's best. – Terrance Terich
44. Goldfrapp – Supernature (Mute)
Goldfrapp is a sort of happy anomaly within the realm of dance music. Supernature, while providing ample hip shaking beats and the sexy sheen we've come to expect from Allison Goldfrapp, still appeals to the more discerning music lover. Chic, glamorous, overindulgent; these are all good starting points, but don't really do Supernature the justice it deserves. Seamless production and an abundance of gleaming studio trickery wrap Allison Goldfrapp's seductive coo in a pill that goes down easier than the majority of dance music flooding the market. From the glitzy stomp of "Oh La La" to the oscillating textures of the tranquil "Let It Take You," Goldfrapp demonstrates an uncanny ability to waltz between various types of dance music, all without dropping a single beat. You can expect to hear much of Supernature in all of your soon-to-be- favorite commercials, if you haven't already; the sound is that polished. Disco may be dead, but Goldfrapp stabs a hypodermic full of adrenaline into a genre that is in serious need of a sexy makeover. – Mars Simpson
43. Peter Bjorn and John – Writer's Block (Wichita – V2)
Writer's Block is one of those special albums that is at once melancholic and tinged with euphoria. There is an inherent relationship between the two, and somewhere in the democratic process by which they create their songs, Peter Bjorn and John taped into it. Call it pop with the Bergman touch. Dance to it. Stare contemplatively into space. When you get tired of "Young Folks" (we are yet to see if that will happen), it is sure enough that you will find another song on this album that takes you where you want to be. Songs like "The Chills," "Start to Melt" and "Up Against the Wall," with their hazy sense of repose, only become more and more compelling with each listen. This is one of the most distinctive "indie-pop" albums to come out this year, complex and catchy, couched in perfectly complementary production. Be happy that it exists. – Tyler Parks
42. The Thermals – The Body, The Blood, The Machine (Sub Pop)
On their third album The Body, The Blood, The Machine, Portland's The Thermals have picked a peck of political post-pop-punk, and the result is something delightful rather than polarizing. With all the mentions of Biblical disasters and fascistic power grabs, the album plays out like a contrarian soundtrack to the new American century (or perhaps the new American apocalypse if one considers the screechy, after-song drone of the finale "I Hold the Sound"). Both the religious right and the extreme right wing are caught in The Thermals' crosshairs of grungy guitars, punky hooks and impassioned vocals. Cleary, The Thermals hate America, especially with catchy four-chord rock songs such as "A Pillar of Salt" or the driving screed "Power Doesn't Run on Nothing." Amid the rails against the hypocrites and fundamentalists, there's the lackadaisical love song "Test Pattern," and yet it doesn't feel so out of place on the album so much as it complements other nine tracks. It's really a testament to The Thermals' ability to write a record where the politically charged content doesn't get in the way of fun pop and vice versa. Fuckin' A, guys. Fuckin' A. – Hubert Vigilla
41. Love is All – Nine Times That Same Song (What's Your Rupture)
Scandinavia dominated our musical enjoyment this year, from the melancholy pop of Peter Bjorn and John, to the twisted electro of The Knife to the classic sounds of El Perro del Mar. Love is All was the most energetic and unusual success story, however. A band without a proper website on a label without a proper website rekindles the upbeat post-punk sounds of Lilliput and The Raincoats while echoing the more recent sounds of Life Without Buildings in a lo-fi dance mish-mash. The sound of Nine Times That Same Song is nothing short of pure joy, particularly in singles like "Make Out Fall Out Make Up" and "Busy Doing Nothing," which compels the body to pogo, seemingly under any circumstances. – Jeff Terich
40. Final Fantasy – He Poos Clouds (Tomlab)
He Poos Clouds is the low key follow up to Final Fantasy's debut, Has A Good Home. This time out, he takes a more violin-focused approach, while keeping effects and extra instruments off to the side. It's also got a little more of a darker under bite to it, attributed to the stark string arrangements in some songs coupled with the bursting nature of other songs. This emotional statement is exemplified in the coldness of "The Artic Circle" and the lyric "all the boys I have ever loved have been digital" from the title track. – Dean Steckel
39. The Dears – Gang Of Losers (Arts & Crafts)
The Dears' orchestral pop sound is more finely tuned on Gang Of Losers than ever before. There is a richness in their instrumentation which hinges the angelic waves of strings and piano keys to gently blown guitar riffs. Murray Ligthburn's heaving vocals add to the music's trumpeting rhythms. The Dears' music, for me, was like finding a beautiful diamond in the sand. It may have been there for a very long time being hewn from the Sun and the earth beneath but I did not see it until my eyes were awaken to peer in its direction. It's a musical blend that I always liked but rarely found. The brilliance in the album's melodic ornamentation make Gang Of Losers an album to treasure. – Susan Frances
38. Boris – Pink (Southern Lord)
Japan's Boris carried forth their home country's rich tradition of deafening sonic thunder and creativity with noise (i.e. Ruins, Boredoms), albeit with a strictly melodic, doom metal approach. Easily the band's best album to date, Pink brought together everything that makes the band such a beast to reckon with. Buzzing rockers like the title track made for a heavy bit of ass kicking, while "Farewell" showed that, like UK contemporaries Jesu, the band had a little shoegazer in them as well. It may be the sludgiest release to cross our ears in 2006, yet it was also one of the most purely enjoyable. How they settled on pink for a hue, however, we may never know. – Jeff Terich
37. Mastodon – Blood Mountain (Reprise)
The hipsters want it all. The groundbreaking indie sound that has dazzled only dozens of grindstone stained ears. The streetwise, educated hip-hop refusing to bow to the mainstream's gaudy glitz and progressing beyond the time signatures and high hats of production past. Even the manufactured dance punk movement that has polarized coifs from Williamsburg to Wicker Park. They want it all and you know, that's fine. Just leave the metal alone. Showing no signs of fatigue or the dreaded major label slump, Atlanta's Mastodon pick up where 2005's hyper literate Leviathan left off. Intelligent and technically constructed guitar work backed up by a crowning and definitively pummeling rhythm section complete with vocals ranging from demonic growls to nasal soars. Extended odysseys into terrain ominously tinged with the gloomy and the ethereal help balance out Mastodon's pungent assault. You can call it hipster metal if you like but where these guys are from, it's just metal. – Kevin Falahee
36. Xiu Xiu – The Air Force (5 Rue Christine)
La Foret was spare, noisy, haunting, and overall excellent – and The Air Force was all that to an even greater extent. The tracks span from multi-dimensional to stripped to vulnerable to anxious, always landing back at nominal, melodic focal points. This album is by no means an easy listen, as it's unpredictable and intense, but this makes the end result all the more worthy of your time. As a side note, I've actually spent time in Bishop, CA, and of all the places I've been, I do believe that the bizarre southern Cali town is the most worthy of illumination by a Xiu Xiu song. – Anna Gazdowicz
35. Thom Yorke – The Eraser (XL)
Even though the release of this album was a surprise, didn't we all really know deep down that this was a long time coming? It was only natural that the Radiohead frontman venture out on his own, though he's quick to assuage those fans that fear a permanent departure from the band. Thom Yorke pieced together bits of recovered keyboards, some hip-hop beats and electronic flourishes, ending up with something that's more of a companion piece to Kid A than Amnesiac. The critical success of this album, however, is proving that Kid A was before its time as it didn't fare as well in the press and with fans when it was originally released. "Black Swan," "Analyse," and "Harrowdown Hill" may be the obvious highlights, but the entire album throbs with an electric pulse that cannot be resisted. We are now in the midst of waiting for yet another long delayed Radiohead album, but The Eraser serves as something much more than an appetizer, it's more like the dessert that spoils the meal. – Terrance Terich
34. The Flaming Lips – At War With The Mystics (Warner Bros.)
"They'll never do it!" the crowd screamed, "not after the last two albums being so damn good!" But the Lips managed to keep all the central tenets of what makes them special and apply it to a rather cosmic new collection of songs: the fuzzy aesthetic, the wonderful dementia of Wayne Coyne's words, Stephen Drozd's watery production, the scope and spectacle of recent years. It's all there. With "The Yeah Yeah Yeah Song" they announced themselves (not for the first time) as pop composers of impeccable loftiness, with "My Cosmic Autumn Rebellion" they announced themselves (not for the first time) as psychedelic mood-setters par excellence, and with "Pompeii am Gotterdammerung" they announced themselves (not for the first time here, either) as epic crafters of monumental sadness. In short, this is a part of the bigger picture, a step on the way to sonic perfection for this most inimitable of bands. – Daniel Ross
33. Califone – Roots and Crowns (Thrill Jockey)
In the realm of music criticism, alt-country is as vague as alternative. From Lucinda Williams to Wilco and everywhere in between, the base instrument of acoustic guitar seems to be the only unifying theme, the impetus behind the tag that says so little while trying to capture so much. With Roots and Crowns, Califone expands on a genre they seem to be so unfairly lumped together with. Honing a multitude of ideas and expanding beyond them, Califone wrangles a sound all their own building atmospheric bridges that definitely came from steel strings but progress away from the emotional mahogany of their peers. Brilliant and subtle but unique nonetheless, Califone has defined themselves without trying and left behind one of the more memorable moments of 2006. – Kevin Falahee
32. Bonnie `Prince' Billy – The Letting Go (Drag City)
There's something about Iceland that, by some supernatural force or unseen power, makes any album sound infinitely more gorgeous than if it were created anywhere else. Will Oldham's prior albums of rustic Americana certainly sounded spectacular on their own, but when he took to Iceland for the recording of The Letting Go, the end result became something more delicately graceful than anything else by the Kentucky-based songwriter. Backed by singer Dawn McCarthy of Faun Fables, Oldham conjures a magical and beautiful world of dark songcraft, with such diversity that the lush strings in "Cursed Sleep," the driving melody of "A Strange Form of Life" and the quirky twang of "Cold & Wet" display the most diverse palette he's drawn from to date. He's one of the most prolific songwriters and performers out there today, and yet he still manages to outdo himself. – Jeff Terich
31. Danielson – Ships
This 2006 Christian folk-pop effort is one of those albums where it's just so weird that it's nothing short of cool. A truly collective effort, the album features the Danielson lineup of eleven starting players plus 22 guests, creating a lovely, multi-layered, and quirky record that you wouldn't necessarily expect to enjoy, and it truly must be seen (er, heard) to believe. You might even say that the album is a "vessel" of creativity and musical venture. Har har. – Anna Gazdowicz
30. Man Man – Six Demon Bag (Ace Fu)
Man Man throws in everything with the kitchen sink on their phenomenal sophomore release Six Demon Bag on the always exciting Ace Fu label, a deal that Man Man front man Honus Honus clams that they landed by means of "fucking up." With Six Demon Bag, Philadelphia's Man Man toss in a rowdy bag of bastardized cabaret, nervy pop sensibilities and a whole bunch of hooting, whopping, clanking. Beefheart, Zappa, and Waits may spring to mind at first but after a deeper listen, Man Man is more and more like punk rock hobbit party where the ale and kookiness are in no short supply. Man Man is simply bitchin' bitchin'. – Chris Pacifico
29. Silversun Pickups – Carnavas (Dangerbird)
From the erupting fuzz of opener "Melatonin" to the fading dissonance on final track "Common Reactor," Carnavas is a debut that demands your attention. With an energy that pulses harder than anything heard all year, Silversun Pickups prove they are the fledgling L.A. band that wouldn't wither under the massive buzz they generated. Borrowing equally from '90s stalwarts My Bloody Valentine and The Smashing Pumpkins, the band has birthed a concussive blend of alternative-style guitar heaviness with ample pedal manipulation that has a distinctly 21st Century aesthetic. Brian Aubert's laconic vocals, accented with only the most necessary of screams, complement the voracious assault of his bandmates. From the precisely thrummed bass of Nikki Monninger, the ample knob-twisting of keyboardist Joe Lester, and Chris Guanlao's efficient percussive techniques, Silversun Pickups are a musically tight outfit. One only has to see their live set, or listen to Carnavas with the volume cranked to be converted. Single "Lazy Eye," a stand-out among an album full of them, is the example par excellence of the band's mastering of the quiet-loud dynamic, and evidences a sensibility that will assure Silversun Pickups' continue wreaking havoc on the eardrums of indie kids everywhere. – Mars Simpson
28. Mogwai – Mr Beast (Matador)
Well into an established career, Glasgow's finest unleashed an album that proved that contrast and quality can be compatible. With less reliance on alternating quiet-loud anthemia, Mr Beast was a sum of punctual, vital parts. Mogwai's ear slaying side was well and truly represented, and songs like "We're No Here" and "Glasgow Mega Snake" sit amongst their most ferocious. This succeeded as a patchwork quilt of record though. The likes of "Acid Food" and "Emergency Trap" radiate in a combusting headspace. Doing what they're best at while bending the edges. Business as usual for an already legendary band of our era. – Tom Lee
27. Tapes n' Tapes – The Loon (Ibid – XL)
For all the flak that bloggers get, you can at least get behind them for hyping up Tapes 'n Tapes' The Loon. This year's heir to Clap Your Hands Say Yeah-style notoriety, Tapes 'n Tapes recalls the indie rock past, drawing comparisons aplenty to groups such as Pavement and The Pixies. Yet while other bands that recall the past are ironically doomed to repeat it (in the form of totally unoriginal or derivative songwriting), Tapes 'n Tapes have their own unique sense of urgency fueled by their eccentric songwriting and shifts in tempo. Songs such as "Just Drums" and the first half of "Jakov's Suite" show the band in fine spastic form while "Insistor" and "Cowbell" gallop ahead, the latter the more menacing of the two. The album's frantic activity is slowed by a few pretty and meditative tracks, the hum-whisper of "Omaha" arguably the best of them. The Loon is a promising debut, one that should keep Tapes 'n Tapes' appreciative listeners wondering what's in the band's future. – Hubert Vigilla
26. The Pipettes – We Are the Pipettes (Memphis Industries)
Three Brighton girls and their backing band made a stunningly commercial record in 2006. Bringing the Shangri-Las, Phil Spector and polka dots to an honest take on romance, the trio unleashed musical kaugummi and verbal poise of the highest order. The likes of "Your Kisses are Wasted on Me" and "Pull Shapes" were pointedly believable, danceable and swoon worthy. We Are The Pipettes was a worthy follower to The Go! Team's Thunder, Lightning Strike for Memphis Industries in its marriage of old and new aesthetics with extremely likable songs. Give them your soul and they'll can it. – Tom Lee
25. Built to Spill – You In Reverse (Warner Bros.)
After the lukewarm response to 2001's Ancient Melodies of the Future and Martsch's brilliant but under-reviewed 2003 solo offering, no one would have blamed Built to Spill for putting the brakes on a masterful career yielding some of the best albums of the '90s. But come on, since when is Doug Martsch one to quit? Combining the ambition of Perfect From Now On with the ease of Keep it Like a Secret and a romantic lyrical melancholy that is found throughout every BTS album, the band finds a brilliant artistic haven that can appeal to the cynical critic as well as the lackadaisical FM station surfers. All in all, this output solidifies BTS's place as one of the most important and consistent bands of the past two decades who continues to produce music for the next millennium, today. – Kevin Falahee
24. The Black Angels – Passover (Light in the Attic)
Twilight trickled over Seattle's Capitol Hill Block Party this past July as an audience of unwary spectators were caught in the hypnotic drone of Austin's The Black Angels. Their sound descended like a threatening thunderstorm, fraught with prophetic musings and the power to entice even the most resolute into a trance-like state. Conversion to their Velvet Underground-influenced style of hazy psychedelia with a penchant for all things dark was not an option, I soon realized. The magnitude of their gripping live performance loses none of its potency on debut album Passover. Like the biblical account its name alludes, Passover brings listeners within sight of the angel of death, salvation looming just out of reach on some distant horizon. From the overt political posturing of neo-protest song "The First Vietnamese War" to the narcotic-fueled surge of "Manipulation," The Black Angels immerse listeners in nebulous clouds of droning keyboards and strident guitars that make no guarantee of sanctuary. With other song titles like "Young Men Dead," "Empire," and "Bloodhound On My Trail," Passover holds no pretense to its ideological bent, and like the appropriately named final track, the music is in many ways a "Call To Arms." In this era of unnecessary wars and rampant political corruption, it's reassuring to believe that a new generation won't stand for it much longer. Change is in the air, and if you listen hard enough, you'll hear it droning on the breeze. – Mars Simpson
23. Regina Spektor – Begin To Hope (Sire)
Regina Spektor's debut album Soviet Kitsch was an eclectic blend of music that had this Bronx, New York born ingénue going wild, bringing out the free spirit of a gypsy in her voice. Her second album, this year's Begin To Hope, is much more tamed, melodic, and centralized on the bluesy tonality of her timbres. Her vocals are trained on the piano and inspired by the jazz foothold in the keys. She has a little Russian cabaret influence on this album, a lot of jazz vocals, and complete honesty with herself in these songs, even to the sharp intake of breaths on "Aprés Moi" which imitate fighting against a force that is pushing back with the power of a violent wind. As much as Regina Spektor is the Diana Krall and Tori Amos of a younger generation, her affairs span a larger breadth of emotions that are tunefully expressed in her voicing. Regina Spektor's Begin To Hope is one of the most honest expression of one's emotional feelings all year. – Susan Frances
22. Gnarls Barkley – St. Elsewhere (Downtown – Atlantic)
When I saw the Raconteurs perform in San Francisco in July 2006, the boys completely surprised everyone by busting out a cover of the nominal Charles Barkley-soundalikes' radio heavyweight, "Crazy" – and because there's no other appropriate way to describe it, the crowd indeed went crazy. The only person there who didn't know the words was this old dude who wore a bad-even-by-Office-Space-standards Hawaiian shirt and had so many pockmarks you could grate cheese on his face. Obviously, this proves the extent to which this Cee-Lo and Danger Mouse collaboration took the music world by storm in 2006. The rest of the album neatly measures up to the expectations that the world of "Crazy" created, and it's so much fun from beginning to end. The project is a smooth blend of the two hip-hop performers' styles and talents, and most importantly, it's not overdone, as many similar projects tend to be. And watch out for the Boogie Monster! Muahahahaha! – Anna Gazdowicz
21. Jason Collett – Idols of Exile (Arts & Crafts)
Jason Collett is essentially the `Linus' of the Broken Social Scene `Peanuts' gang. Smart, spiritual and talented, Collett broke out of the BSS collective like no one else could, recording the album that is easily the most distinct from any of his collaborators. The result is like Bob Dylan having a drink with Patrick Park; Elliott Smith and Jeff Tweedy palling around. Songs like "Pavement Puddle Stars," "Pink Night" and, of course, one of the best songs of the year, "We All Lose One Another" shine brightly, revealing the heart of a true songwriter. Idols of Exile is another of the albums on our list that made it despite being released very early in the year. When an album impresses that much on its first spin, and then continues to astound all the way to December, well, that's what Christmas is all about, Charlie Brown. – Terrance Terich
20. Jenny Lewis and The Watson Twins – Rabbit Fur Coat (Team Love)
Watch out Neko Case. There's a new red-haired diva in town, and she's placed her sights on the alt-country crown. It's probably only fair to say that my secret love affair with Jenny Lewis, as hopelessly based in fantasy as it might be, began long before her solo outing with this year's Rabbit Fur Coat. But biases aside, Jenny Lewis has recorded one of the most satisfyingly soulful debuts of recent memory. Tackling issues as far ranging as drug addiction, coming to terms with childhood stardom, and even more theological quandaries into the existence of God, Jenny runs the full gambit of soul-searching, all while displaying that sultry, yet honey-sweetened voice of hers. Songs like "Melt Your Heart," which does exactly as the title suggests (and would be this reviewer's favorite song of the year) and "Happy," which tip-toes around a theme quite the opposite, expose a vulnerability only hinted at with Lewis' work in Rilo Kiley. Her songwriting is in peak form on Rabbit Fur Coat, and with the gorgeous three part harmonies thanks to the contributions of the Watson Twins, Jenny Lewis has proved herself a true contender for that aforementioned throne. – Mars Simpson
19. The Knife – Silent Shout (Mute)
I was introduced to The Knife by a Swede who told me they were the only good band in Sweden. While I do not hold to that myself (and he was drunk), I agree with him that they are the most singular, and that they seem to readily induce the kind of obsession in listeners that causes musical amnesia. Everything else seems to lose luster and slowly, imperceptibly dissolve. Silent Shout is an album to become lost in, a labyrinth of sounds at once inhuman and natural. It is in turns inviting and reticent, infinitely suggestive in its ambiguity. Karen Dreijer's shifting vocals—ranging from childish naïveté to otherworldly mechanical creature—are incomparable. They are menacing and vulnerable, impish and paranoid; characters are conjured as much from the way she sounds as from what she sings. Embedded in her brother Olof's paranormal soundscapes, they refract and intensify human emotions. Silent Shout is a vast spectrum of human experience condensed into 46 minutes of music, music which intoxicates as it disturbs. – Tyler Parks
18. Hot Chip – The Warning (Astralwerks)
Americans didn't really get their first taste of Hot Chip until late '05 when the laid back bedroom electro, hip hop hook filled Coming on Strong hit our shores. Now Hot Chip has kicked it up a notch as Emeril would say with The Warning, a delightful slice of techno pop that stays ingrained in your head long after listening. Hot Chip flexes their electronica palate with IDM ("Careful"), ambient house soul ("Colours"), cuddly grooves ("And I Was a Boy From School") and the irresistibly catchy single and video for "Over and Over." Shame on the Mercury Prize folk for passing these lads over. If you can't find Hot Chip in the least bit clever than your soul and torso are probably dead. – Chris Pacifico
17. The Hold Steady – Boys and Girls in America (Vagrant)
From Minneapolis to Brooklyn, success has been a long time coming for The Hold Steady's principal songwriting duo Craig Finn and Tad Kubler, but as they always say, better late than never. The little bar band that could is back and striking gold for the third consecutive year with their first release for Vagrant records in B&G in A. Blending their borrowed, brown bottle arena influence with open flame piano ballads and a yielding song structure, The Hold Steady travel from the Twin Cities to Anywhere, USA by way of Finn's little bit softer than before recounts, which cross references everything from Pulitzer prize winning authors to seedy, cat calling crust punks. Yet another step forward in the Hold Steady's brief but already impressive career that is deserving of any and all approbation coming its way. – Kevin Falahee
16. Cat Power – The Greatest (Matador)
The Greatest takes Chan Marshall far from her beginnings of ultra lo-fi recordings on Dear Sir or Myra Lee. Pairing her with the legendary Memphis Rhythm Band, the songs on The Greatest have a timeless quality and cast a warm glow on her typically sad songs. Instead of overshadowing Marshall's whiskey-soaked voice, the band showcases her hazy delivery and highlights the unique quirks that make her vocals so compelling. Songs like "The Greatest" and "Love and Communication" have gloss but they don't diminish the melancholy that has become so familiar to Cat Power fans. "Hate" is more of a return to form with only an electric guitar accompanying her. A staggering song, "Hate" has Marshall baring her vulnerability once again. Paired with her much publicized sobriety, the album marks Marshall's growth and a new confidence in herself and a rewarding listening experience. – Jackie Im
15. My Brightest Diamond – Bring Me the Workhorse (Asthmatic Kitty)
To say that the Illinoisemaker in question stepped into the spotlight in 2006 is an understatement. This shining star, this sparking pearl, this brilliant gem (sorry, I can't help it) that is Shara Worden took the audience formerly occupied by Sufjan Stevens almost by surprise, pulling this stunning debut out of nowhere and leaving us all weak in the knees. She didn't just release an album that shows off her ability to hold her own as a solo artist – she unleashed a torrential and soul-shattering musical experience. Her innovative arrangements and her haunting words alone make for a stunning effort, but her voice stands out as the most truly breathtaking. Not since Antony have we experienced such a voice, and if you ask me, she's giving him a run for his money. – Anna Gazdowicz
14. Beirut – Gulag Orkestar (Bada Bing)
"Just the kind of drunken excitement to the whole thing," says Zach Condon, the man behind Beirut says when describing the regional stylings of the album Gulag Orkestar. It does have a great sense of careless inebriation about it, at times the rhythm sauntering through tracks, and others gaily trotting, and then it even charges like bulls without anything to stop them except for the end of the song, all the while with Condon's distinctive wailing in the background to not give you many specifics, only that this is Beirut and the music's playing, so listen, or dance, or sing. It doesn't matter. The music is open to any form of celebration as long as it isn't restrained. Anyone listening to it has no need to even worry about censure anyway. The blustering horns and bellowing accordions intoxicate the mind through the eardrums better than any drink. – Paul Bozzo
13. Camera Obscura – Let's Get Out of This Country (Merge)
After this year, I am now a firm believer that when it comes to pop music, Scotland can do no wrong. Case in point, Glasgow 's Belle & Sebastian and their similarly inclined compatriots Camera Obscura. Let's Get Out Of This Country was an album for me that required an incubation period before I could fully realize its understated glory, but the waiting made it all the more worthwhile. Initially, the melodies swirled around my distracted mind, enticing me to relinquish any resistance I might have held, but I was obstinate. Yet the combination of Traceyanne Campbell's saccharine sweet singing and the sweeping compositions of her band mates made their latest release a breakup album like none other. Slowly, surely, the album crept up my year end list to secure a spot on the top ten. Castanets, horn sections, accordions, keyboards, strings and no shortage of jangly electric guitar coalesce intuitively in homage to the classic pop formula, but in unique ways that accentuate the hinted melancholy that sulks beneath the surface. From the upbeat orchestration of "Lloyd, I'm Ready To Be Heartbroken," to the lonesome slide of "Dory Previn," Camera Obscura makes it feel good to be alone. – Mars Simpson
12. Band of Horses – Everything All The Time (Sub Pop)
How Band of Horses managed to escape being critically maligned by so unabashedly stealing from the influence of today's artists (who, ironically, all yearn for yesterday) can only be explained by how good their songs truly are. Yes, their overall sound can aptly be cataloged as a My Morning Jacket-esque and perhaps the lead singer went to the same vocal coach as James Mercer but in the end it's still rock n roll to me. Like their southern counterparts, Band of Horses know how to turn a musical moment into an epic movement appropriating extended bridges, tempo voltas, dizzying guitar licks and staccato overdubs. Mason-Dixon tinged? Classic rock radio ready? Both these tags are justified but in the end, "great" is the only adjective that need apply. – Kevin Falahee
11. M. Ward – Post-War (Merge)
Given my affection for Americana, it's perplexing how M. Ward's take on the genre slipped past me. Well, no more. Prior to his superb Post-War, I knew very little about him. Yeah, he had played and toured with Bright Eyes and Jim James. He sang in Jenny Lewis' cover of "Handle With Care"? Which one was he? George Harrison? Jeff Lynne? (ed: yup, Jeff Lynne) Of course, Matt Ward is the writer of fine country-tinged folk that sounds uniquely his but also so familiar and timeless. It's the comfort of that familiarity that lets you envelop in his stories: the wry take on the disappearing lover in "Magic Trick" or the encounter with the wise man in the exquisite "Chinese Translation." Ward doesn't break any new ground here, but who can argue with such wonderfully crafted songs? – Jackie Im
10. Sonic Youth – Rather Ripped (Geffen)
Like good scotch or a pair of sidewalk weathered Chuck Taylors, the definitive band of America's underground scene continues to get better with each and every year and each and every release. Despite the departure of the multifaceted Jim O'Rourke, Sonic Youth fall forward, continuing to craft and perfect the more mature sound achieved on their previous two efforts. Moore's Reed-styled vocals engage while Gordon's seductive whispers soothe; Musically, the middle ground of angular meets ambient fits perfectly into a mold of unsuspecting pop that seeps into your subconscious and takes the form of horizontal head nods. For a band that's 21 albums deep into their career, it's good to see them releasing albums being praised on actual merit as opposed to mystique. – Kevin Falahee
9. Junior Boys – So This is Goodbye (Domino)
As both Junior Boys debut Last Exit and this year's So This is Goodbye both seemed to suggest departures in name, one could only assume that the next one in line might be called No really…we're leaving this time. If anything, however, Goodbye presented a sort of permanence for the Canadian duo. The sleek synthesizers of before are still present, but unlike the delicate ethereality of their debut, Goodbye puts a heavier emphasis on dancing. Electronic music should be able to get people moving, and this inevitably will. Yet the most striking aspect of So This is Goodbye is its heart—this is music that speaks to the emotions. The youthful exuberance in "In the Morning," the misty farewell of "FM," even the hazy cover of "When No One Cares"—they all tugged at the heartstrings this year more than any dusty old troubadour could. – Jeff Terich
8. Joanna Newsom – Ys (Drag City)
I could probably write a book about Joanna Newsom and how truly amazing I think she is. Not that anybody in their right mind would ever want to read such a book, unless they're a) more obsessed with her than I am, b) insane, c) desperately trying to sleep with me, or d) all of the above. For everyone's sake, I'll keep it short, at least for now. Joanna truly outdid herself on Ys, a feat which didn't seem necessary after her Milk-Eyed Mender 2004 debut. The album is a world all on its own, structuring incredibly epic songs that pair her dazzling vocal and harp arrangements with the added bonus of a full orchestra, directed by none other than Van Dyke Parks. For your sake, experience this album for all the beauty it has to offer. And then go buy my book. – Anna Gazdowicz
7. Destroyer – Destroyer's Rubies
Terry's Notes:
Introduction: Destroyer's Rubies is Canadian songwriter Dan Bejar's seventh full-length album. Bejar is known chiefly for two projects, one under the name Destroyer, and another as principal songwriter for the New Pornographers. He is now also a member of the `supergroup' Swan Lake.
Brief Synopsis: Rubies is a densely packed collection that finds Bejar at his creative peak, writing literate lyrics to underscore incredibly layered and intelligent pop music.
References Made: This Night, Your Blues, "Dock of the Bay," "Proud Mary," "Golden Slumbers," The Plague, The Fall, "The Old Gray Mare," Clytemnestra, "The Music Lovers," Led Zeppelin, Pink Floyd, Union Street, "Strawberry Wine," and probably a few more that I didn't understand.
Disclaimer: These notes are not meant to take the place of the actual album, not should they be used for anything other than enhancement of listening. Besides, your teacher would figure it out eventually. – Terrance Terich
6. Neko Case – Fox Confessor Brings the Flood (Anti-)
A siren's voice could lure sailors to their doom. Neko Case's voice is just as compelling, though it probably wouldn't dash ships to splinters. Then again, given the agile range the alluring red-headed banshee shows on "That Teenage Feeling," her voice could maybe bend mighty timbers just as easy as it can soften hard hearts and win over cynics. Fox Confessor Brings the Flood is a fine showcase of Case's talents as a vocalist and a songwriter and co-writer. In fact, the way she recounts her regrets with a somber beauty and such effortless, well-turned lyrics, this album is likely Case's most accomplished work as a solo artist or collaborator. The moving ballads on the album, most notably the haunting "Star Witness," "Hold On, Hold On" and "Maybe Sparrow," are lushly put together, pulling the listener wherever her words and voice command. The album would probably be best listened to under the hazy light of neon, locked in a 36-minute slow dance with someone, dancing on long after the needle skips around the record center and the dawn overtakes the buzzing electric lights. Okay, maybe not, but that's just the type of image and sentiment that Case's voice has the power to elicit. – Hubert Vigilla
5. Belle and Sebastian – The Life Pursuit (Matador)
To say that its not a surprise that Belle & Sebastian are on a list of the Top 50 Albums of 2006 might be saying a little bit much, but really, is it? From their music, it's apparent that the members of Belle & Sebastian see entertainment and celebration of life as its main pursuit, thus The Life Pursuit. Most likely, that's not what the title is going for, but it works nonetheless. Almost every track on the album revives the skip in the step of the usual rock song, making rock something to get excited about again. This is an album that cannot be appreciated sitting down, typing something away on the computer like I am now while listening to "We Are The Sleepyheads." Something must be moving, must respond, have life, and the bigger the better. This album will not be satisfied with a simple twitch of a Frankensteinian finger to shout, "It's Alive!" This album wants people to have fun with life, and who doesn't like fun.
Now if you'll excuse me, I am going jump on my desk-chair. – Paul Bozzo
4. Grizzly Bear – Yellow House (Warp)
The most exciting album of any year is not the much-hyped debut, nor the return of a longtime favorite. It's the one that catches you off guard. Grizzly Bear made something of a name for themselves with the lo-fi bedroom recording Horn of Plenty. From that album alone, nobody could have expected the miraculous spectrum of sound spilling forth from Yellow House, their first proper album as a complete band. Signing to Warp may have initially seemed an odd choice, but given sonic contemporaries like the similarly spacious, dreamy and childlike Broadcast, it was the only choice for an album such as this. Beach Boys harmonies, Microphones-like mini-epics, and folky lullabies permeate the fabric of this simultaneously warm and alien album. It is an album of sweet pain, of gently handed heartbreak and of a journey through sonic landscapes alluring and foreign. And once you get to "Colorado," it's like no ski resort you've ever known, but rather something monolithic and altogether breathtaking. – Jeff Terich
3. The Decemberists – The Crane Wife (Capitol)
It's very unusual occurrence that a band's most ambitious work is also their most accessible. And yet adhering to such stale rock conventions is something that The Decemberists practically never do. From their humble beginnings as Portland rabble rousers singing about Turkish prostitutes to their current status as slightly better polished Portland rabble rousers crafting a song cycle surrounding a Japanese folktale, the group have clearly tread a path as musical auteurs, spreading a blanket of distinct themes and imagery over their melodic fruits. Colin Meloy's always eloquent lyricism takes a turn for the playful in "Sons & Daughters," ambiguously suspenseful in "The Perfect Crime #2" and darkly vivid in "Yankee Bayonet," a Civil War narrative of two simultaneous deaths, which also features the always delightful talents of Laura Veirs. With four albums in a row firmly under the "great" category, rather than merely "good," The Decemberists have a record that few others can match. Leave it to a band from Portland. – Jeff Terich
2. Yo La Tengo – I Am Not Afraid of You and I Will Beat Your Ass (Matador)
It's only appropriate that any appreciation of Yo La Tengo's I Am Not Afraid of You and I Will Beat Your Ass should first thank L.A. Clippers forward Tim Thomas. Thomas, when playing for the Knicks, supposedly uttered a variation of the phrase that would become the album title, and for that we should all be grateful. Yet even by any other name, I Am Not Afraid of You… would sound just as sweet and quirky. Here Yo La Tengo displays their graceful ease at crafting catchy songs, something that doesn't betray the band's two decade-long discography. The album is something of a return to form for Yo La Tengo, recalling the glory of what is arguably their best album, 1997's I Can Feel the Heart Beating as One. Whether they buzz (the opener "Pass the Hatchet, I Think I'm Goodkind" or "The Room Got Heavy"), bop to pop with timid voices ("Beanbag Chair" or "The Weakest Part") or do the bossa nova ("Mr. Tough"), the band shows no signs of burnout or of an impending creative deficit. Yes, Yo La Tengo has still got it, and for that I think one can only thank Ira Kaplan, James McNew and Georgia Hubley… and maybe Tim Thomas again, just for good measure. – Hubert Vigilla
1. TV on the Radio – Return to Cookie Mountain (Interscope)
Surprised? No, neither were we. I saw this one coming from quite a distance, but that's by no means a statement of predictability or of the homogeneity of Treble's writing staff. In fact, that couldn't be further from the truth. Looking at each individual writer's list revealed vast differences across the board. And yet, we all collectively agreed that TV on the Radio kicked the most ass in '06. When Return to Cookie Mountain began circulating on peer to peer networks, quite a buzz began stirring. As early as April, that infamous "album of the year" descriptor was being thrown about, lackadaisically, without any regard for the following months' promise. What made it such an exciting release is that there's very little like it. In my review of the album, I used Radiohead, Brian Eno and Celebration for similar albums, but that was the part I struggled with the most. I could have also thrown out Bauhaus, My Bloody Valentine, David Bowie and Blonde Redhead, and I probably still wouldn't have been able to truly represent the diverse and dense array of sounds.
Return to Cookie Mountain is a dark record, yet one with a good sense of humor about it. It's streamlined and lightly tousled with gloss, yet every nook and cranny is left exposed. David Sitek's production created a world in itself, and the band, already having left quite an impact with their debut Desperate Youth, Bloodthirsty Babes, soared well into a new stratosphere. They invited David Bowie to join them for "Province," transformed into adrenaline pumping canines on "Wolf Like Me," slipped into an ethereal goth mode for "Hours," and even had a drink on Beelzebub in "Let the Devil In." The complexities of this album are many, yet the melodies are so instantly alluring, one is immediately drawn in to take a closer look. When I first received Return in my mailbox, I was practically giddy. Few other releases this year have provided such high levels of anticipation, even fewer surpassed them in quality. So if having TV on the Radio as our number one album was a fairly predictable choice, it's only because this incredible band really, really deserves it. – Jeff Terich
Thanks for reading! Treble will return with daily updates in January!