Tumi Mogorosi : Group Theory: Black Music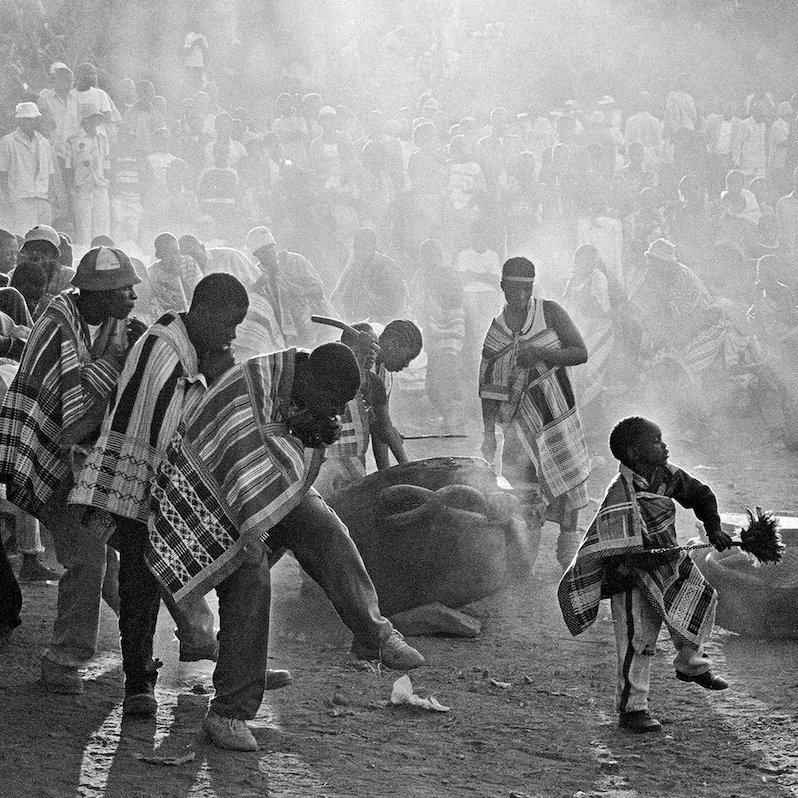 Jazz and gospel are close relatives. From the mid-19th century to the early-20th century, each developed from a blend of influences with one forebear in common: the spiritual. Ironically, given this shared lineage and many players' upbringings in the Black church, few major jazz artists have wholeheartedly embraced the aesthetic capacity and expressive power of that central facet of gospel: the choir. There has long been a space for the jazz singer, for the instrumental soloist, but ever since the genre's early innovators pioneered an emphasis on individual virtuosity and soloing over collective improvisation, the power of a unified, arranged group of singers has been largely eschewed in favor of something rooted in a more individualistic expression. Though the collective spirit of the work song and the spiritual remained an important factor, the raw individuality of the blues and the syncopated complexity of ragtime would take precedence, essentially leaving the choir within the environs of the church. That being said, later in the 20th century, with the rise of a freer, more exploratory jazz, some artists did attempt to reconnect these estranged relatives. Max Roach would break new ground by employing a chorus of sixteen singers on 1962's It's Time, while others like Andrew Hill, Billy Harper and Donald Byrd would follow with their own efforts. Joining this lineup of artists is South African drummer Tumi Mogorosi with Group Theory: Black Music, a joint release by Mushroom Hour Half Hour & New Soil.
On Group Theory: Black Music, Mogorosi, whose credits include work with Shabaka and the Ancestors and The Wretched, is joined by a host of players from the always-exciting South African jazz scene. Dalisu Ndlazi (bass), Tumi Pheko (trumpet), Reza Khota (guitar), and Mthunzi Mvubu (alto saxophone) are joined sporadically by vocalists Siya Mthembu and Gabi Motuba while pianist Andile Yenana features on four of the eleven tracks. These players all operate in the foreground while a nine-person choir supports large sections of Mogorosi's operatic compositions.
From the jump, the choir—much like on Roach's It's Time—feels as though it is chanting in the moments before a major eschatological event. There is a distinct anxiety and dissonance running through the group's vocal melodies and collective timbre; a sense that we are either approaching a kind of spiritual ascendancy or facing an existential doom, an eternal damnation. Thankfully, whenever the choir steps away, Mogorosi finds a more intimate, inviting tone with his quintet of players. This occasionally stark duality creates an engaging and challenging interplay.
But even when the choir seems absent, its presence is felt, waiting to remind you of the record's grand ambitions. Whether it's on the terrific opener "Wadada"; the two beautiful renditions of the old spiritual standard, "Sometimes I Feel Like a Motherless Child"; the highlight, "Mama"; or the powerful Lesego Ramplolokeng-assisted finale, Mogorosi synthesizes multiple musical lineages into a comprehensive vision of black music. Nowhere else today will you hear the urgent, pointillistic drumming of post-bop sitting comfortably alongside gospel-inspired renditions of old spirituals; the improvisations of the quintet's solos, next to the collective power of an arranged chorus. This is daring, exciting work.
Mogorosi is also keenly aware of the choir's social dimension, as he says in a statement accompanying the album: "There's this idea of mass, of a group of people gathering, which has a political implication. And the operatic voice has both a presence, and a capacity to scream, a capacity for affect. The instrumental group can sustain the intensity of that affect, and the chorus can go beyond improvisation, toward communal melodies that everyone can be a part of." What Mogorosi has achieved here is a grand, thoughtful, and genuinely bold attempt at bringing together two immensely powerful Black art forms, a sweeping statement from one of many talents coming out of the South African scene.
---
Label: Mushroom Hour Half Hour/New Soil
Year: 2022
---
Similar Albums:
Noah Sparkes
Noah Sparkes is a UK-based culture writer specialising in film, TV, and music. With a particular interest in the intersection of culture, politics, and history, Noah has written in a variety of outlets.