Tyler Childers: Rustin' in the Rain

As of this writing—as it has been for most of the summer—the top three songs on the Billboard Hot 100 chart are all by country artists. I'd like to say it's because the songwriting has tapped into something universal and true that's resonated with millions of listeners, but that's not it. No, the country songs that have hit number one this summer have been put there as political weapons in an ongoing culture war half of our country thinks it's fighting in.
The history of country music in America is is filled storytellers and outlaws, and salt-of-the-earth working people. A lot has changed since the day Woodie Guthrie painted "This Machine Kills Facsists" on his guitar, and the narrative has been controlled by the biggest loudmouths with nothing to say, drifting far from three chords and the truth. That truth has been distorted by "grievance country," a cultural nadir that thrives on hate and fear. The Summer of Grievance Country started with Kid Rock boycotting Anheuser-Busch by shooting up 12 packs of Bud Light (well, sorta) over the company's support of the LGBTQ+ community in its marketing. And in July, tight pants enthusiast Jason Aldean released "Try That in a Small Town," a faux-macho anthem that condones violence against some nonexistent "woke" enemy. Its video features a Tennessee courthouse where a black teenager was lynched in 1927 as well as a few other racist easter eggs. And country star Morgan Wallen and his song "Last Night"… yeah, THAT Morgan Wallen, who remains in the top three on the Hot 100, right below Luke Combs' version of Tracy Chapman's "Fast Car," a cover so on the nose it might as well be AI-generated. And currently sitting at number one is Oliver Anthony. You'd be forgiven in not knowing who the hell this guy is, because a month ago, nobody did. His song "Rich Men North of Richmond" is a clumsy country-folk protest song for the kind of people who think Rage Against the Machine should stick to music and not politics. Aesthetically, Anthony—a former factory worker based in Virginia—is more akin to the lo-fi origins of Zach Bryan, but the only reason we're even talking about him is because conservative culture warriors see their anger and values reflected in his songwriting. They have embraced this man as part of their dumb manufactured war against the elites, despite the fact that Anthony—a self-described centrist—has since made a statement praising our country's diversity, pissing off our a whole bunch of racists in the process (which is always a cool thing to do).
It's all very exhausting, but if there is an antidote to all of this, it's within the music of Americana troubadour Tyler Childers. For nearly a decade, Kentucky's Childers has steadily become one of country music's most cherished artists and endearing storytellers and his latest, Rustin' in the Rain, will restore your faith in country music.
While you can still hear echoes of Merle Haggard and Loretta Lynn through the music released this year by country-adjacent artists like Margo Price, Zach Bryan, Morgan Wade, and Jason Isbell, a lot of those records are less bound by traditional country sounds. By comparison, Rustin' in the Rain stays true to those roots. Childers pays homage to his influences, and in turn, the music on Rustin' wouldn't sound out of place at either Robert's Western World or the Grand Ole Opry.
Recorded live with his band The Food Stamps—James Barker (pedal steel), Craig Burletic (bass), CJ Cain (guitar), Rodney Elkins (drums), Chase Lewis (keyboards) and Jesse Wells (guitar, fiddle)—in a homemade studio above a garage, Rustin' is a short collection of original songs and covers that, according to the press release, Childers pieced together as if he were "pitching them to Elvis." Wisely, he doesn't opt for the full-on impersonation he apparently used to write some of these songs, but you can hear the ghost of Graceland-era Elvis waltz within tracks like "Phone Calls & Emails," which sounds like an old country standard until Childers starts singing about getting ghosted online. On his rendition of S.G. Goodman's "Space & Time," Childers croons with a tenderness that pays homage to The King without directly pointing to it.
Most of the album lives within a downtempo two-step realm, save for galloping call-and-response bluegrass of "Percheron Mules" and the barn burning title track which Childers and The Food Stamps play with the fervor of a greyhound out of the gate. The original songs feel lived in and worn, like they've been around for years, and the well-chosen covers—"Space & Time" and Kris Kristofferson's "Help Me Make It Through the Night"—settle in quite nicely among them. Then there is a pseudo country Christmas waltz, "Luke 2:8-10" that brings Linus' speech from A Charlie Brown Christmas to life, and features Goodman, Margo Price and Erin Rae on backing vocals.
The highlight of the album, though, is the tender, piano ballad "In Your Love." Released as the first single for the album, it's a bit of a red herring in that it stands apart from the country's aesthetic, yet is one of Childers' finest songs to date. It feels like direct continuation of "All Your'n," the highlight from 2019's Country Squire. If that song is about a love that enters your life with ease, then "In Your Love" is about the necessary work it takes to maintain it. No stranger to a hard day's labor, Childers offers his tithings and will work like a team of mules for his love. He will stand his ground and he will wait as long as it takes. As he sings in the chorus, "We were never made to run forever / We were just meant to go long enough / To find what we were chasin' after / I believe I found it here in your love." It's a beautiful sentiment, and it's not unreasonable to think you're going to be hearing this song at a lot of future weddings.
It's worth mentioning that with the announcement of Rustin' in the Rain came a tender and gut-punching video for "In your Love." Written by author and Kentucky poet laureate Silas House, the video tells a moving love story featuring two gay Appalachian miners, played by actors Colton Haynes and James Scully. In a perfect world, the idea of including a gay love story in your country music video shouldn't be as much of a revelation as it is, but it's a bold statement by House and Childers. They knew they would ruffle some feathers, although that hasn't stopped Childers before—2020's Long Violent History decried racial injustice, and last year's sonically ambitious triple album Can I Take My Hounds to Heaven? confronted religious intolerance while still finding joy in worship.
The video arrived as everyone was still talking about the hatred within the "Try That in a Small Town" video. Comparatively, the video for "In Your Love" and the message behind it felt like a blast of cool air in the middle of a scorching heat wave. The best pieces of art will make you feel something real, and for a brief moment when "In Your Love" arrived, it was nice to feel something other than frustrated exhaustion.
By simply releasing this video, Childers has opened the door to a group of people not previously invited to the party. "As a gay teenager who loved country music, I could have never imagined seeing myself in a video," House said in a press statement. "There have always been LGBTQ people in rural places and finally we're seeing that portrayed in a country music video." Both Childers and House know how important it is to be able to see a reflection of yourself in the art you consume. "[One] reason that I wanted to do this music video was my cousin growing up, who's like my big brother, is gay," Childers told NPR last month. "He taught me so much about singing; he was my first tough critic. And just thinking about him not having a music video on CMT that spoke to him."
If there's a thread that ties Rustin' in the Rain together, it's love and mules. The animal appears prominently both alongside a confident-looking Childers on the cover art and within the songs themselves. The mule is a meek, hard-working animal. Cultures throughout history have viewed the animal a symbol of perseverance and determination. During the COVID lockdown, when Childers had nothing but time on his hands, he worked with mules on his farm, like his grandfather before him. Childers learned to study and understand the animal. On Rustin', he uses them as inspiration, for to be in love is to be like a mule. You must be willing to put in the work when called upon, because love is supposed to be hard work. You do not want to let it rust in the rain.
It's telling that the image of a mule at work that Childers uses throughout Rustin' is in stark contrast to the trucks and boats many country artists feature in their songs. While they claim to understand the working man, a fair number of them wouldn't know a day of hard work if it served them Bud Light at Kid Rock's bar. Trucks and boats are flashy and loud, man-made creations here to make work easier. They're status symbols. A mule is most certainly not that. A mule will not make it easy, but as Childers may tell you, sometimes you need to toil for what you want the most.
---
Label: Hickman Holler
Year: 2023
---
Similar Albums: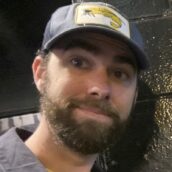 Jeff Yerger
Jeff is a Philly based writer, amateur musician, casual runner, and hopelessly dedicated hockey fan.