UGK's tenure at hip-hop's pinnacle has closely resembled Wiley Coyote's tenure at an equally high altitude; each time they seem to have ubiquity in their clutches, it has essentially become inevitable that lurking nearby is a stick of dynamite or perhaps a four mile drop off of a cliff. Many mainstream audiences first heard the Port Arthur, Texas duo of Pimp C and Bun B, when they spat silky excess next to Jay-Z on "Big Pimpin." However, Pimp-C soon caught a five year sentence and their association with rap royalty was put on hiatus. Years later, UGK got on the rebound with 2007's Underground Kingz. This certainly seemed to be UGK's resurgence and it gloriously slid into the Billboard's number one slot. But, alas, it wasn't to last and Pimp-C was found dead in his California hotel room several months after the album's release.
With the UGK tandem obviously defunct, UGK 4 Life is where the surviving half of the duo, Bun-B, lifts the massive anvil off of the UGK name and decides to keep on rolling, even if it is with a two foot-high goose-egg on its dome.
One of the most glaring aspects of the record is that fact that it's not really a tribute to the late Pimp-C nor does it try to string together much sentimentality regarding the late Texas rapper; The lack of a "going out with a bang" aspect may attract dissent from loyal UGK disciples, or, it may be exactly what the UGK-faithful want; UGK 4 Life is completely true to the grimy zeitgeist the pair have subscribed to since their 1992 emergence; Pimp-C's immensely crass rhymes tear into live funk and blues instrumentation creating a remarkably confident juxtaposition. This dynamic is especially evident on tracks like "Harry A**hole" and "She Luv It" where Pimp-C proudly guts the romance out of sex and repackages it for the carnal urges of the flesh, all over whinny guitar licks. The always practical Bun-B never wastes a syllable and while he may not be as charismatic as C, his steady delivery on "Da Game Been Good To Me" is reassuring to the method behind UGK's madness.
UGK 4 Life doesn't reveal a "deeper" more "poetic" side of Pimp-C and therefore, the album isn't going to draw in a new generation of UGK fans; in fact, newbies may be all together disgusted by UGK metaphorically comparing their genitals to chicken wings and corn on the cob as well as ideal vaginas to precious metals. However, to those who like their rap rode dirty, UGK 4 Life will be a testament to the fact that Pimp C left the rap game the same way he came in.
Similar Albums:
Bun B – II Trill
T.I. – T.I. vs. T.I.P.
Young Jeezy – The Recession
Download at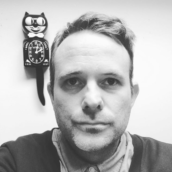 Paul Glanting
If a meteor was just hours away, Paul Glanting would recall that he has been in a Lil Wayne music video and has a 4.7 (out of 5) on Rate My Professor. He is at work on his first novel, Adjunct Megafauna.