Various Artists : Forge Your Own Chains: Heavy Psychedelic Ballads and Dirges 1968-1974
The ever-evolving state of the music industry is a funny thing. In 2010, just about anyone could, potentially, get their music out to thousands of listeners with some decent recording software and the Internet. Yet, because so many damn people are doing it, it gets that much harder to make one's noise heard, or to stand out above a perpetually rising sea of indie rockers in training. Thing is, in spite of the absurd number of bands out there right now, to some degree, there has always been an absurd number of bands making music, but due to the high expense of recording and difficulty of distribution, most of them weren't heard by much of anyone. However, the flipside of modern times producing such a great abundance of new music is that now is also a time in which many lost classics have been unearthed and brought into the present.
Forge Your Own Chains, a compilation released by Stones Throw offshoot Now-Again Records, is a treasure trove of such lost songs, lining up 14 diverse and heady tracks of psychedelic rock. Some are more obscure than others, though according to the liner notes, no track was chosen specifically because of its rarity. That said, this isn't a collection of Cream or Jefferson Airplane songs. The music on display here comes from all corners of the world, from the United States, to Columbia, Sweden, Thailand and Iran. Yet they share a common thread of being trippy, epic and melodically intense.
The first track, "Song of a Sinner," comes from Middle American rockers Top Drawer, a sprawling, organ-heavy ballad that stands among the most gorgeous and mesmerizing tracks here. Curiously, however, the band basically disappeared after recording first album Solid Oak, which now demands reasonably high prices, that is, if you can actually narrow your search terms just right on eBay. Next up is "How Great Thou Art," a wailing slab of psychedelic gospel from the Sensational Saints. I never knew such a genre existed, but after this song, consider me sold. D.R. Hooker's "Forge Your Own Chains" lends the compilation its name, leaps into yet another direction, the Connecticut artist's jazzy psych-folk mixing Love with Bacharach and Herb Alpert, to impressive effect.
Evocative dirge "Twilight" by South Korea's Shin Jung Hyun & The Men could double as opening theme for both a Wes Anderson or Quentin Tarantino film, which I actually would like to see happen, come to think of it. Meanwhile, "Two To Make a Pair" by Nigeria's The Strangers is a shorter, more direct groove layered with perhaps two organs, or maybe just one very ambidextrous organist. Damon's "Don't You Feel Me" is opium den striptease fodder (that's a good thing), Shadrack Chameleon's "Don't Let It Get You Down" is another meaty Hammond ballad, Colombian outfit Ana y Jaime's "Nina Nana" is a high energy ballad with some impressively quickly-sung lyrics, and Iran's Kourosh Yaghmaei delivers "Hajm-e Khaali," a brief but swirling standout with some truly gorgeous guitar licks.
With so many different artists represented, many of them in five-minute increments or longer, not everything is quite so thrilling. However, the vast majority of the songs here are pretty damn cool. On Forge Your Own Chains, Now Again Records has compiled a set of music that's continually interesting, frequently great, and occasionally transcendent.
Similar Albums:
Various Artists – Nuggets: Original Artyfacts from the First Psychedelic Era
Düngen – Ta Det Lugnt
Various Artists – Nigeria Rock Special: Psychedelic Afro-rock and Fuzz Funk
Download at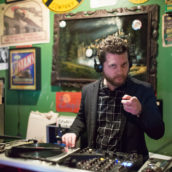 Jeff Terich
Jeff Terich is the founder and editor of Treble. He's been writing about music for 20 years and has been published at American Songwriter, Bandcamp Daily, Reverb, Spin, Stereogum, uDiscoverMusic, VinylMePlease and some others that he's forgetting right now. He's still not tired of it.