Various Artists : How Soon is Now?: The Songs of the Smiths
It's tempting to just ask, "why not leave well enough alone?" The Smiths have been covered no less than a billion times, and much like Beatles covers, rarely come close to the brilliance of the originals. Few guitar players are as deft as the great Johnny Marr. And certainly no singer alive has the cheeky charisma of Morrissey. Those two factors alone are enough to discourage someone from trying, lest they actually attempt to do something unique and left-field. Isn't that the point of covers anyway?
But, nonetheless, a fourth Smiths tribute (that I'm aware of) has been released on Rykodisc, with a mixed bag of results. The bands on the comp range from emo to alt-metal, yielding a strange combination that succeeds more often than it fails, yet still fails in a few specific cases. First off, My Awesome Compilation triumphantly ruins "There is a Light That Never Goes Out" by resorting to Dashboard Confessional-like levels of faux contemporary Christian. It's an embarrassingly earnest take on a song that requires a certain level of wit and humor to execute. Instruction takes on "Last Night I Dreamt That Somebody Loves Me," which is just plain boring. It's not as offensive as My Awesome Comp, but not at all impressive, either. And The Beautiful Mistake had no problem watering down "Cemetry Gates" into a high school prom theme.
But you know, those are truly the worst spots. The rest of the tribute is pretty good, though some bands play it a little too safe, doing little to make the songs their own. Hundred Reasons plays a nearly note-for-note carbon copy of "How Soon is Now?" that pales in comparison to the hardcore version Quicksand pounded out in 1993. Garrison, although rockin', play an equally benign version of "Panic" that's somewhat louder, but still significantly similar to The Smiths' classic. Noted Smiths fan Walter Schreifels plays "Ask" under the Walter Walter moniker, doing it fairly straightforward, though no less enjoyable.
As I've argued before, the best covers are those that are the most unrecognizable, or at least most unusual in comparison to the original. Lomax does a bang up job with "Handsome Devil," incorporating a healthy amount of noise, distorted vocals, digital delay and an oddly militant, syncopated drum beat. Cursive takes on "Frankly, Mr. Shankly," which is pretty awesome, as the melody is played mainly on keyboard and cello, though the band does rock out during the chorus breakdown. It's more of a Cursive song than a Smiths song, though what's even stranger is that it's really more of a Good Life song than a Cursive song. Newcomers thisGIRL do a heavy version of "Shoplifters of the World Unite" that works well and Read Yellow do a loud, though atmospheric take on "Bigmouth Strikes Again." But, arguably, the best track on the entire comp is YourCodeNameIs:Milo's "Death of a Disco Dancer" that'll beat you senseless in its flagrant display of aggression. It most certainly kicks ass.
How Soon is Now? isn't a bad compilation, but it isn't a spectacular one, either. It's not as amusing, in content or in name, as The Smiths is Dead, released several years back, but it is a lot better than the screamo/hardcore tribute that came shortly thereafter. Still, whenever I listen to these, it always makes me wonder what it would be like if I had chosen the lineup. Imagine McLusky beating the hell out of "London" or The Futureheads doing four-part harmonies on "Reel Around the Fountain" in under three minutes. Now that would be an awesome record.
Similar albums:
Various Artists – Where is My Mind? A Tribute to the Pixies
Various Artists – Give Me The Cure
Various Artists – Until the Shaking Stops: A Tribute To Jawbox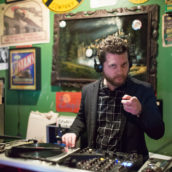 Jeff Terich
Jeff Terich is the founder and editor of Treble. He's been writing about music for 20 years and has been published at American Songwriter, Bandcamp Daily, Reverb, Spin, Stereogum, uDiscoverMusic, VinylMePlease and some others that he's forgetting right now. He's still not tired of it.