Various Artists : Ronnie Herel Presents Neo-Soul Sessions Vol. 1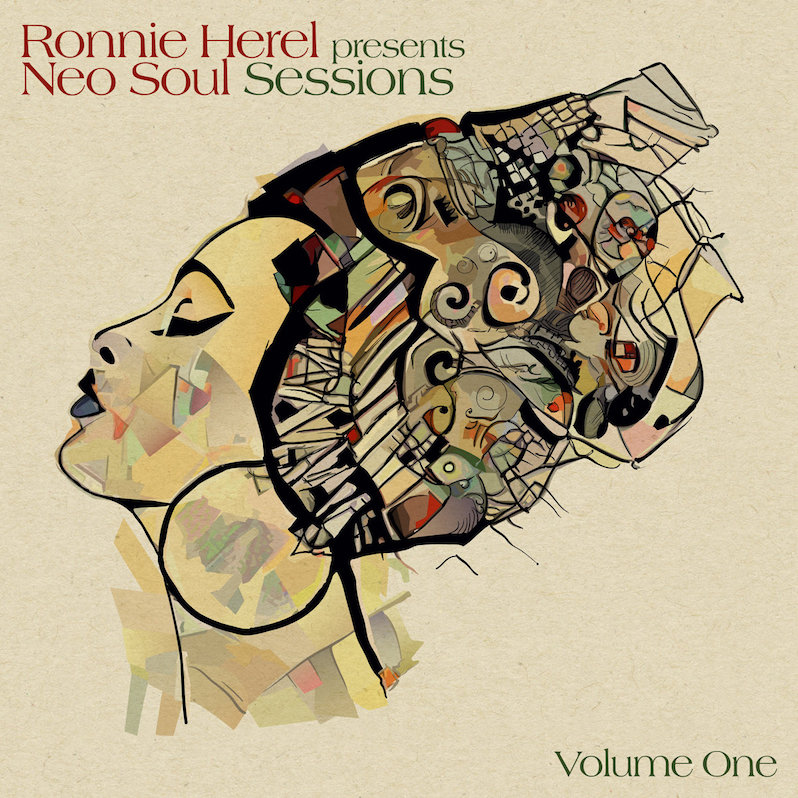 Ronnie Herel, the long-time UK radio presenter, used his three-plus decades in the game acquiring first-hand knowledge on how to break new music. Starting in the '80s and '90s club scene in London, he began crafting that high IQ on what types of music had legs. In short, you develop a pedigree that understands, most times, it's chess, not checkers. As a DJ, you witness, in real-time, what moves people. I'm guessing his factual observations clashed with the trend-chasing ideas of record executives—you know, the "suits."
In those days, curation of sounds was done without Bandcamp Daily, Spotify playlists, influencers, Twitter, YouTube reviewers, Hype Machine newsletters and so on. The pre-internet era left choices on how to mix, rewind, retouch, repeat, and how to break new music to the public with club DJs, record pools, radio and the press. Watching, in real time, what songs DJ Jazzy Jeff played to blow up a dancefloor is a reliable education in itself.
Neo-Soul Sessions, Vol. 1, curated by Herel, hits the mark for classic grown-folk boom-bap, meaning there are no 'Lil' rappers or Auto-Tune divas allowed. Proper big-sexy soul, with beats designed for ease. It makes you wanna feel good, by way of dancing, holding court, talking guff, getting your hair cut, or setting off that Friday night living room party we been red cupping it at since March.
It's by no mistake Omar's nasally identifiable baritone opens the long-player with the gallant "Gave My Heart"—it's that "come on in, the water's fine" sign. And we swimming real good for another 12 songs, just under an hour, Omar is international R&B royalty since the '90s and here, with proper strings, sparse basslines, and even a gentle oboe in the back, he continues to guide us properly into a collection of timeless bumping joints. Omar, acting as an avatar, was a wise choice. Herel is programming for comfort, not speed. Shining up that tone right. The standout, "My Soul Ain't for Sale" featuring Raheem DeVaughn by DJ Jazzy Jeff, takes that Bobby Caldwell "What You Won't Do For Love" bassline and props us up for an all nite session. Street-soul, with Jeff on the cut, and DeVaughn floating, singing "I'm Black and proud/My soul ain't for sale," could not sound any better.
Herel does the project justice by stacking the artists, from both the UK and United States, who have similar bloodlines on the Neo-Soul tree, but different branches. Children of Zeus, the soul hip-hop project from Manchester who took the world by storm a couple of years back, gets two tracks here. "Slow Down," one for head-nodding, and the other "Push On," for your Friday night stepping. The latter comes in really nice after the almighty Phonte from Little Brother makes the room look good with his stream of conscious, optimistic, hip-hop groover "Find That Love Again."
Frankie Crocker, the WBLS program director, and creator of the "urban" format—a synonym for Black music—watched that playlist work in a club first. His version, put together and mixed by Larry Levan at his Paradise Garage, featured an eclectic melange of soul, funk, R&B, new wave, post-punk, disco, proto-house, jazz-funk, and boogie selections that passed the dancefloor test in the wee hours in the morning.
Crocker picked Levan's brain, copied down his playlist, watched the dancefloor move to the truth, and then ran it back on the radio later on that same day. Industry executives, algorithms, and brand strategists are not the ultimate barometer for what's quality. The street is. Trainspotting at the corner of art and commerce is how Herel developed that ear. "The fact is, there's a whole world of smokin' grooves out there that most of the time gets overlooked for radio playlists; the powers-that-be opting for the more manufactured, purpose-built mainstream record."
However, if you need piles of stats to tell you artists like Omar, Children of Zeus, DJ Jazzy Jeff, Foreign Exchange, and Phonte—the essential glue of hip-hop soul that beautifully moves asses, hearts, and minds simultaneously—maybe a Spotify starter kit is in your future.
---
Label: BBE
Year: 2020
---
Similar Albums:
John-Paul Shiver
John-Paul Shiver has been contributing to Treble since 2018. His work as an experienced music journalist and pop culture commentator has appeared in The Wire, 48 Hills, Resident Advisor, SF Weekly, Bandcamp Daily, PulpLab, AFROPUNK and Drowned In Sound.