Winter/Spring Album Preview 2012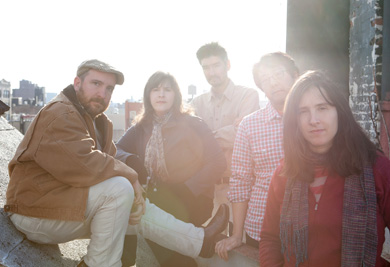 Winter break is finally over for us, which means it's time to start looking forward to the next new batch of presents – 2012's new music releases! There's an exhaustingly long list of artists who have music coming out in the months to come, and we whittled it down to our list of the 20 most promising new albums of Winter/Spring 2012. Please note: this list is strictly limited to albums that have an official release date, and there are countless others we look forward to hearing this year, whether a date has been officially slated or not, including Porcelain Raft, Pop. 1280, The Shins, The Walkmen, Pig Destroyer, Baroness, Converge, Alcest, Shigeto, Leonard Cohen, Tindersticks, DoomStarks (maybe?), Freddie Gibbs and Madlib, and, god willing, D'Angelo.
Guided by Voices – Let's Go Eat the Factory (Jan. 1, GBV Inc.)
Guided by Voices has had countless lineup changes over the years, so when they announced a reunion back in 2009, that could have meant pretty much anything. However, the band's resurrection meant the convergence of players on their classic albums Bee Thousand and Alien Lanes, which also happens to be the lineup that plays on their first new album in eight years, Let's Go Eat the Factory. Expect British invasion-style melodies, Who-like riffs and power pop energy galore, just like the good old days.
The Big Pink – Future This (4AD; Jan. 17)
UK duo The Big Pink know their way around a huge beat, a great hook, and a lot of fuzz, so fans shouldn't be surprised that those elements loom large on the band's second album, Future This. Anchored by the upbeat, buzzing single "Stay Gold," Future This, whose title was inspired by a skateboard advertisement from the '80s, features production from Britpop Midas Paul Epworth, and mixing from Alan Moulder, a man who knows how to make a record sound awesome.
Chromatics – Kill For Love (Italians Do It Better; Jan. 17)
Portland's icy and cool electro outfit Chromatics haven't released an album in four years, though they have been active, most recently contributing music to the Drive soundtrack. This month, however, the band will release their follow-up to 2007's Night Drive, bringing some much needed sleek disco grooves to winter 2012.
Cloud Nothings – Attack On Memory (Carpark; Jan. 24)
Cloud Nothings' Dylan Baldi has been putting out material for a couple years, and last year released a self-titled debut on Carpark Records, its charming, lo-fi indie rock garnering some modest attention. Its follow-up, however, is an entirely different story. Recorded as a full band at Steve Albini's Electrical Audio, Attack On Memory is a more ambitious album that's more emotionally intense, recalling at times the mighty, soaring sounds of Sunny Day Real Estate or the jagged indie rock of Archers of Loaf.
Craig Finn – Clear Heart, Full Eyes (Vagrant; Jan. 24)
Bar-rock heroes The Hold Steady have seen some changes of late, with Franz Nicolay having left the band to pursue his own solo career, though that hasn't necessarily changed their sound at all. Nonetheless, frontman Craig Finn has followed suit with his own solo debut, with a title inspired by Friday Night Lights. Supposedly he also has a screenplay in the works, based on a Chuck Klosterman book. In any case, his new material should make another great drinking companion.
Air – Le Voyage Dans La Lune (Astralwerks; Feb. 7)
For 16 years, French electronic duo Air has taken a variety of stylistic diversions, from Gainsbourg-inspired lounge-pop to ethereal trip-hop and various realms in between. Air's seventh album is a more conceptual work, based on the short, silent film "A Trip to the Moon." As usual, it features some noteworthy guests, such as Beach House's Victoria Legrand, who lends her vocals to the spaced-out "Seven Stars."
Sharon Van Etten – Tramp (Jagjaguwar; Feb. 7)
New York singer-songwriter Sharon Van Etten isn't quite a household name just yet, but through a handful of excellent full-lengths, she gradually garnered the sort of attention that found her signing with Jagjaguwar and playing shows alongside The Antlers and Neko Case. Her Jagjaguwar debut, meanwhile, is a big step up, with production assistance from The National's Bryce Dessner, and guest appearances from members of Beirut, The Walkmen and Wye Oak. If some people aren't talking about Van Etten just yet, they will be.
The Twilight Sad – No One Can Never Know (FatCat; Feb. 7)
With each progressive release, Glasgow's Twilight Sad grow increasingly darker and more discordant, and that likely holds true with third album No One Can Ever Know. With a "colder, slightly militant feel" in mind, and a heavy period of listening to records by Liars, Public Image Limited, Magazine and Cabaret Voltaire, the band appears to be hinting at a sinister, post-punk approach this time around. We'll take it!
Shearwater – Animal Joy (Sub Pop; Feb. 14)
Shearwater is making the big-time indie label rounds, having just completed a three-album streak with Matador to transition over to Seattle heavyweight Sub Pop. To celebrate this new marriage, the Austin band is releasing their new album on Valentine's Day, and it's been hailed as their most straightforward release in a while. There are apparently no xylophones on this record, but definitely a lot of guitars, as well as members of Wye Oak, whose presence can only be a blessing.
Sleigh Bells – Reign of Terror (Mom + Pop; Feb. 14)
Noise pop duo Sleigh Bells destroyed lots of eardrums in 2010 with their debut album Treats, and chances are they'll be causing some more trouble in the months to come. Their new album is titled Reign of Terror, so there may very well be more destruction in the band's plans, though with press photos depicting the band in leather jackets and a track on the album titled "Leader of the Pack," they could also be going for a retro kind of thing.
Grimes – Visions (4AD; Feb. 21)
An audio-visual performer with both an eye and an ear for the dark side, Montreal's Claire Boucher, aka Grimes, has spent the past couple years building up a sizable buzz based on danceable electronic gems like "Oblivion." That track was the first taste of new album Visions, which boasts inspiration as far reaching as Aphex Twin and TLC. Boucher also describes her creative goal as a "quest for the ultimate sensual, mystical and cathartic experience." Well, damn.
School of Seven Bells – GHOSTORY (Vagrant; Feb. 28)
Trippy electro-pop duo School of Seven Bells (formerly a trio) have steered between Cocteau Twins-inspired dream pop, danceable shoegazer rock and hypnotic electro, almost always producing something absolutely gorgeous. GHOSTORY, the band's third, promises more haunting ethereality, pulsing beats and otherworldly melodies.
Andrew Bird – Break It Yourself (Mom + Pop; March 6)
Andrew Bird has kept busy the last couple of years with some instrumental material and writing a soundtrack to a film, so it's good to see that he's finally ready to release a proper follow up to his 2009 album Noble Beast. Now, not that many details have emerged just yet, but fans who purchase tickets to any of his spring tour dates will get a free download of the album, so that's a pretty good deal, if you ask us.
Nite Jewel – One Second of Love (Secretly Canadian; March 6)
Los Angeles native Ramona Gonzalez is the sole figure behind electro-funk outfit Nite Jewel, which has been compared to the likes of Italians Do It Better acts like Glass Candy and Chromatics, as well as '90s R&B. Her new album, One Second of Love is said to be a more sophisticated set, comparable to the likes of Everything But the Girl or The Eurythmics. Expect dancefloors to get a little more interesting in 2012.
The Magnetic Fields – Love at the Bottom of the Sea (Merge; March 13)
The Magnetic Fields spent some time on Nonesuch Records in the past decade, but Stephin Merritt and his cast of collaborators have returned to Merge for their tenth release, which reportedly contains a mixture of acoustic and electronic sounds along the lines of those on their classic albums Holiday and The Charm of the Highway Strip. However, the technology on the album is apparently a little more advanced, Merritt having commented that most of the synths used didn't exist when the band was first recording. And it will most definitely contain a full set of original tracks written by Merritt, which is all we can really ask for.
The Men – Open Your Heart (Sacred Bones; March 13)
Brooklyn bruisers The Men deserve some special kudos for Leave Home, which I feel the need to recognize as the best debut album of 2011. Only 10 months later, however, the same band of noise rock ruffians is ready to release another long player, which I can only hope rocks just as hard. Something tells me they've got plenty more muscle where the first batch came from.
Lee Ranaldo – Between the Times & the Tides (Matador; March 20)
We've all had a few months to digest the news about Kim Gordon and Thurston Moore's separation, and it still seems to sting a bit. It more or less shakes the very foundation upon which indie rock rests, putting in doubt the future of Sonic Youth. There are likely to be some periods of relative silence, maybe some therapy, but as we all get through this rough patch, Sonic Youth's Lee Ranaldo is ready to soothe us with his first solo album on Matador Records. Given that he's behind some of the band's most kickass songs ("Eric's Trip," "Mote"), Between the Times & the Tides could very well be the salve we needed.
Spiritualized – Sweet Hearth Sweet Light (Fat Possum; March 20)
Jason Pierce's last set of songs, Songs in A&E, may not have been quite as epic as some of Spiritualized's past albums, but this is all relative. Even a fairly digestible set from Pierce sounds like a space-rock symphony, and we expect nothing less on the group's first album for new label Fat Possum.
The-Dream – Love IV: Diary of a Madman (Def Jam; March 20)
Terius Nash, aka The-Dream, doesn't allow himself a lot of time to slow down. His fourth album, Love IV, had initially been slated for release in 2011, but ended up delayed. So, instead, he released a free mixtape, and announced he has plans for another album based around "Nikki," who has been the subject of several of his songs. In November, however, he finally revealed Love IV's new release date, so for anyone who has been jonesing for some Prince-style synth-heavy R&B, your prayers have been answered.
Bear In Heaven – I Love You, It's Cool (Hometapes-Dead Oceans; April)
Sci-fi indie pop trio Bear In Heaven have a knack for ominous, dystopian soundscapes and haunting melodies. But it turns out, they also have an avant garde marketing sensibility as well. You can listen to the band's entire album over at their website, slowed down 400,000 percent. That means the album will play nonstop once before its April release date. As for how it sounds at normal speed, that remains to be seen, but there's a strong likelihood of dark grooves and hypnotic hooks.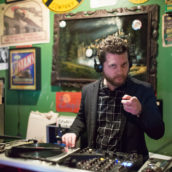 Jeff Terich
Jeff Terich is the founder and editor of Treble. He's been writing about music for 20 years and has been published at American Songwriter, Bandcamp Daily, Reverb, Spin, Stereogum, uDiscoverMusic, VinylMePlease and some others that he's forgetting right now. He's still not tired of it.